As you may have noticed recently, I have been doing a lot of clean and simple (CAS) cards.  Well, to be honest, I am finding that with caring for my dog, Biscuit, working on illustrating a book with my father (more on that later), and my consulting work accelerating I am not having as much time for crafting and blogging.  CAS seems to be faster, and I'm still happy with the effects.
The most important aspect (at least for me) of CAS cards is that they are personalized to the recipient. Of course balance and theme can be important too, but really, personalizing cards is where it's at in crafting (otherwise we could all just buy cards for far less time and money).
I was inspired to make this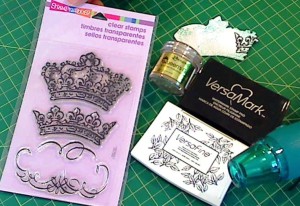 card by the sentiment, which has been on my list (yes, I keep a little notebook of these) for a while. It is perfectly suited for my dad (and mom) and I thought he would get a kick out of it. I picked up the Stampendous stamp set with the crowns on clearance at Tuesday Morning for about $2 and thought they would be perfect for this card. I used VersaMark ink for the king's crown and some gold embossing powder, which I heat set. Then I stamped out the king's crown on a scrap piece of paper and fussy cut around it to make a mask. I temporarily taped it down over the embossed crown so that I could stamp the queens crown with my black Versafine ink, as if it was behind the king's crown. Super easy, but adds a nice dimensional effect for this simple single layer card!
I hope my dad will like the card, I certainly love the effect of embossing–makes everything look so rich and professional! LOL  The following is a video share of this project:
This card is being entered into the Naughty or Nice Challenge #5
and the Ribbon Carousel Blog Challenge
Thanks for stopping by! Please subscribe if you wish, and have a great day! WOOF