I love the "Mimi in Paris" stamp set by Penny Black. In fact, because I was on a spending freeze, I had Hobby Lobby (where the last one was available in my area) hold it aside for me for 3 days in a row! I know that may not be playing exactly by the freeze rules, but I saw a grey area and I took advantage. LOL!
Anyway, I made this simple scene card using a bit of stone wall patterned paper from my scrap box, some dimensional stickers, and, of course, Mimi herself colored with Copic and Chromatix markers. I love how it turned out.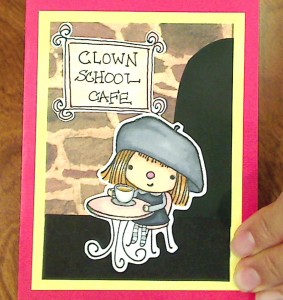 This second card is one that I salvaged (and actually I like even a teeny bit better because no one else will likely have one altered like this one). The cardstock I used to stamp and color my image bled terribly. I thought I was being very careful, but at the end I noticed that Mimi's cute little dot nose had become like a snowman's carrot nose!  This would not do. I would not "waste" a colored image. What could I do to save it?  Well, I made Mimi into a clown-in-training! (bwahaha)  My niece always claims that she "studies" better in cafes and other public places. She is currently a freshman in college and is staring down the barrel of finals while trying to secure a job or internship for the summer.  In other words, it is nail biting time.   I drew up a new sign for the front of the card that says "Clown School Cafe" and inside the card says, "Always have a Plan B"   I crack myself up. hee hee hee
I'm going to be sending my niece this card along with some snacks and treats as a little care and good luck package. Hopefully the happy mail will bring her some good luck!
The following is a video sharing the cards:
Thanks for stopping by. Please subscribe if you wish, and have a great day! WOOF