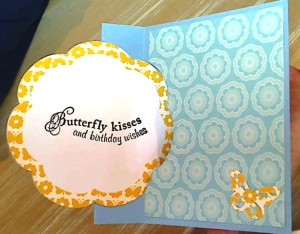 It's going to be my dad's 80th birthday soon, and I knew I wanted to make a very special card to help celebrate this milestone birthday. This swing shaker card (my first shaker!) was just the ticket. I followed the swing card tutorial recently posted by Peggy (YT: jppeggy2) and tweaked it a bit to add my own twist and a little fun.
These are the materials and measurements I used, and in the following video, I share the assembly instructions.
Card base: 4 1/2″ x 7 1/2″
Score with long way going horizontally at 2 7/8″ and 3 7/8″
Patterned paper for font: 4 1/4″ x 2 5/8″
Patterned paper for back: 4 1/4″ x 3 3/8″
2 die cut rings of patterned paper for the font and back to finish off the edges of the shaker part
3-4 die cut rings of thin chipboard to create the depth so the beads, sequins or bling can shake around inside (I used 3 for the sequins and 4 for the bling).
1 large die cut piece of acetate for the front face of the shaker
1 large die cut of patterned paper for the back of the shaker (visible behind the beads, sequins or bling) and the back of which will be where the note or sentiment can be stamped or written.
This is the video: https://www.youtube.com/watch?v=kwvMvjRiECU
I hope you'll consider giving this card a try. It is really fun, not difficult, and it can help you create a card with a clean and simple look but with a WOW factor.
This card is being entered into the Simon Says Stamp Monday Challenge and
the Ribbon Carousel Blog Challenge 94 and
the Naughty or Nice Challenge #5
Thanks for stopping by and please subscribe if you wish! WOOF