My mother-in-law is not an easy person to shop for. But one thing I know for sure is that she loves her children and grandchildren. So I thought this for one of this year's Christmas gifts, I would take a picture that we took on our Hawaiian family vacation and make a shadow box with it for her. I plan on playing Mele Kalikimaka (The Hawaiian Christmas Song) as sung by Bing Crosby when I give it to her. LOL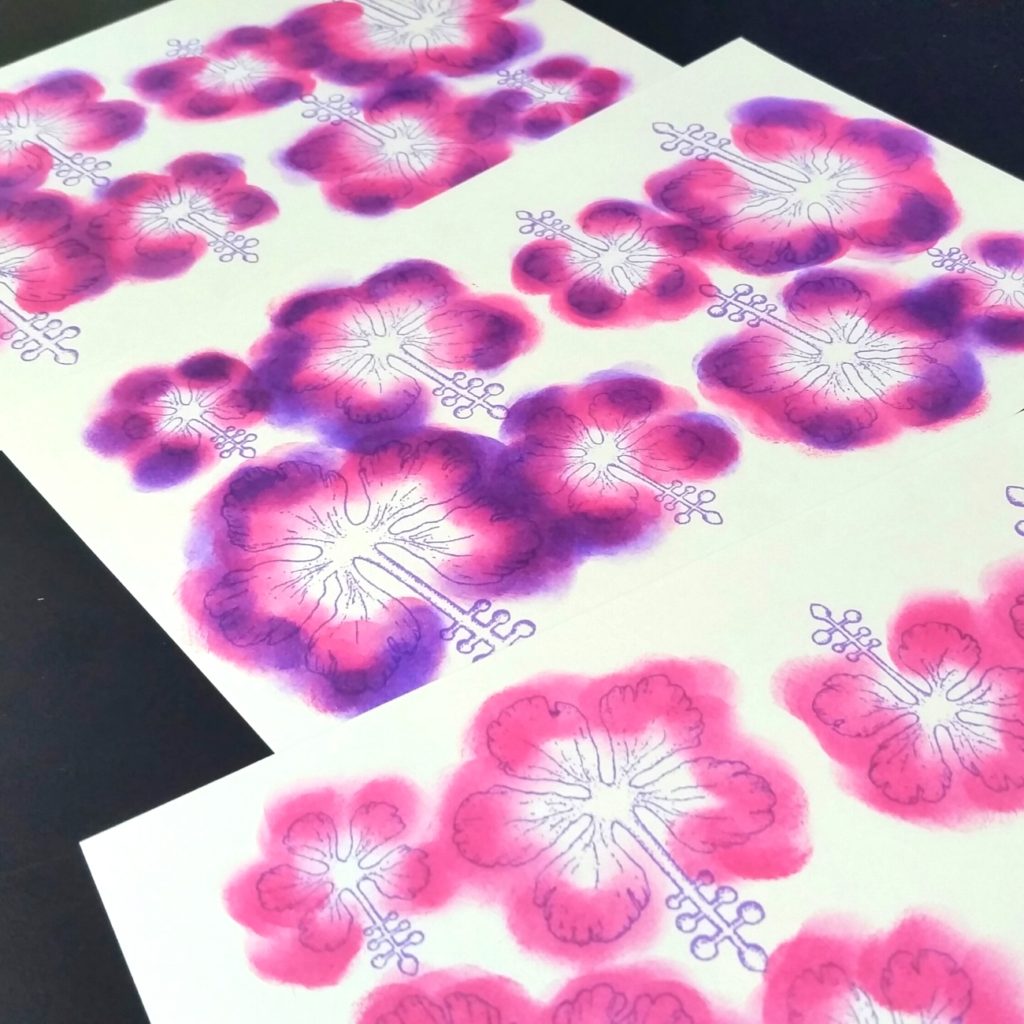 This picture was taken at the Polynesian Cultural Center and it really captured the feeling of Hawaii with all of us donning leis. Oddly, the photographer framed the picture with yellow and white Plumeria flowers which did not match the purple-pink flowers of our leis so I knew I had to "fix" that. 🙂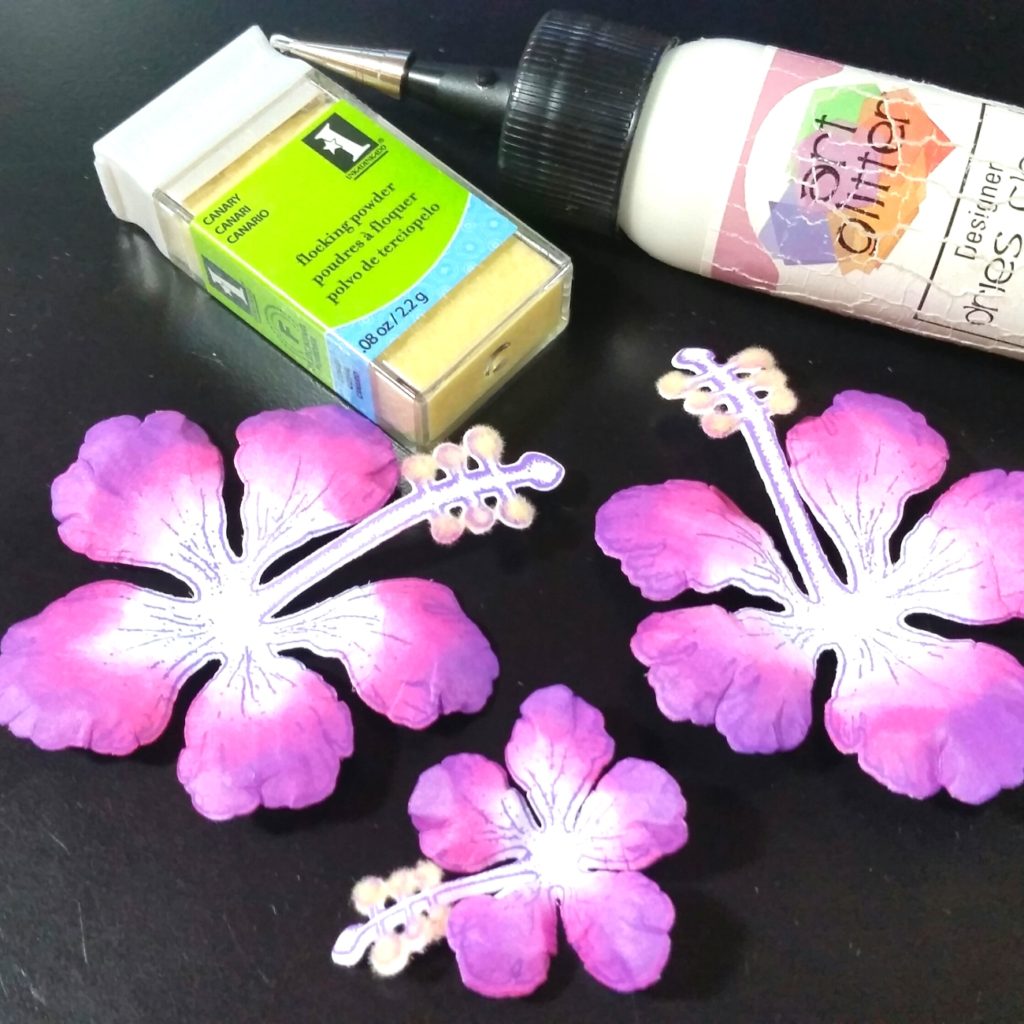 I picked up a Studio Decor 8″ x 10″ shadow box at Michaels using a 50% off coupon for $10.  I lined the background with black card stock so that the original canvas color of the background wouldn't distract from the photo and flowers. I also cut away the Plumeria flower photo frame for the same reason.
Then I used the Heartfelt Creations Tropical Hibiscus Stamps and Coordinating Dies to stamp, color and die cut over 30 paper flowers to surround the picture. I used Tim Holtz Distress Inks in Picked Raspberry and Wilted Violet with finger daubers to color them up. Then I shaped all the flowers with my Spellbinders Tool 'n One with Embossing Stylus Tips–I use my mouse pad as the cushion to do this dry embossing and shaping.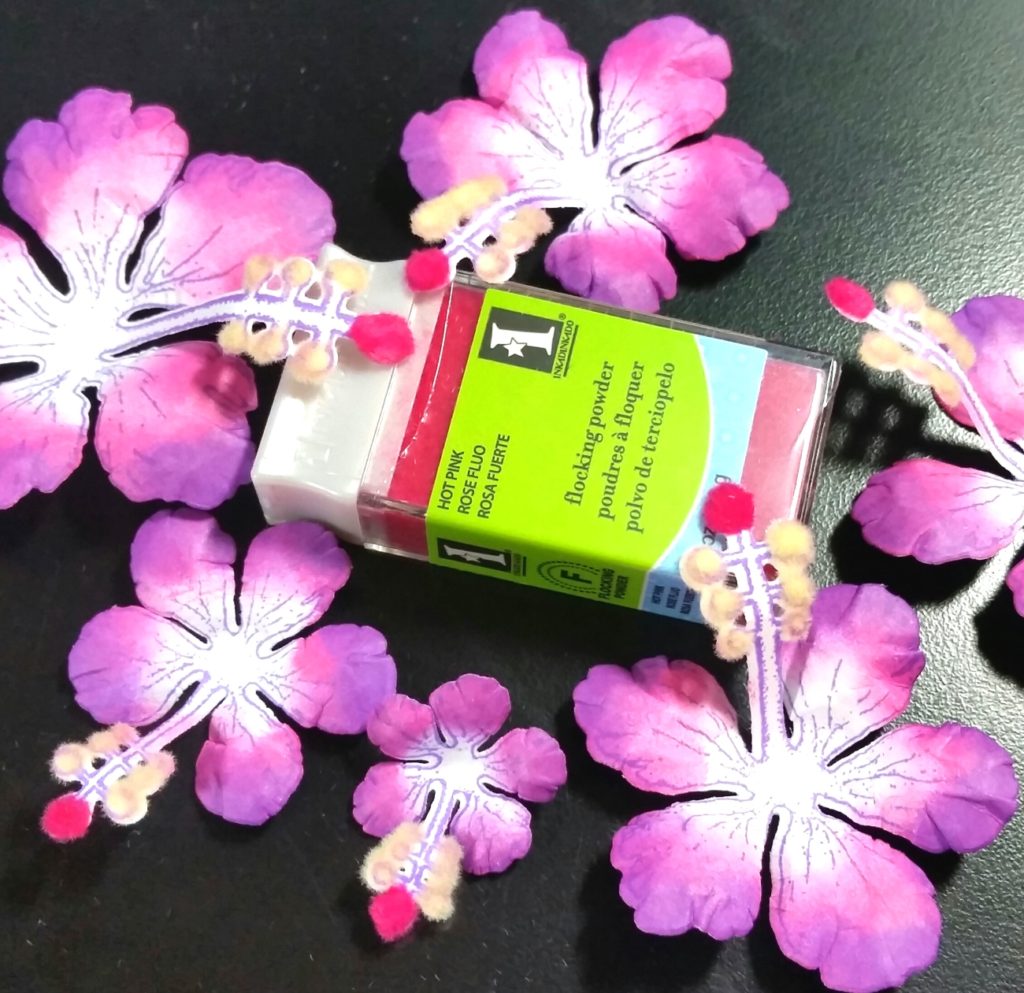 Then to add some interest (and realism?), I used my favorite wet glue, Art Glitter Glue by the Art Institute Glitter, Inc., with a Fine Tip Nozzle to apply glue to the stamen. I added a fuzzy pollen-like texture with Inkadinkado Flocking Powder. After looking at a lot of hibiscus flower images on Google for reference, I decided to use Canary Yellow for the side stamen ends and Hot Pink for the tips.
Lastly I added three kinds of bling: pins, charms and buttons from my stash to add some sparkle to the whole project. I filled in the nooks and crannies left by the flowers with these bling pieces, and I feel like there are little hidden gem surprises sprinkled throughout. All the flowers and even the blingy additions were adhered with permanent Glue Dots, which I think/hope are really strong and secure.
This shadow box Christmas gift is being entered into the following challenges:
Word Art Wednesday Anything Goes Challenge
Crafty Gals Corner 3 of a Kind Challenge – 3 kinds of bling
Simon Says Stamp Wednesday Christmas to Die For Challenge
Simon Says Stamp Monday Trio-Tastic Challenge – 3 kinds of bling
Addicted to Stamps and More Anything Goes Challenge
Just Keep on Creating Anything Goes Challenge
Creatalicious Anything Goes with Optional Use of Sentiment Challenge
613 Avenue Create Anything Goes Challenge
Not Just Cards Challenge