I appreciate all crafting styles, and try them all from time to time. However, I find that I am a little hesitant when it comes to Shabby Chic. Once I get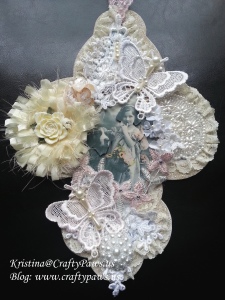 started, I love it and things just seem to come together, but getting started takes a little extra motivation for me.  This fleur de lis wall hanging is one that has been sitting on my desk for over a week–that's a long time for me since my OCD nature has me cleaning and putting things away constantly.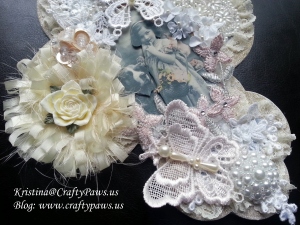 The video below describes the entire process of creating this wall hanging so I won't re-hash it here, but let's just say I used a lot of Liquitex gesso, 2 whole sticks of hot glue, and oh, such gorgeous laces, appliques, trims, and buttons from MelsCraftBoutique!  As a guest design team member for Mel's Zibbet shop, I have the following coupon code: CraftyPaws10 to offer my subscribers so that you can get 10% off your entire order and free U.S. shipping on orders of $40 or more–YAY!
The Copic colors that I used to add hints of color to the adorable vintage picture of a girl and her dog are: V000, RV000, YG00, YR20 and R30.  The products I used from MelsCraftBoutique are linked to below.  They are stunningly beautiful and make even those of us who are a little Shabby Chic challenged look like we know what we're doing. LOL
Resin Rose that I used as the center for the handmade flower.
White Venice Rose trim that I tucked into all the little gaps throughout the wall hanging.
White Bridal Beaded lace applique that I used at the top and bottom of the fleur de lis.
Butterfly appliques that add such fabulous dimension and interest.
White Beaded Bridal applique that has super detailed and delicate pearl beading and anchors the whole right side of the fleur de lis.
White pearl button that I used as a focal point toward the bottom of the wall hanging.
Pink pastel flower applique that I cut up and used to frame the bottom of the vintage dog and girl photo.
White millinery flowers that I tucked in to add a little dimension to the right of the photo
This wall hanging is also being entered into The Paper Nest Dolls Anything Goes Challenge
Thanks for stopping by and have a great day! WOOF