Ok, so I know that at 6 3/4″ x 4 1/2″ this is bigger than a normal broach, but as I kept adding more and more shabbilicious yumminess from my crafty hoard vault, it kept getting bigger and bigger! The final pin is too big for a blouse, but I think it might look nice on a trench coat or attached to a tote bag. I made this for a lovely lady who recently lost her mother, and I just wanted to fill it with crafty love. The broach has a bit of an Easter (renewed life) feel, and I am hoping this brightens my friend's day when she receives it.
I started with a paper base that I made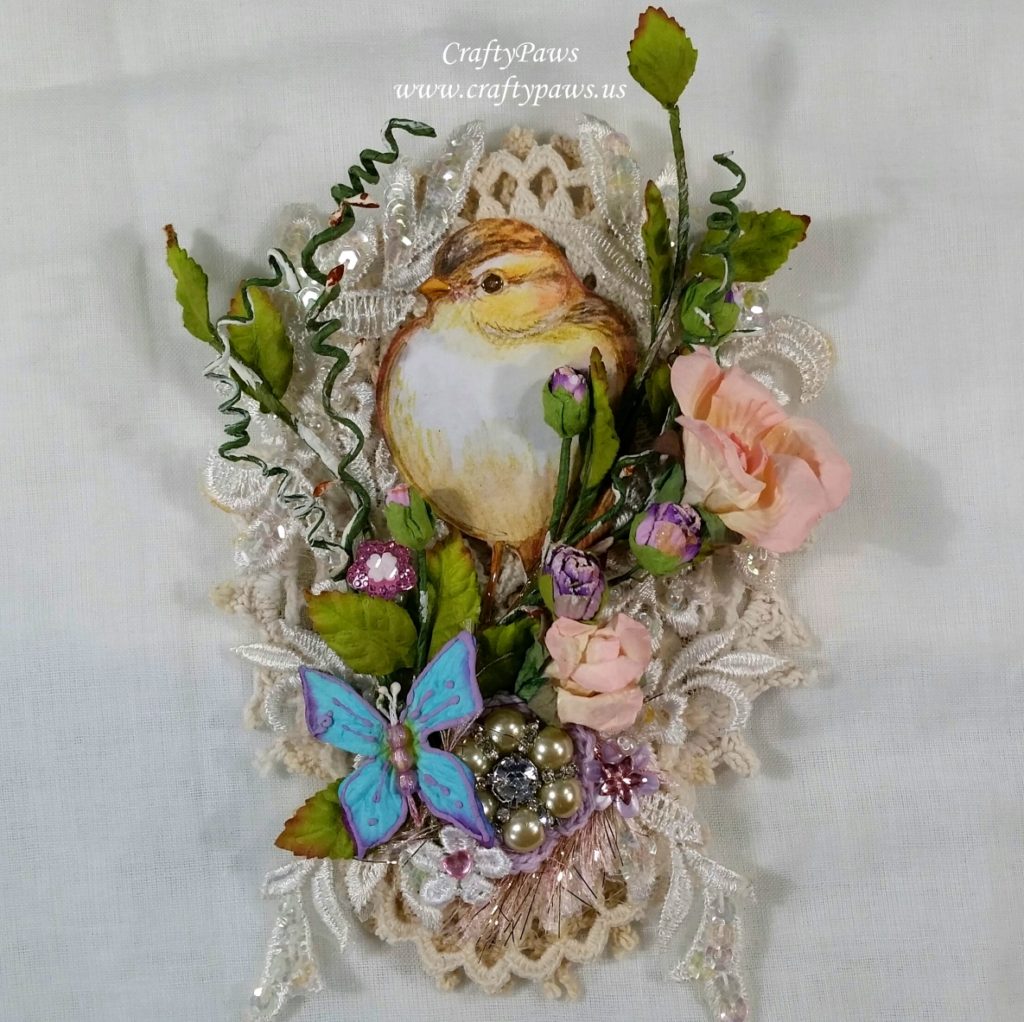 out of four 1 1/4″ scalloped paper circles that I glued back to back to create a bit of rigidity for the base and layered a little top to bottom (–think 2 double thick circles overlapping a bit top of one circle to bottom of another). I don't know why I bothered to use pretty paper and a scalloped punch since none of this is visible now, but in my heart I know that every bit of this broach was made with beauty in mind. 🙂
BASE: Then I layered a large 4.5″ crocheted doily and 4 medium 3″ doilies to create a soft but sound base. Over that I layered two matching appliques with beading and iridescent sequins that were salvaged from a wedding dress to flank each side and create a bit of a dangle element at the bottom. On the back side of the broach, I sandwiched the pin mechanism between the paper base and a fabulous metallic gold double layered floral applique. This broach looks pretty even from the back!
LAYERING: Next I layered a lavender crocheted flower with a pearl and rhinestone bling center at the front base where the wedding appliques meet. Underneath that I wrapped some pink and silver eyelash trim for some added softness. I also embellished around this base with tiny sequin flowers, a gem heart and flower stickers, a small flower applique and a paper blue and purple butterfly with a beaded body.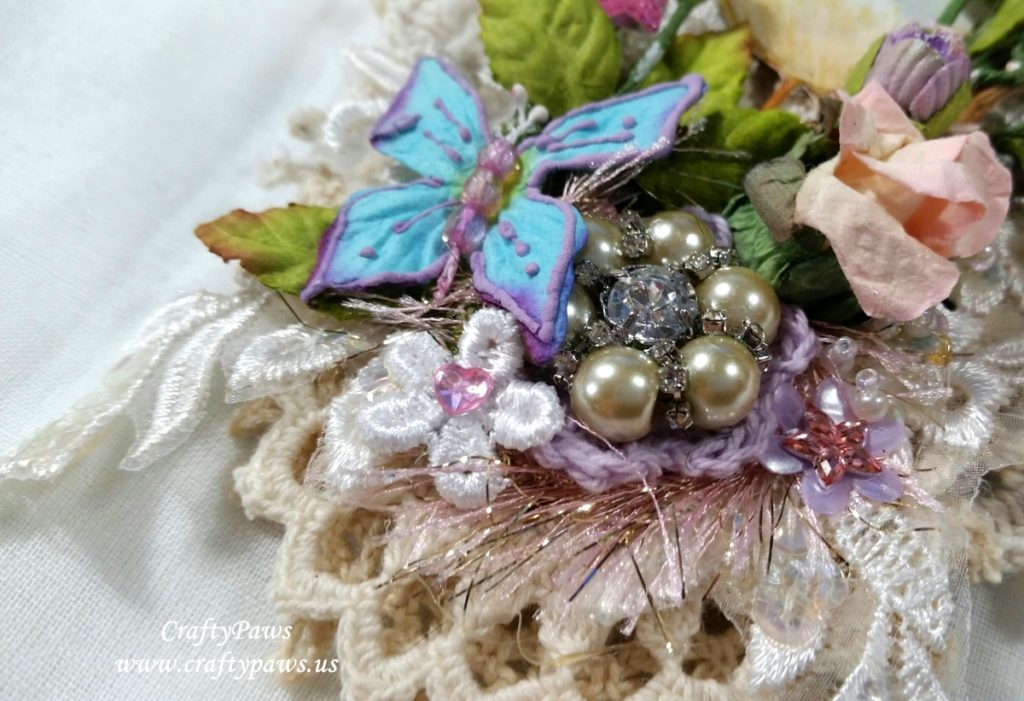 FOCAL POINT: For the centerpiece I fussy cut a sweet bird from some 4 year old K & Company Floral Collection paper called "Bird on Pink", adding Glossy Accents to the eyes, beak and legs for some lifelike shine. Then around the bird I manipulated and hot glued into position some beautiful dimensional purple paper buds, leaves and curlicues from a 7 year old Prima flower embellishment pack. Lastly, to add a brighter springtime feeling, I added a couple of larger pale pink paper flowers, tearing off the outside larger petals on one of these flowers to make it look more like a small bud so that there would be a more realistic size variation in the flower cluster.
There are lots of mixed materials (e.g., pearls, lace, trims, appliques, rhinestones, crochet, stickers, paper, beads, metal) in this project, but I think the tight springy color palette keeps everything cohesive.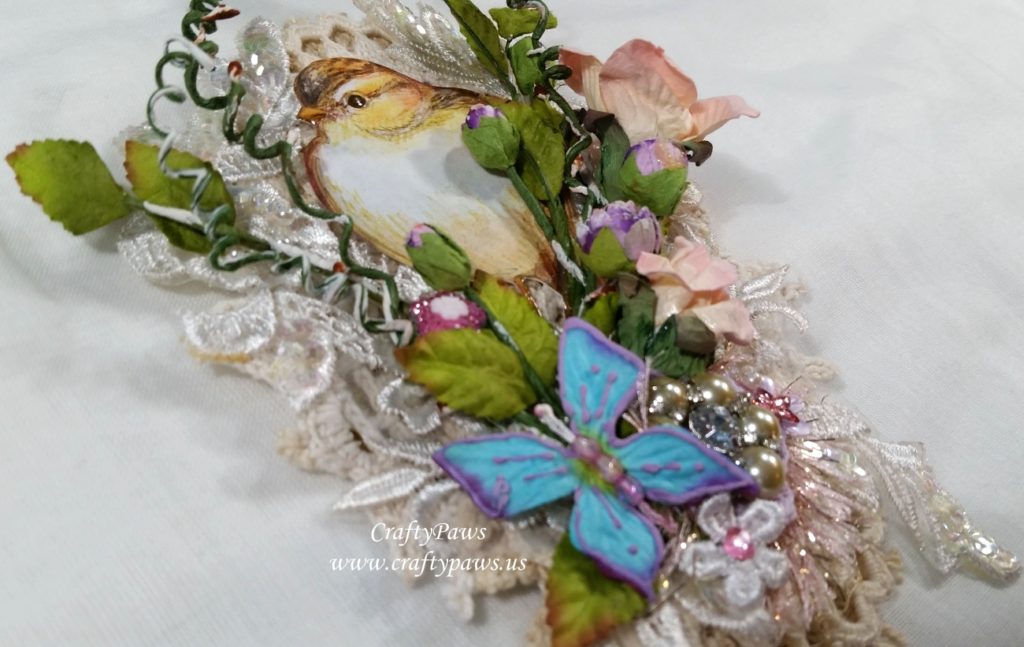 This broach is being entered into the following challenges:
Simon Says Stamp Monday The Great Outdoors Challenge – WINNER
Creatalicious Anything Goes Challenge with an Option of For the Girls or Mothers Day
Simon Says Stamp Wednesday A Hint of Pink Challenge
Fab 'n' Funky Lovely Ladies Challenge
Word Art Wednesday Anything Goes Challenge
Through the Craft Room Door Anything Goes Challenge
Crafts Galore Encore Anything Goes Challenge
Not Just Cards Easter Challenge
Simon Says Stamp Work it Wednesday April Showers Bring May Flowers Challenge
613 Avenue Create Anything Goes with Optional Anything Spring