I really enjoyed altering this guest book for a Youtube friend (YT: Tara Ashley Peterson-Age). She is currently hosting a challenge, asking folks to make something for her baby shower in the shabby chic style and using specific colors that will coordinate with her Sweet Georgia Peach baby shower theme.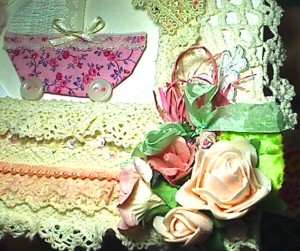 I was at a bit of a loss and scoured Pinterest and Google images for hours and came up with nothing that I found compelling. Then I rummaged through my stash and found a beautiful Martha Stewart guest book that had been gifted to me by my friend Myra (YT: Craftyrats). Aha! This was it!
I pullout out all the crocheted laces, trims, and flowers that I had that went with the assigned colors and just started playing. There was a lot of "trying things on for size" as it were. I ended up using Fabri-Tac, hot glue, and adhesive backed fabric papers to complete the project. A few novel things that I think added a bit of extra interest were the beautiful fabric and lace baby stroller that had been gifted to me by my friend Marisol (YT: Marisol Pearls), my first ever hand-made lace flower, and some pink colore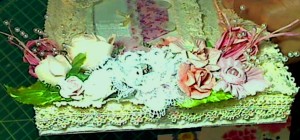 d raffia!
There were so many bits and bobs from so many lovely YT crafty friends, I kind of felt like all the love that they shared in gifting these items to me I was able to add to the baby book.  Do you remember the scene in Sleeping Beauty where the fairies, Flora, Fauna and Merryweather, blessed the baby Sleeping Beauty? This is my crafty version of that blessing, with love from dozens of crafty YT friends. 🙂
Thanks for stopping by! Please subscribe if you wish, and have a great day! WOOF