I've had this beautiful Sizzix Angel Wings Die Set by Rachael Bright
in my stash for over a year, and this is the first time I've had a chance to use it (shame on me for the past, but YAY for finally getting it out and playing with it! LOL). It is great for creating a single layer base that can be altered/decorated to your heart's content!
I cut out the wings twice and paired each left and right with their mirror to make two balanced sets of angel wings. I covered both with vintage music paper (from my friend YT: Crafty Carolina Gal) and inked the edges of the vintage one with Tim Holtz Distress Ink in Antique Linen and the shabby chic one with Tattered Rose.
For the vintage one which I am gifting to my mother-in-law, I used pearl sprays that were gifted to me by my friend, V (YT: Virginia1468) to add movement and texture; White Heart Floral Venice Lace, a snippet of three flowers from a Cream Double Flower Venice Trim, and a delicate doily (currently out of stock) from Julie's (YT:Thriftypapergarden) Zibbet store, TPG Crafts; crocheted flowers from Patrizia (YT: Pat S.); and a rose and gold cabachon from Carmen (YT: Maksnana 2012).
For the Shabby Chic ornament which I am gifting to my friend Jane (YT: Alterjunkie), I used pink and silver eyelash trim from my stash; a wedding applique from my friend Beth (YT: Bethsscrapbookroom); glossy and sparkly metal and crystal "branches" from V; heart, round and pearl and rhinestone cabachons from Carmen; and some spectacular organza applique trim from Mel's FlairbyMe.com store.
The following is a process video showing the creation of these angel wing ornaments from start to finish:
The shabby chic ornament is being entered into the following challenges
Simon Says Stamp Monday So Glossy Challenge
Through the Craft Room Door Anything Goes Challenge
Jennifer McGuire Ink Share Handmade Kindness with Friends and Family Challenge
The vintage ornament is being entered into the following challenges
613 Avenue Create Anything Goes Challenge
Sparkles Forum Christmas Decoration Challenge
Lil Patch of Crafty Friends Anything Goes Challenge
Virginia's View Texture Challenge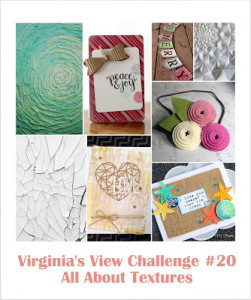 Thanks for stopping by and I hope you are having a wonderful crafty day! WOOF