I am so pleased with this, my first altered box!  I started with a plain chipboard box.  I first reinforced and made more decorative all the corners and edges of the box, with washi tape and Tim Holtz tissue tape.  That made covering the sides of the box with paper much easier since I didn't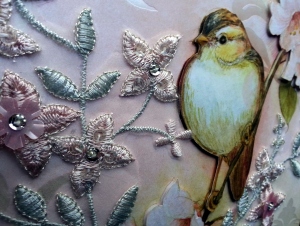 have to worry about the seams of the paper being perfectly matched.  I covered the box using three 12×12 sheets of beautiful pink floral bird foil paper by K & Company.  All that ground work took some time, but that pretty base was the work that made the rest of the embellishing with all the trims from MelsCraftBoutique pure fun. {MelsCraftBoutique Coupon Code: CraftyPaws10 for 10% off your entire purchase and FREE U.S. shipping on orders of $40 or more}
On the top of the box, I popped up a second fussy cut image of the bird and a few of the flowers from the paper using foam adhesive.  To add sparkle and shine to the images I used my clear Wink of Stella and a bit of Glossy Accents. The trim that inspired this whole project is used most here.  That fancy pastel flower applique that has a shimmery thread along the edges, fun flower sequins that have movement, and detailed sequins and beads at the flower centers takes my breath away.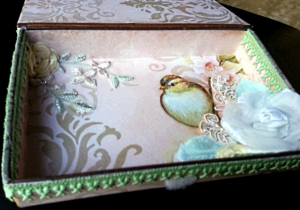 All around the sides of the box, I used a sweet embroidered heart trim in mint green.  I thought that added soft color that coordinated nicely with the leaves in the paper. For the front flap, I wanted a WOW factor so I used the gorgeous beaded light pink flower trim that has such a sparkle from all the sequins. At the center I used an ivory rose resin flower, to mark where the hook and loop closure was underneath and to create a center focal point on the flap that could take the handling that area would likely see.
I did not want to overdo it on the inside of the box, as I wanted the box to be functional. However, I couldn't help but embellish a little bit. I used one large charming white rose (which leaves I sprayed with green shimmer spray by Recollections) and two of the dainty ivory satin flowers.  I also used all the bits and snippets of trim that were left over from the other areas of the box.  I did not waste one inch of trim; they were too beautiful to let go to waste.
The following is a video share of this project:
This altered box project is being entered into the October Lawnscaping Patterned Paper Challenge
Thanks for stopping by! Please subscribe if you wish, and have a great day! WOOF