A YT friend, T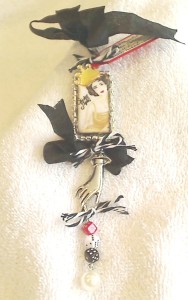 ina (YT: tinakucinic) is hosting a 500 Subbie Challenge in which she asked folks to alter a Domino or a bottlecap. Truth be told, I wanted to try a bottlecap (which I have yet to try), but having thrown out my back I didn't see how I could go and buy anything, and I didn't have any in my stash. I did, however, have Dominos (and I suppose if you have Mah Jong or Rummicub tiles, they would work too).
There was also a saying that had been rattling around in my mind for a while now and I wanted to do something with that flavor, so I started googling: "Well-behaved Women Rarely Make History," which is a quote and a book by Laurel Thatcher Ulrich. Through it I was able to find a collection of little images of "Bad Girls Through History" by Ann Shen, an LA artist. Perfect for altering Dominos, once sized down, I started rummaging through my stash for things that would go with it.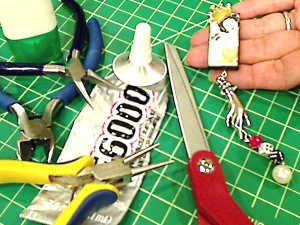 Black seam binding (from YT: Candace Scarborough) had a sexiness that I hadn't noticed before. There was that curious hand charm I had received from Kelly (YT: kreativecuriosities), and (oh!) those itty bitty dice! That's how this altered Domino came into being. All the other embellishments just seemed to flow.  I made some loops with steel wire for the dangle, cut down the images (using a metal file to file down the edges down to perfectly fit the Domino), glued down the images over the wire hanger on one side, and used Glossy Accents to cover the image. While I waited 4+ hours for that to dry, I connected all the dice, hand charm and pearl to make a finished dangle. Then I Glossy Accented the image on the other side. In the morning I used my hot glue gun to add the bling trim and started tying bows with bakers twine and the seam binding.
If you're interested in the seeing all the details, please watch the following video:
PS: You're probably wondering what about the altered Dominos with the images of Biscuit and Bandito in the top picture?  Well, I couldn't resist sharing these with you. These beauties were created and gifted to me by Lisa (YT: Maggie2005cupcake), and I adore them. 🙂
Please subscribe if you wish, and thanks for stopping by!  WOOF