I saw another gorgeous CAS card created by the super talented Julie Ebersole that I had to case. This one was for the Red Friday Bloghop for Operation Write Home, and it was simple, elegant, and perfectly appointed.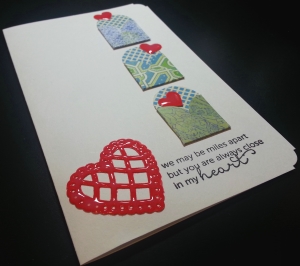 I had a Stampin Up! mini envelope punch, a Martha Stewart Martha Stewart Lace Scalloped Heart Punch
 (this was retired before I ever saw it, and I hunted for it for almost 4 months on eBay last year to get it for a reasonable price as part of a large lot–parts of which I re-sold since they were duplicates of punches I already had or didn't want), and a Martha Stewart Heart Seal Punch
that I thought could work nicely.
I chose what I thought was a perfect sentiment from the Mama Elephant "In My Heart" stamp set, that says, "we may be miles apart but you are always close in my heart".
I used some of my favorite patterned paper pieces from my scrap box to punch out the envelopes. Since some of my papers were not double sided, I punched out the corners a couple of extra times of one patterned paper to line the inside of all three envies the with the same pattern (for continuity). I used red card stock to punch out the hearts and placed the large lace scalloped heart one next to the sentiment and the three hearts from the heart seal punch as if they were drifting out of each envelope.  To add a little shine, I also put some Glossy Accents
on all of the hearts (yes, even the intricate lace one–the extra effort added that little somethin' special). 🙂
Thanks for stopping by and hope you are having a PAWsitively wonderful day! WOOF
This card is being entered into the Operation Write Home Red Friday Bloghop Challenge