How many of you have tons of scrap book pages about your parents, children, friends, pets, etc. and none about yourself?  I rarely scrapbook about myself (other than my wedding albums). Whether it's because I don't like most pictures of myself or because I don't want to appear self-centered, or whatever, I just never seem to get around to making scrap book layouts of myself.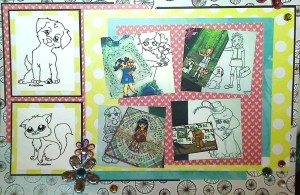 I was recently perusing a back issue of a scrap booking magazine (gifted to me by my friend Laura (YT: Littleluluscraps)) and there was a whole article about remembering oneself and valuing oneself enough to scrapbook things that are important to you–your passions, likes, dislikes, etcetera. I resolved to at least try to make 1 page every month.  That shouldn't be too hard right? We'll see. 🙂
This page is about my latest passion, this blog! I took hours designing the heading and the images are some of the first digis I created (some in projects next to the digi sketch). I used Dear Lizzy Neapolitan and Amy Tangerine Sketchbook papers, a little blue mist spray (to connect the background to the blue layers and flowers), spring colored acrylic flowers with bling centers, and some extra rhinestone blings to decorate this simple but bright and cheerful layout.
This LO with the acrylic spring flowers is being entered into the Simon Says Stamp Wednesday Challenge
This LO with the blue misted background about Myself is being entered into the Simon Says Stamp Monday Challenge
This LO with the acrylic spring flowers is being entered into the One Sweet Challenge for May
Thanks for stopping by! Please subscribe if you wish, and have a great day! WOOF