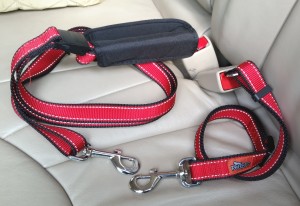 As most of  you know I have two pups (well one is 15 years old and the other is 3 1/2) that are my loves. When we lived in NYC and didn't have cars, I didn't think much about it, but now that we live a driving lifestyle I was so glad to have found these pet leash/seat belts for them. Obviously, these are not as exciting for the dogs (they would have preferred edible expressions of my love), but I feel so much better knowing that they are safer when we drive around town.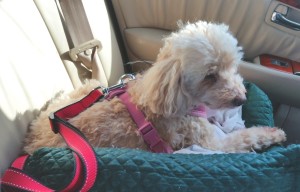 These 1″ wide seat belts come 2 to a pack and are adjustable in length. One is 22″-37″ long and is perfect for my more sedentary, old girl, Biscuit. The other is 3.7 – 6 feet long (it converts into a leash with a padded handle that has a zippered compartment for keys, ID, etc.) and gives my younger, friskier Bandito enough lead to let him roam a bit in the back seat. It's as if these seat belts were made for my fur babies!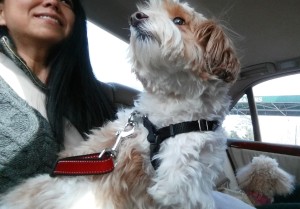 This all might seem a little extreme for non-dog people, but I think of and treat my dogs like my kids.  We would never let kids ride around in cars without safety belts or car seats so why would I let me dogs ride around like that? This is the doggy equivalent of safety belts and car seats for kids, but even better. The dogs didn't seem to even notice that they had their safety belts on (unlike a lot of kids who fight against getting put into car seats or using safety belts). They didn't seem bothered by the tethering at all, and I had peace of mind that they were safer now.
I will say that I was a little disappointed by the packaging on this product. They had pictures of dogs in regular round collars tethered to these safety belts.  I took one look at that and knew I would only use these with harness collars. I don't want to imagine what could happen in a sudden stop or accident with these restraints used with simple collars….
The following is a video share of these dog safety belt/leashes:
If you are interested in picking up these safety belts, check them out on Amazon: Two – Dog Seat Belt Leashes – Pet Seat belt Harness for Car
Disclaimer: I received these leashes/safety belts at a discounted price in exchange for my honest review.