It's been mentioned to me that some of the gifts that I craft for my hubby are a bit feminine–lots of laces, trims and flowers in white and cream. Well, true confessions time: those things are usually shared by us since they are home decor items so I usually craft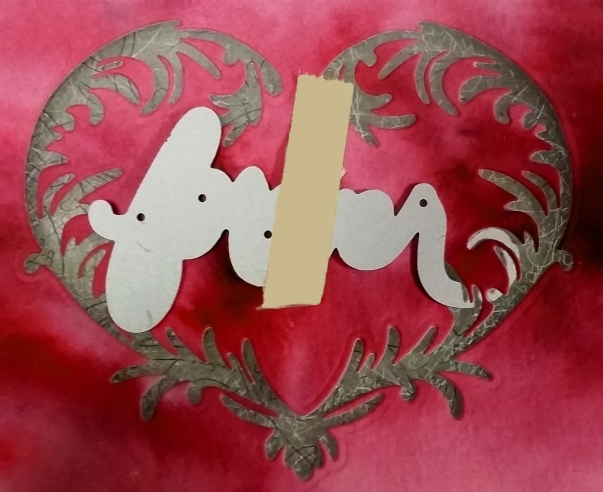 them in styles that I would like to see around the house. LOL However, for cards (which Mr. CraftyPaws saves — he still has postcards that I sent him when we hadn't even started dating!), I really try to craft things just for him that I think he would enjoy.  He likes all different styles so nothing is off limits. This time, I thought I would push myself to create a truly romantic card. I had in mind a kind of moody cross between Victorian vampire (think Interview with a Vampire) and CAS (imagine all the red as being white and this would be pretty clean and simple).
I started with a card front base of Strathmore Cold Press 140-Pound Watercolor Paper
and prepped it by brushing water all over it. Then I sprinkled on and brushed around some Ken Oliver Color Burst Watercolor Powder in Merlot
. The resulting swirls were rich and dramatic in deep reds. Then I used my new Diemond Dies Je T'Adore Heart Die and cut out the detailed heart shape into the center of the card front. I used the die four more times with black card stock to create a thicker heart to inlay into the card front.  My readers can get 10% off and free worldwide shipping at Diemond Dies by using the coupon code thankskristina.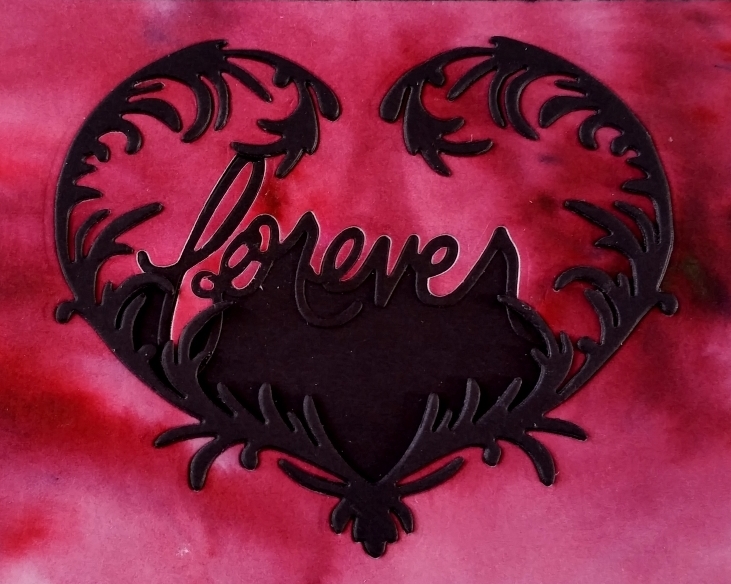 I wanted to have a delicate scripty word run across the open center of the heart.  The "forever" word die from the Little Yellow Bicycle I Love You Die Set
fit perfectly; plus the word itself added a sense of mystery and timelessness that I was after.  I carefully placed that die across the card front, tucking the overhanging swirl of the "r" under the area of the heart so that it wouldn't cut away the heart details before I ran it through my Sizzix Big Shot Cutting/Embossing Machine
. Then I die cut the word out of black card stock four more times as well, again so that I could create a dimensional inlaid sentiment to match the inlaid heart.
The trickiest part of this project was having to use an Xacto knife to cut away the letters where they crossed the tendrils of the heart.  It took some time, and I made some mistakes (Do you ever notice critical little paper bits sometimes just disappear from your craft desk mid-project while unnecessary scraps seem to cluster in corners and last forever?  Is there a selective crafty black hole?) but the results were well worth the extra effort.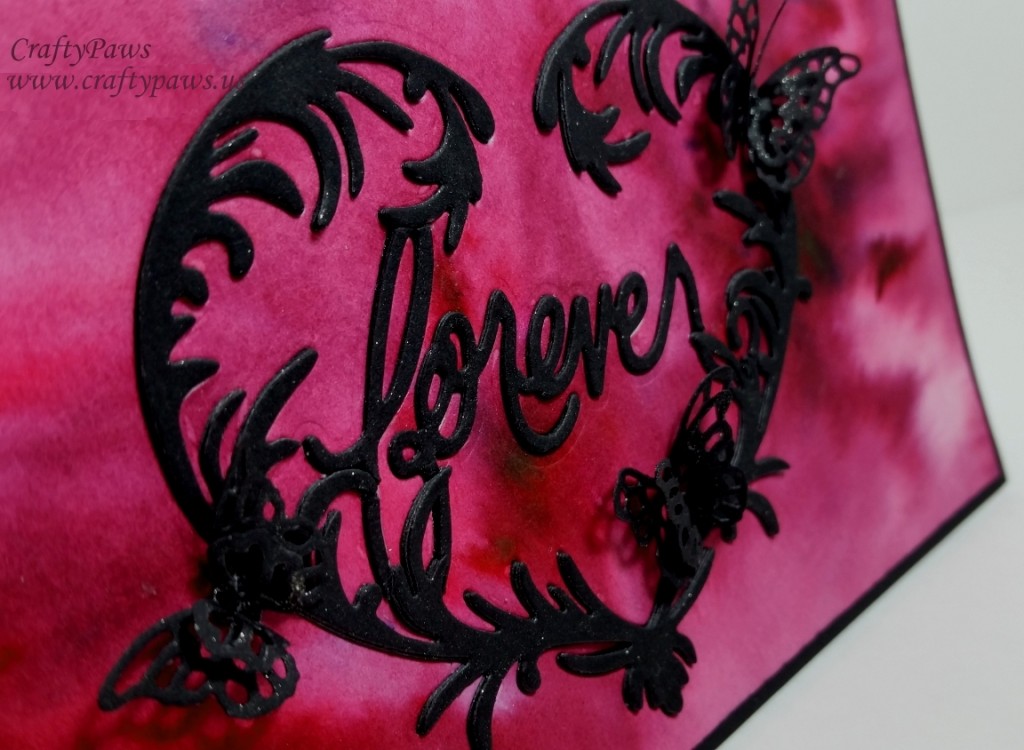 For some added interest and dimension, I die cut and then hand fussy cut away some delicate butterflies from the Kensington Border Die by Memory Box
.  I layered two die cut butterflies to create each butterfly and curled up the wings to give an appearance of flight. I coated the center body of each butterfly with ebony glitter glue from Recollections.
At this point, I had completed my planned card, but I felt like something was missing. I slept on it over night and then in the morning I realized there was no "magic".  I pulled out my Clear Zig Wink Of Stella Brush Glitter Pen Marker and coated every black die cut with a healthy layer or two (or five — hahaha), and voila! Oh the magic of shimmer! Lastly, I added five small black bling gems from Want2scrap to add that little extra sparkle.
The following is a video share of this card:
This card is being entered into the following challenges:
Simon Says Stamp Monday Love Is In The Air + Use Red Challenge
MarkerPOP Anything Goes Challenge
Not Just Cards Anything Goes Challenge
Craft Your Passion Anything Goes Challenge
Addicted to CAS Red Challenge
Simon Says Stamp Work It Wednesday Something New Challenge
Through the Craft Room Door Anything Goes Challenge
Crafty Gals Corner Anything Goes Challenge
Crafty Girls Creations Anything Goes Challenge
My readers can get 10% off and free shipping on all orders of $35 or more at Diemond Dies by using the coupon code "thankskristina"