With all the smart phones in use today, Rolodex cards are not really used in the real world any more, but in the crafting world, they are alive and well! We decorate them up and collect them from our fellow crafting friends, kind of like ATCs (Artist Trading Cards) except that these also have the benefit of including information about the creators. I made this Rolodex card for my friend Carolina (YT: Carolina's Creations-Handmade), who is hosting a giveaway challenge and asking for cards or Rolodex cards with a bit of information about how we started crafting and what we most enjoy creating.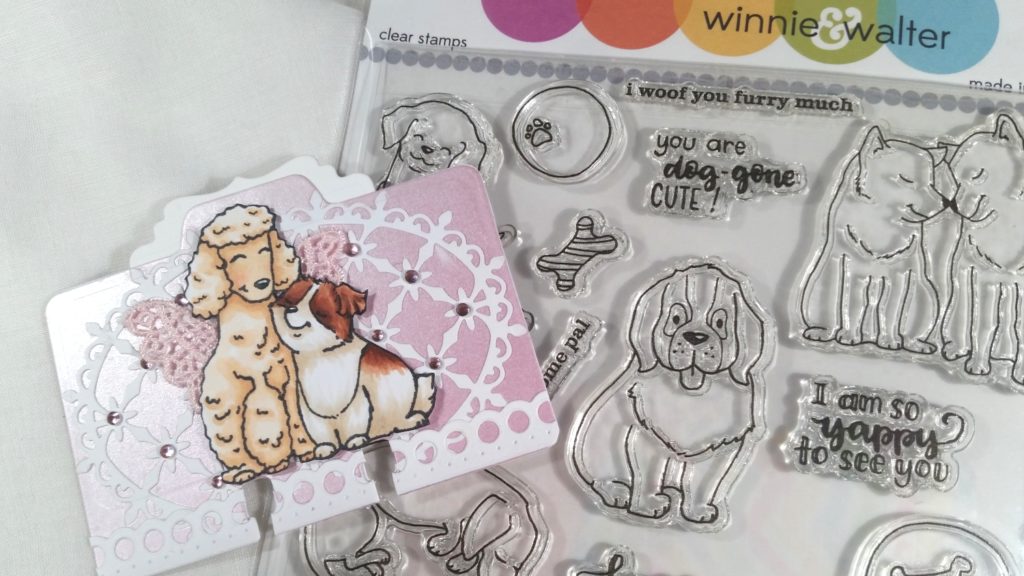 It's been a couple of months since my Miniature Poodle, Biscuit, passed away, and while I still get choked up when I think of her, I finally thought I was in an emotional place where I could use the Winnie & Walter "Dog-gone Cute" stamp set that I had purchased because there was a stamp that looked like my fur babies, Biscuit and Bandito (it was delivered after by Biscuit's passing over the Rainbow Bridge). It's one of my favorite stamp sets because of this stamp, but it was a bit tricky to get up the nerve to ink it up. 🙂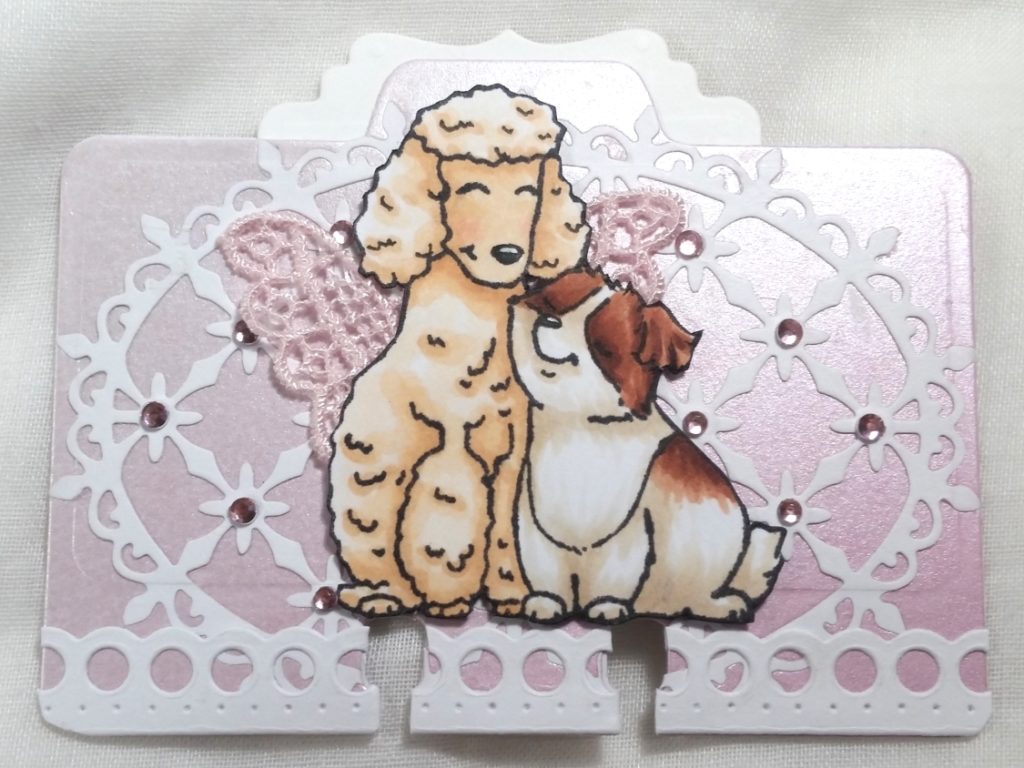 Using a 0.03 pt Copic Multi-liner Pen, I altered the little spotted pup's ears to better match my Bandito, who's a Havanese and has drop ears (how-to in video below), and then used the following Copic colors to color up the two pups:
Poodle: E50, E51, E53 and R30
Havanese: E40, E41, E11, E13, E15 and E18
I also added shiny nose highlights with a Uniball Signo White Gel Pen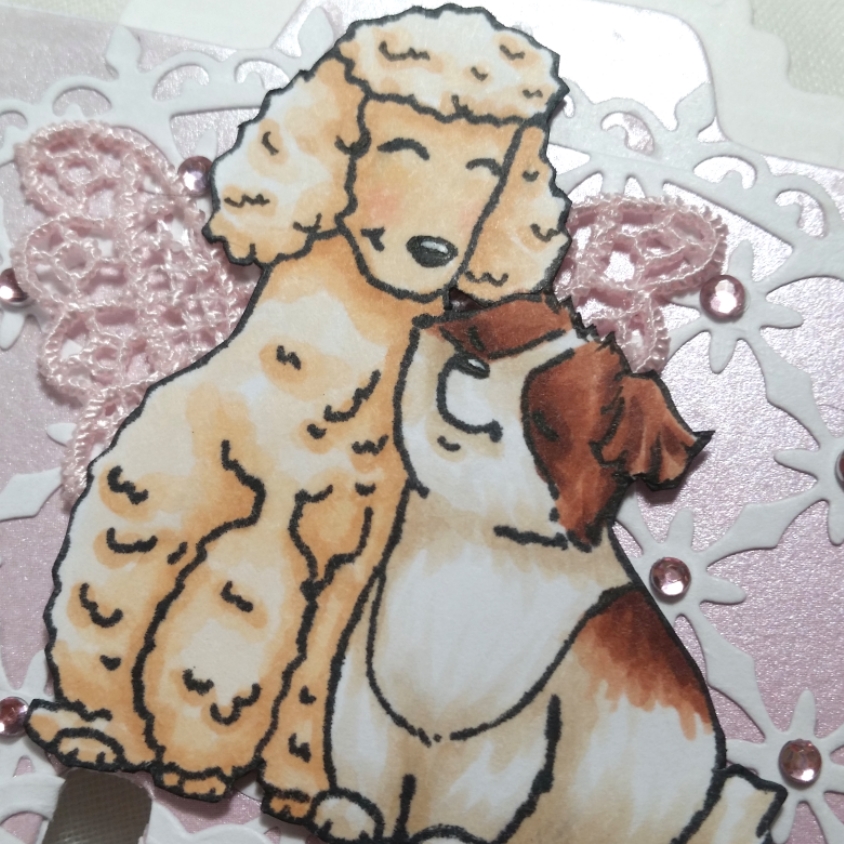 For the base of the Rolodex card I used a Spellbinders Shapeabilities "Address Book" Die Set. I die cut out the center-tab version twice from some very thick pearlescent ombre pink card stock from my scrap bin. I also die cut out a flourished tab from that same set from plain white card stock to sandwich between the two Rolodex cards to reinforce and embellish the tab. I covered the front of the Rolodex with an oval trellis die cut to decorate the background. After adding wings from a butterfly applique to make the Poodle image into an angel, I popped up the pups with double sided foam adhesive and centered them onto the Rolodex card. To give them something to sit on (and not have them look like they were floating), I also added a scalloped open circle die cut border, snipping off the excess that overlapped the edges of the Rolodex or covered up the bottom slots with my favorite Fiskars Spring Loaded Scissors. To add a little sparkle, I added some tiny pink gems into each cross-section of the trellis background that was still visible (not covered by the pups).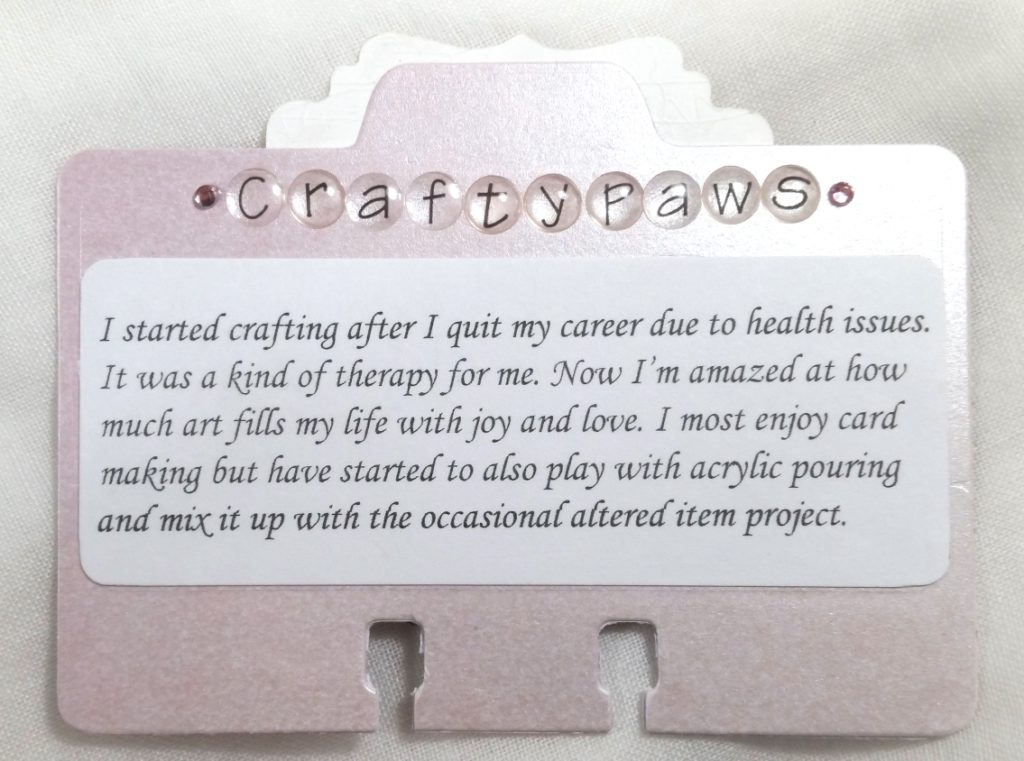 For the backside of the Rolodex, I labeled the top with my YouTube name: CraftyPaws with some old epoxy alpha stickers from my stash. I also added 2 pink gems on either side of CraftyPaws to coordinate with the gems on the front of the Rolodex. Then I typed up on my computer (because I don't like my handwriting) the answers to the questions that Carolina asked for us to include: 1. how I started crafting, and 2. what do I most enjoy crafting. After printing out the answers and cropping to fit into the back of the Rolodex, I used my We R Memory Keepers Crop-A-Dile Corner Chomper to round the corners.
Click the following picture to watch the whole process video: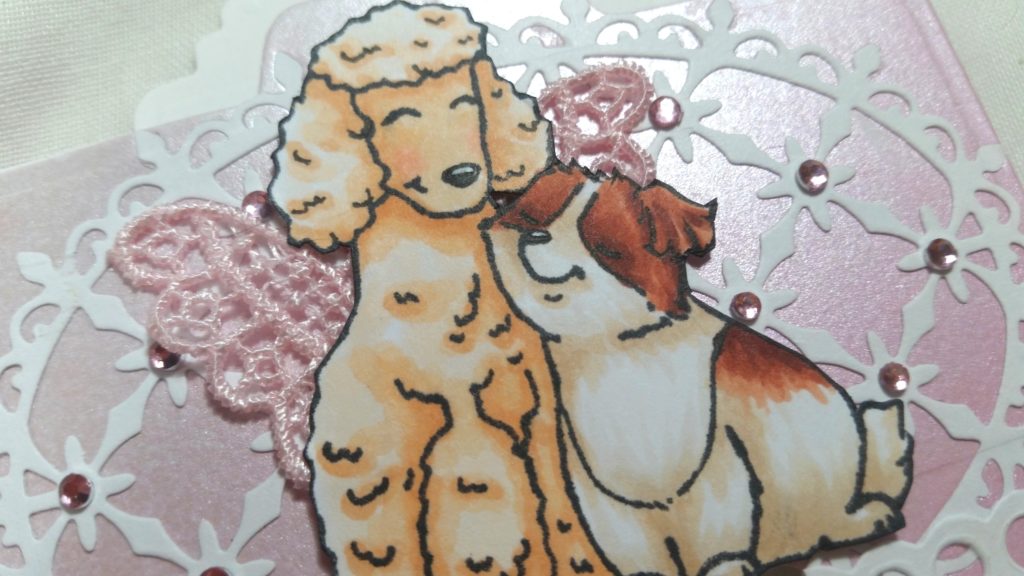 Disclosure: Many of the supplies I've used for today's project are linked. Some may be affiliate links, which means if you make a purchase I receive a small commission at no extra cost to you. I truly appreciate your support toward the costs of running this blog!
This Rolodex is being entered into the following challenges:
613 Avenue Create Anything Goes with Optional Magic/Fantasy Challenge
The Corrosive Anything Goes Challenge
Penny Black and More I Spy a B Challenge – Biscuit and Bandito
Word Art Wednesday Anything Goes Challenge
Creatalicious Anything Goes with Optional No Square or Rectangular Card Challenge
Lil Patch Anything Goes Challenge
Fab 'n' Funky Babies Challenge
Through the Craft Room Door Anything Goes Challenge
Stamping Sensations Current Favorite Stamp Challenge