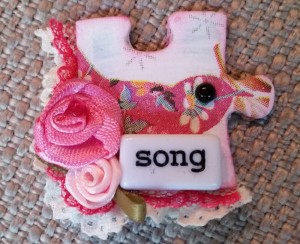 We all have those puzzles with missing pieces or we can easily get a puzzle from a dollar store, right? Well with those little pieces, you can make really sweet embellishments for cards, layouts or other crafty projects.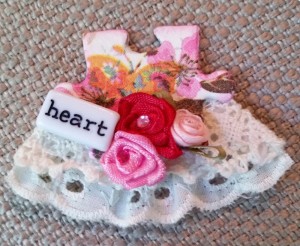 I made these three sweet puzzle piece embellishments and got to use up lots of little snippets of fabric, crocheted trim and lace.
Here are the easy steps: 1) Coat the puzzle pieces with white gesso so that the image from the puzzle is completely obscured.  You could use black gesso if you were going to do darker embellies in a Steampunk or vintage style.  2) Remove the 1 or 2 under-ply layers of a decorative napkin with images that would fit on a puzzle piece.  3) Using matte medium or Mod Podge, adhere a paper napkin to cover each puzzle piece.  You can just wet your finger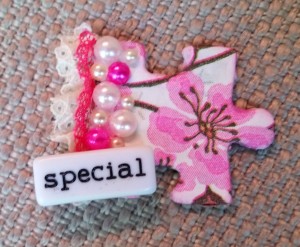 with water and tap the edges of the puzzle piece to tear away the napkin along the edges. 4) (optional) Ink the edges of the puzzle piece. I used Tim Holtz Distress Ink in Picked Raspberry since the napkin had a pale pink background. 5) Using hot glue, have fun embellishing each puzzle piece with scraps of trims, laces, flat back pearls, word beads (made by Bead Landing), rolled ribbon roses, etc.
These homemade embellies were really fun to make, and as each puzzle piece is a distinct shape, they are all unique! BONUS!
The following is a video share of these embellies along with some fabric yoyo flowers:
These puzzle piece embellies are being entered into the following challenges:
Simon Says Stamp Inspiration Color Swatch Wednesday Challenge
Thanks for stopping by, and I hope you're having a crafty day! WOOF