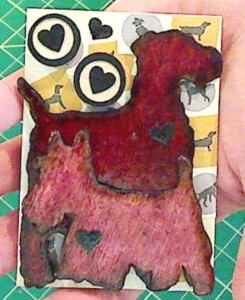 What I've realized about myself is that I generally do better with direction, whether self-imposed or guided by others. I think my projects are better when I have a clear idea that I want to try or when I am working on a challenge with lots of specifics.
I worked on three ATCs for crafty friends, 2 for Pam (YT: jppeggy2) and 1 for Beth (YT: Bethsscrapbookroom). Pam was very specific about the things she liked–colors, styles, trims, etc. and requested that 1 of the ATCs be done with her likes in mind. The other was to be reflect the crafter's own style or likes. Even though the second ATC is of my beloved doggy theme, made with wood veneers inked with Tim Holtz Distress Inks: Walnut Stain, Antique Photo, and Victorian Velvet, doggy paper, and sweet wooden and paper hearts, I have to admit that I like how the one I made with Pam in mind came out much better (IMHO).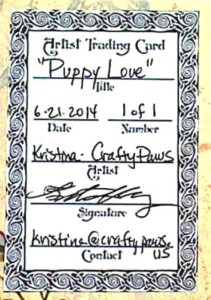 The Pam style ATC started with a beautiful napkin covered base, which I adhered with Liquitex gloss gel. I find that using that gel medium creates a smooth non-bubbly/wrinkly surface. I gessoed a spare puzzle piece to cover the image and add texture, colored it up with red gelatos, and then added irridescent glitter clue over top. I really like the rich look all those layers give.  To add even more of what Pam loves, I added two felt roses on and by the puzzle piece.  Then I printed out a wonderful appropriate puzzle related quote by Bonnie Arbon: "You are a piece of the puzzle of someone else's life. You may never know where you fit, but others will fill the holes in their lives with pieces of you." I only used part of it on this ATC because I didn't want to cover up too much of the beautiful background paper. I added black lace and black pearl trim to the top and bottom of the ATC using Fabri-Tac and E6000, respectively, and I finished off by adding even more sparkle with red sequins I glued on with liquid pearl centers.
I made Beth's ATC using the same quote, but in full, and just changed up the color scheme to highlight Beth's favorite color, yellow and her affinity for shabby chic.  I'm sorry I forgot to take a picture of it before packaging it up but if you'd like to see it, it is in the video share below:
The black and red ATC is being entered into the http://www.simonsaysstampblog.com/mondaychallenge/
Thanks for stopping by. Please subscribe if you wish, and have a great day! WOOF