Yes, I motivated and tried making my second pocket letter! After my first one took me 4 days I thought, "this is not a craft for me," (LOL) but to really give it a fair shake, I thought I should try at least one more. Boy, am I glad I did!  I LOVE this puppy love-themed pocket letter and I had so much fun creating it. Of course it helped that I used lots of doggy items, all of which I love. 🙂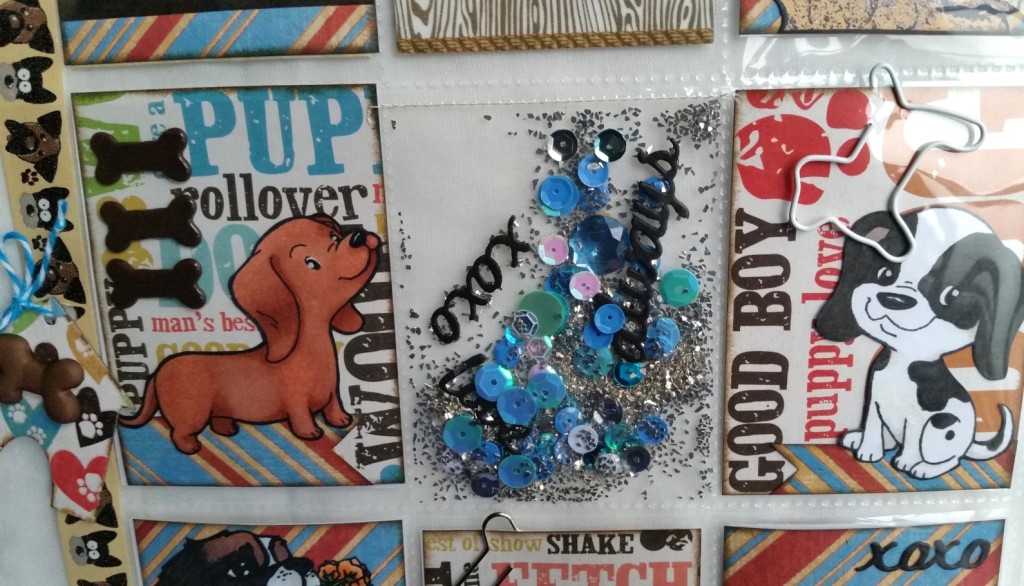 I started with papers for the front pockets from the DCWV The Pet Stack, and the back pockets from the Daisy Hill Top Dog collection, cutting them to size and using the extra bits to make fish tail banners. Then I got out some of my favorite doggy images. Two are from an artist, Kim Niles, that I digitally colored up to match my dogs, Biscuit and Bandito. Two are my own FREE digis, "Happy Mail" (re-released if you missed it the first time around) and "St. Bernard Puppy With Flowers for You."  One is from Art Impressions and I shared the creation of that top middle Peek-A-Boo card HERE. And three are from the Some Odd Girl Hipster Pets
and Some Odd Girl Preppy Pups
 stamp sets.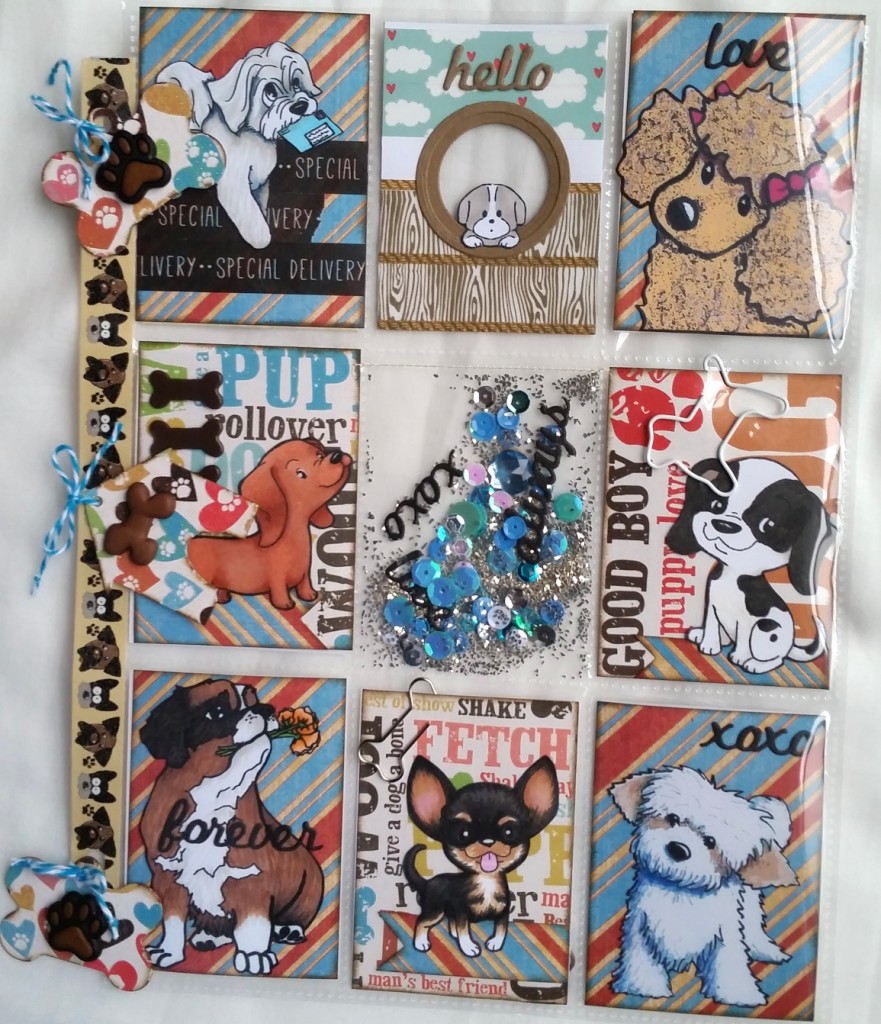 Unfortunately I didn't leave out all my Copic markers that I used to color up these dog images, but here are the ones I do remember:
Happy Mail Puppy: W1, W3, B93
St. Bernard Puppy: W1, W9, E25, E 74 and N10
Black and White Spotted Pup: W1, W9, R30
Chihuahua: W7, W9, E31, E33, R20 and R21
For the fun little tags that I added to each of the 3 holes, I used the Diemond Dies Doghouse and Dog Tag Die Set, which I simply cut out twice (to make the tags double sided and more sturdy) and inked around the edges with Tim Holtz Distress Ink in Antique Photo.  I added buttons to the tags after cutting of the shanks and tied them on with teal and white bakers twine bows.  To carry through the "love" theme (as if the pups were not enough! hahaha), I used the Diemond Dies Word Set #1 Die Set and cut out the words I wanted 2 or 3 times and glued them together to achieve the thickness I wanted for the cards and for the shaker pocket pieces.  Use coupon code: thankskristina for 10% off and free worldwide shipping on orders of $35 or more at Diemond Dies.
The shaker pocket, which I think is so fun and sparkly, I placed smack dab in the middle. I picked out some sequins in shades of blue (my favorite color), silver and clear; added some chunky glitter (large enough so that they could not fall out); and the three Diemond Dies words "xoxo," "always," and "love". Then I simply took it to my sewing machine and sewed along the top of the pocket. I love all the movement and sparkle of that middle shaker pocket.
Oh one final tip: If you have a We R Memory Keepers envelope punch board, you can make an envelope the exact size of an ATC (2.5″ x 3.5″) or these baseball card sized pockets by using a 5″ x 5″ piece of paper and scoring the first score line at 2 1/8″. I will definitely be making more of these sweet small envies for my next pocket letters. Yes, more to come! 😀
The following is a video share of this pocket letter project:
This pocket letter is being entered into the Simon Says Stamp Monday In the Middle Challenge
Thanks for stopping by and have a wonderful crafty day! WOOF