After my post yesterday with the punch art puppy cards, I had several requests to create punch art cats. After looking through my punches, I thought I could make just a slight adjustment to make punch art kitties.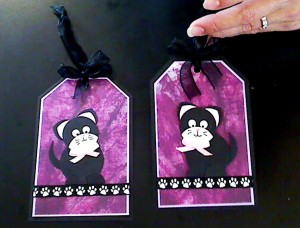 I decided that I would make gift cards and tags with these punch art kitties for a friend of mine, so the samples you see here are for that friend (hopefully she'll be surprised when she receives them in the mail).
The following are the measurements for the punched pieces (all are black, unless otherwise noted):
1.5″ circle (body)
1.25″ circle (head)
Two 1/4″ hole punch (white for eye balls)
1.25″ circle (white), shifted over and punched again to make muzzle
1.25″ circle (black), shifted over and punched again to make tail
0.75″ circle, cut in half to make feet
Two 0.75″ heart (outside of ears)
Two 0.75″ hearts (pink for inside of ears)
Optional: Two 1/8″ hole punch (pupils); these can also be drawn in with a black ink pen
The material differences between the dog and cat punch art are the triangular shape of the cat's ears and the more delineated whiskers.  I also drew in a small pink nose (with a pink Gelly Roll pen) rather than cutting out a more pronounced black nose for the dog.
The following is my video tutorial for how to make a punch art cat:
The cards are also being entered into the Simon Says Stamp Monday Blog Anything Goes Challenge
Thanks for stopping by, and have a great day! WOOF