I don't do Project Life (PL) memory keeping. However, I know lots of my crafty friends do, and I wanted to support a few friends' (YT: Colbeys1981 – Nicole Kerr and YT: HeartMusicSoulRJ) challenges so I decided to try my hand at making 4×6″ and 3×4″ PL style cards for them.
What did I find? They are super fun, clean and simple, and probably great to have on hand to quickly be able to embellish a card, a traditional layout or any number of other paper crafting projects! I'll be making more of these cards for sure.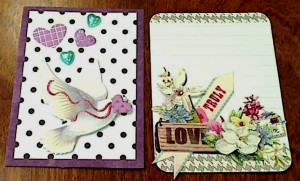 As I crafted these PL style cards, I thought of them as a simpler, larger version of an ATC or a smaller version of a normal greeting card. Round the corners, and voila!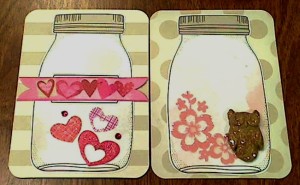 The top photo includes a photo of a larger PL card in the family theme–well, my version of family. After all, in my book dogs are family members–and a smaller PL card in the birthday theme. I used stickers, brads, a felt dog house and a painted wooden doggy and bone for the first PL card along with some faux stitching with my white Gelly Roll pen. For the second card, I just used a PL card base and added champagne Stickles and some paper scraps and sequins to remake the cake sparkle a bit more.
The next three pictures are of PL cards I made in the themes of (a) red, white and blue; (b) wedding (but including blue and purple; and (c) mason jars. All but the dove one started life as real PL cards, but I added ribbon, sequins, little cut or punch outs, stickers, an air clay owl, some Glossy Accents, and love. 🙂
Also entered into challenge: Simon Says Stamp: Keep it clean and simple
Thanks for stopping by and have a great day! WOOF