My crafty friend, Samantha (YT: Sammi D) is hosting a challenge asking folks to make a 4×6 card representing their favorite Halloween movie. I have to say that my tastes have changed as I've gotten older. I don't know if that's because as I age life seems hard and rough and doesn't need further intensifying with horror movies, or if I have just become a softer, gentler person. LOL!
In any  case, "Practical Magic" which stars Sandra Bullock, Nicole Kidman, Diane Wiest, and Stockard Channing (what a fabulous cast!), has a decent plot including a little romance, a wild child, crazy aunts, sisterly love, and female bonding. Ok, it's a chick flick, but a good one! 🙂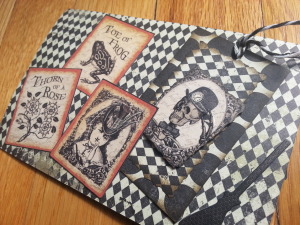 On the front of my card, I hand wrote a quote spoken by Stockard Channing's character, Aunt Francis Owen, that I love: "My darling girl, when are you going to realize that being normal is not necessarily a virtue? It rather denotes a lack of courage." I think that many people let fear drive them to mediocrity and this quote encourages us to be ourselves and embrace our uniqueness.  What's not to love?  I framed the quote with 12 dark brown and black brooms I cut out using the Die-Versions sweet petite line. I used 12 brooms because even though a coven is normally 13, in the movie, they called for 12 women to form the circle with their brooms to exorcise the evil spirit from Nicole Kidman's character, Gilly Owen.  I then filled in some of the spaces with small black hearts I punched out with my EK Success Heart Frame punch.  Over the top of the brooms to the edge of the card, I painted in the rest of the "frame" with Folk Art Extreme Glitter acrylic paint in black.  The paint comes out of the bottle milky and opague, but dries translucent, leaving a dark magical grey glitter over everything it coats.
The back side of the card I added one more little broom (because I thought they were so cute), and I added three small tags that I cut from the Graphic 45 Steampunk Spells Nevermore collection. The frog tag is a reference to the frog that spat out the ring of the evil dead boyfriend. The Steampunk lady is a reference to the two wonderful aunts, Francis and Jet, and the thorny rose tag represents the wild rose bush that grew overnight over the area where the dead boyfriend was buried. What a happy coincidence that these tags from the collection fit this story so well!  Lastly, I added a little removable tag with my info on the back and layered a few Halloween papers including a Glossy Accented Steampunk skeleton, which is popped up on foam adhesive to add a little dimension.
The following is a video share of this card:
This card is being entered into the CARDZ TV To Die For Challenge and
The Simon Says Stamp Monday Anything Goes Challenge and
The PunkyouGirl October Halloween Challenge
Thanks for stopping by and have a great day! WOOF