Based on numerous questions I received about my Giveaway Video, I thought I should post some clarifying answers and also update you on the new deadline. First, the new deadline is now May 5, 2015. This will give international participants more time to get their entries in to me, plus I forgot that I will be on a family vacation for a bit in there and will need time to re-group and tally entries. 🙂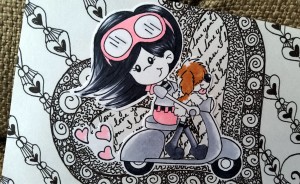 Second, I think because many crafters are accustomed to lots of decorating, embellishing, etc. they were confused by my challenge to create a mail art post card.  Really, it just means that something is flat enough to go through the mail and doesn't require much in the way of postage (again, trying to take into account budgets and the cost of international shipping).
Here are some samples: a colorful zentangle created for me by my crafty friend, J.A. (YT: JuJuPem); a heart themed zentangle with a colored stamped image from A Random Fan called "Wanderlust" (Greys: C1, 3, 5, and 7, Dog: E33; Pinks R21); and a cut out of a peach with another colored stamped image (Skin: E50, 51, 53 and R11; Dress, bows and shoes: B00, 01, 02; Hair: C7, C9 and B00) from The Greeting Farm.  However, I'd love to see a post card about you or about where you live PLUS there are lots more crafty ideas that can be used on a mail art post card like spraying, using gelatos, collage, etc. Hope you try this and have some fun!
Third, I wanted to clarify what a "bucket list" is. It is a list of things that you want to try or accomplish before you die. I've asked folks to share one thing from their bucket lists on their post card entries.
The following is a video share:
The GA post card is being entered into the following challenges:
Simon Says Stamp Wednesday Anything Goes Challenge
Addicted to CAS Cute Challenge
Simon Says Stamp Work It Wednesday STAMP Challenge
Thanks for stopping by! Have a great day! WOOF