I wanted to do a special doggy portrait for a YT friend, Amador (YT: Amadoreros) to thank him for being him. When I first started crafting on YT, he was super supportive, encouraging and kind. He participated in my first challenge and made me an incredible name sign. He didn't leave my beloved furry babies out; he got them gourmet doggy treats! Even more amazingly, he was so sweet and helpful, when my entry into his challenge was damaged in shipping (I really did not know how to package anything and wrapped a decoupaged box in tissue paper during the middle of the summer!). Besides being an unbelievably talented crafter, he is gracious, funny, sweet, and a gentleman.
Amador l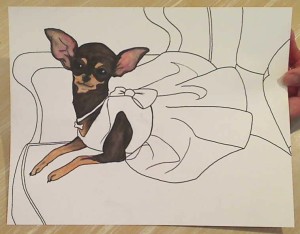 oves his little chihuahua, Fifi. He has named his store after her, has dedicated a Pinterest page to her (which is where I found the picture I worked from), and created so many inspiring layouts and PL pages of her. We obviously share our passion for the love of our dogs.
I first started with a pencil sketch. Then I created an ink drawing. I then digitized it, cleaned it up using paint.net, and then printed out two copies (one on card stock and another on copier paper to use as a mask for stamping later). The final color portrait was done using Derwent Inktense water color pencils. The background bones for the settee were stamped using white Brilliance ink and the little heart paw prints for the wallpaper was embossed with clear embossing powder.  The final touch? It was adding crystal sticker bling, of course! Fifi had to have a sparkly necklace. I added shimmer to the bone charm with my clear star Gelly Roll pen too.
The hardest part of the whole portrait was getting the courage to start. Then I suppose it was trying to color the taffeta dress.  I hope Amador likes the portrait of Fifi. It was certainly made with love. 🙂
The following is a video sharing the project:
This portrait is also being entered into the Simon Says Stamp Wednesday Challenge
and the Simon Says Stamp Work it Wednesday Challenge
Thanks for stopping by! Please subscribe if you wish and have a great day! WOOF