I have never tried to make a pocket card, but following a super easy to follow tutorial by my friend Jamie (YT: ScrappinStampers) I made these two using the Whimsy Stamps "BFF Lydia and Willy Worm" stamp illustrated by Lizzy of the Oddball Art Stamp Company, which I picked as part of my DT package from Jamie's Not2ShabbyShop.
ASIDE: Jamie is in the process of moving her store from Zibbet to her own website. What does that mean for you? Well, she is having some amazing up to 30% off sales at her Zibbet shop HERE. Plus at both stores you can use my coupon code: CRAFTYPAWS for an extra 10% off!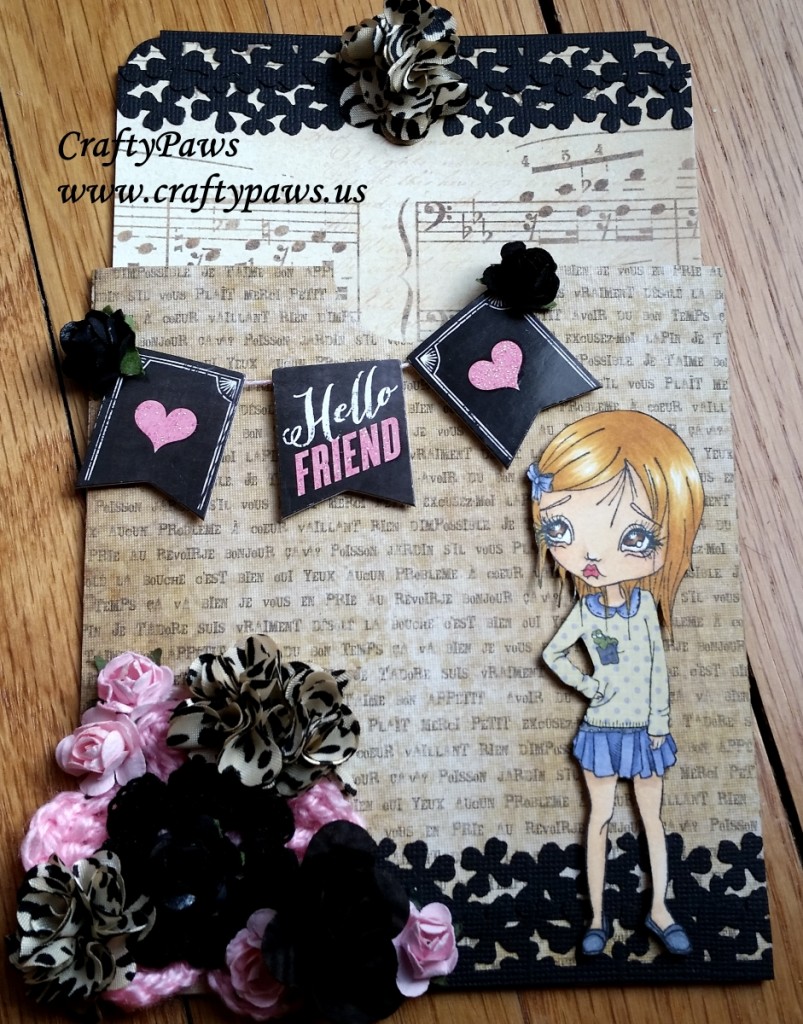 I wanted to use some 6″x 6″ papers and scraps up and just making these two cards I was able to use up a lot! I made one is a soft pale green and cream color and the other one in black and pinks.
I'm afraid I couldn't tell you the papers I used because they were either gifted to me loose or from my scrap box.  However, these are the Copic colors I used.  For both images I used E50, 51, and 53 for the skin and R30 for blush.
For the blonde hair I used Y21, YR31 and YR24. For the lavender colors in her outfit that I matched to the polka dots on her paper pieced sweater, I used BV01, 02 and 04. I gave her brown eyes with E55 and 57.  It may seem silly but I was most excited to give her a red lip (which I've never used before) and used R35.
For the brown haired girl, I used E55, 57 and 59 and used the E55 and 57 also for her shoes. I decided to give her green eyes with G94 and 99. I gave her a soft pink lip with R 30 and 20.
The following is a video share of both these cards:
The Thinking of You pocket card with all the hearts is being entered into the Oddball Art Stamp Love Challenge (Top 3 Winner)
The Hello Friend pocket card with the fabric, crocheted and paper flowers is being entered into the Simon Says Stamp Wednesday Texture Challenge
Thanks for stopping by. Please subscribe if you wish, and have a great day! WOOF