I haven't painted anything in years, I mean like back in the 90s! So when Mr. CraftyPaws asked me to make a landscape canvas for his newly modernized office, I was honored and a bit terrified.
He and I went to Michaels to pick up the "right size" (30″ x 48″) canvas when they were having a 70% off sale on Level 3 (that's the really nice thick canvas grade). Then I proceeded to stare at a blank canvas for about 5 days. It's really daunting!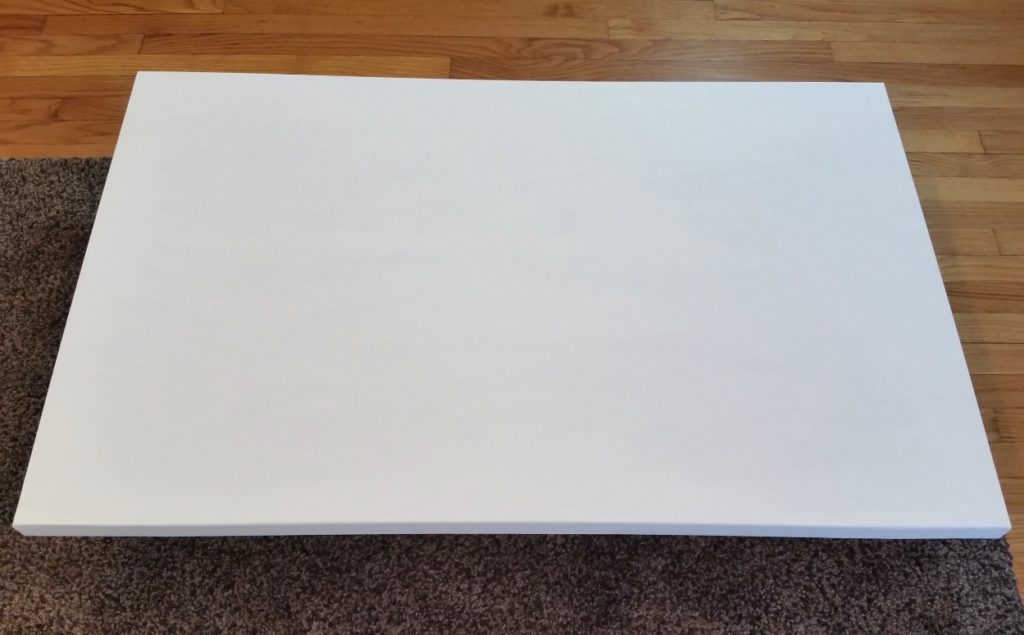 I thought about doing a modern art/cartoony canvas with giant images of our dogs (I may do smaller versions for our home in the future), but that idea was shot down with the reasonable comment that this needed to be semi-serious since clients were going to face this canvas for the duration of their visits. I didn't want to do anything literal/realistic since I worried that my painting skills were so rusty my attempt might look childlike. I finally got over the blank-canvas hurdle by just getting on some blocks of color.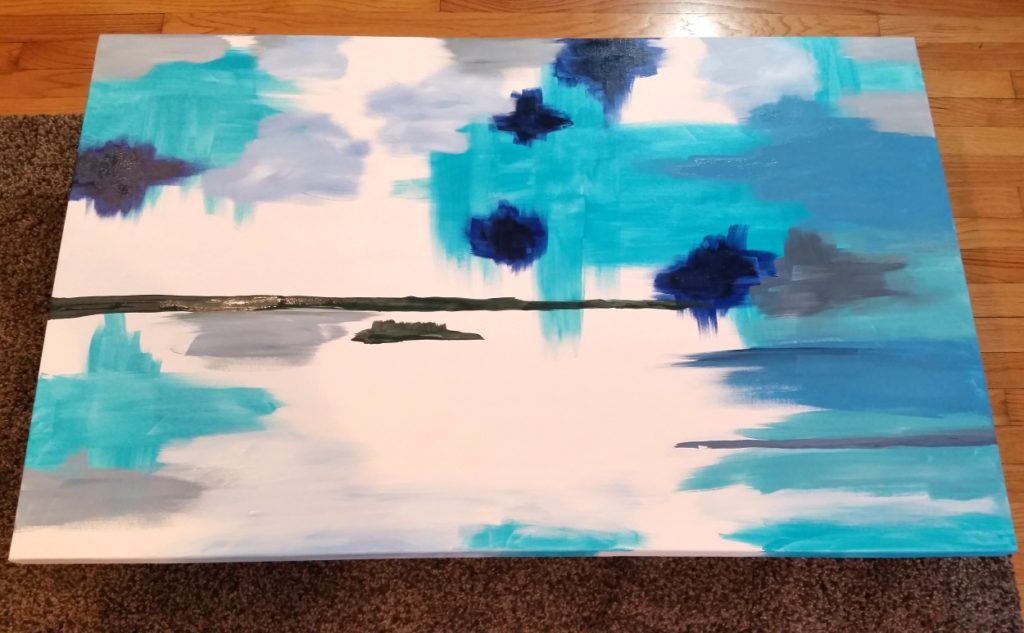 I used acrylic paints I had on hand, ranging from Dina Wakely Media Acrylic Paints, The Crafters Workshop Heavy Body Acrylics, DecoArt Media Fluid Acrylics, and Winsor & Newton Galeria Acrylics (3 tubes of the titanium white). I even tried some Ranger Acrylic Paint Daubers in white and and emerald isle to add color and soft texture: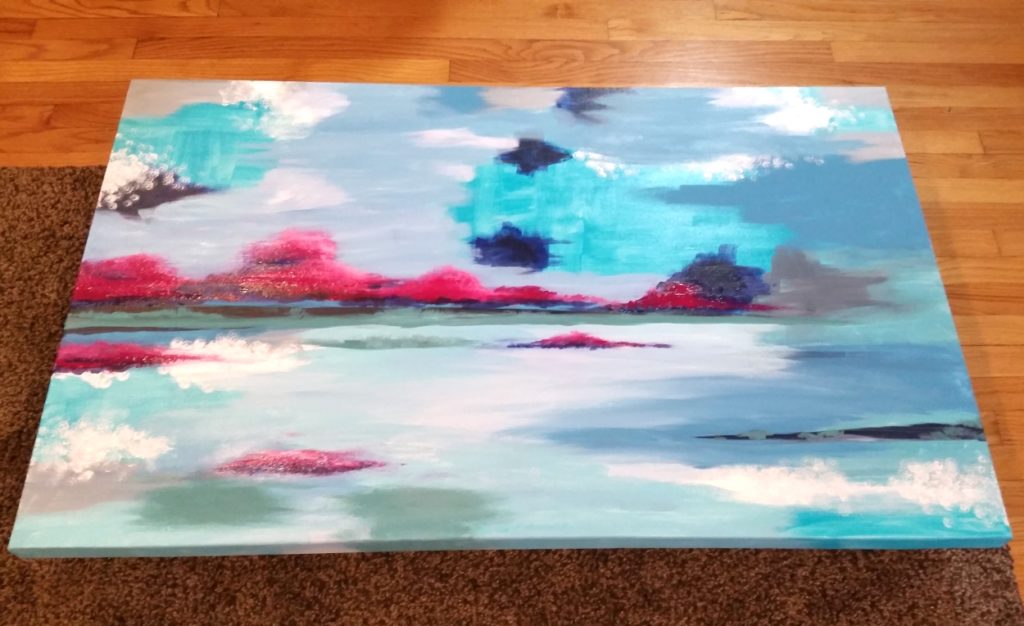 Then I decided to try an imaginary landscape in lots of blues with hints of some warm colors. I went for a 1/2-2/3 sky and 1/3-1/2 water look.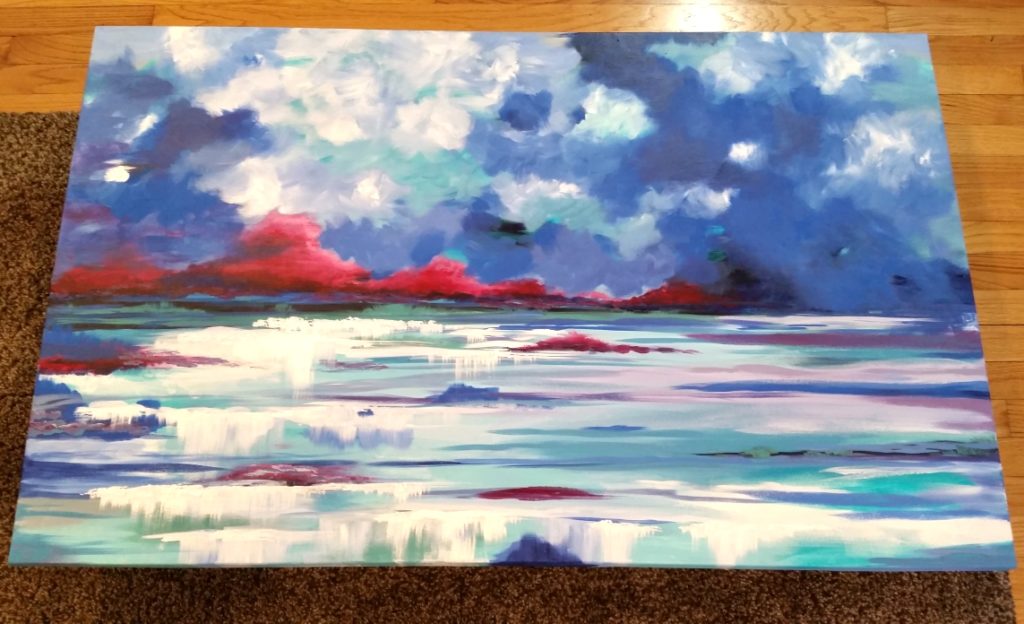 I was happy with the variety of textures (I got rid of the white dabbing that I tried on the clouds), but it was looking a little dark for my liking so I kept going. I eliminated the red mounts and added more texture in the sky with more and lighter clouds.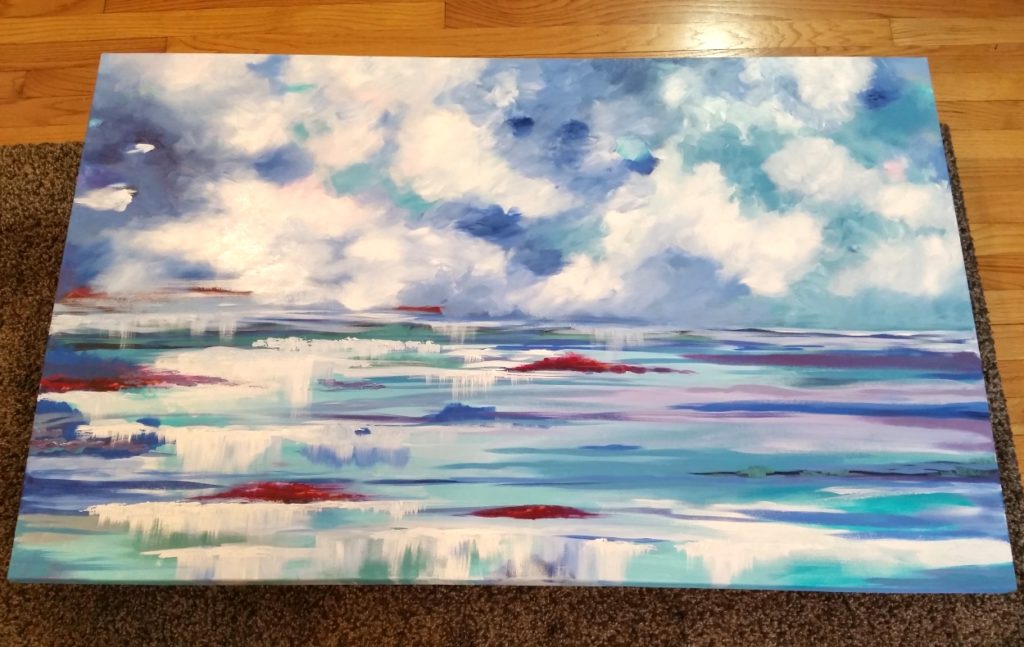 I spent (off and on) about 4 days layering on different textures, blocks of colors and soft cloud formations. I also experimented with mountains and cliff formations at the horizon line, but ultimately those would all get covered up, as I couldn't make them look right (you know, it's a gut thing). The sky was looking crazy cloudy (almost stormy – and I didn't want that for Mr. CraftyPaws' office) and I wanted to brighten the whole canvas so I went back to adding more cobalt teal.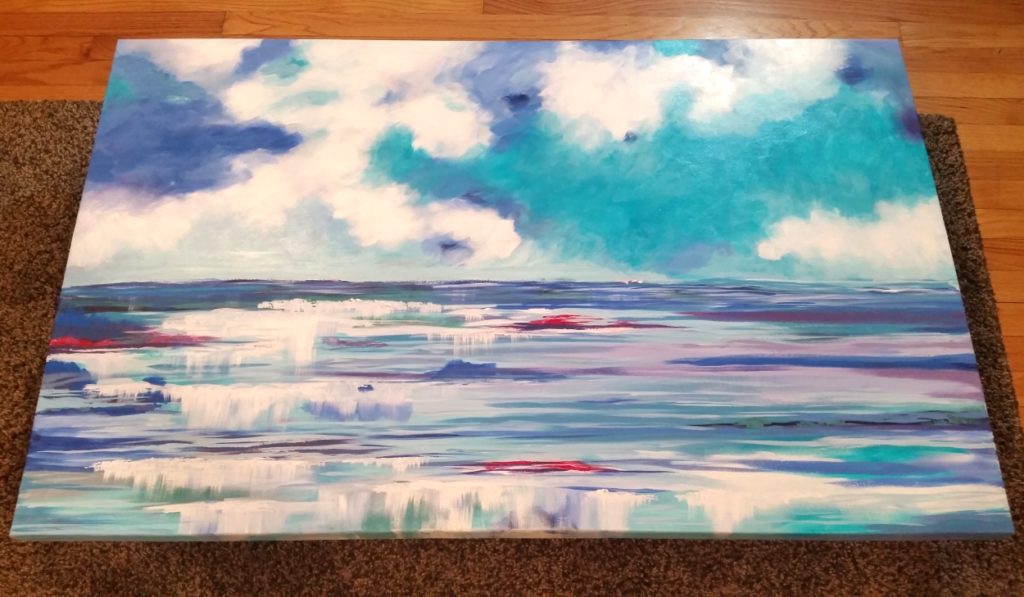 The last version of this (where I was when Mr. CraftyPaws asked, "When can I take this to my office, already?") is not really what I imagined when I started this. I could have probably bought 3 more tubes of paint (I had made 2 previous visits to the paint store during this process) and kept going, but I was generally happy with the dark and light blues, and hints of burgundy, orange and yellow. Plus, my sweet Bandito had had multiple instances of paint getting on his nose, and my Biscuit had jumped on top of the canvas twice seeking attention and more treats. It was time. LOL
That's the beauty of painting with acrylics, while underlying textures of the layers may stay, the actual colors can be completely covered. Acrylics (unlike watercolors) are truly opaque when dry and one can add almost an infinite number of layers! 🙂
This canvas is being entered into the following challenges:
Creatalicious Anything Goes with Make Your Own Background Challenge
Just Keep on Creating Anything Goes Challenge
Word Art Wednesday Anything Goes Challenge
Lil Patch of Crafty Friends Anything Goes Challenge
Through the Craft Room Door Anything Goes Challenge – WINNER
Crafts Galore Encore Anything Goes Challenge
613 Avenue Create Anything Goes with Optional Masculine Card Challenge
MarkerPOP Fall Colors Challenge