Ever work on a project and every single step is a struggle? That is how it was for me with this card. I picked colors for this sweet Penny Black stamp called "Fluffy Passenger" that I hoped were springy and fun (I think the cold is already getting to my spirit) but somehow the tones seemed to clash with the patterned papers I had chosen. Finally, I landed on this springy plaid that is from the American Crafts Spring paper collection. This is actually my third card front! LOL I stamped out the image with MFT Black Licorice Hybrid Ink and used the following Copic colors: Hair E97, 99 and 29; Poodle: R81, 83 and 85 with 0 to get white fluffy highlights; Basket: E51, 53 and 55; skin: E51, E 53 and R20; Shirt and scarves: YG25, 07 amd 09; Bicycle: R35, 37 and 39; Pants and sky: B000, 00, 01 and 02;  and Bicycle tires, handles and seat: N0, 3, and 7.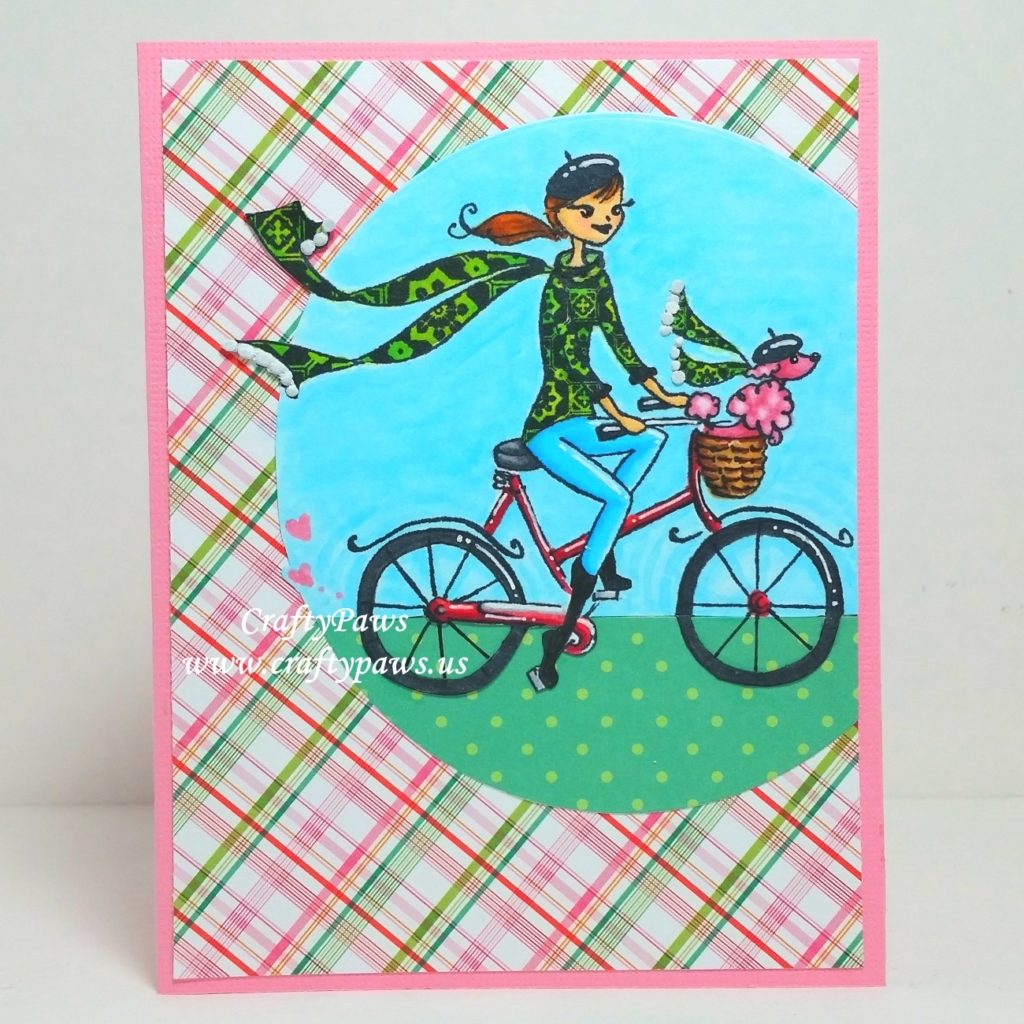 Then I wanted to alter the image just a smidge so that she would look more warmly dressed so I made the girl's shoes into boots with a Copic multiliner pen and added pom poms to the dog's and girl's scarves. But my DecoArt Snow Writer was so clogged I think I strained my hands and I ended up opening up the bottle and applying the pom pom dots with a pin (I still love how the Snow Writer pom poms added texture and dimension). I tried to add a furry collar to the girl's top, but that turned into a hot mess so I scraped that all off.
Oh then the background gave me trouble. I thought I wanted to just have a clean white circle behind her and do some partial die cutting to let her scarf hang off the edge, but realized she looked like she was floating without a ground. Out came the Uni-Ball pen and ruler, but I don't know what happened. The ground came out crooked, and not in a good slopey way. I still wanted to salvage this, so I took an X-Acto blade and cut away the lower third of the circle background. I knew I'd have to draw back in the bicycle spokes, but I was hopeful that I could at least do that. I found a green polka dot patterned paper from the same American Crafts Spring collection that seemed to make a whimsical ground and I die cut a partial circle and patched and seamed that in. Whew!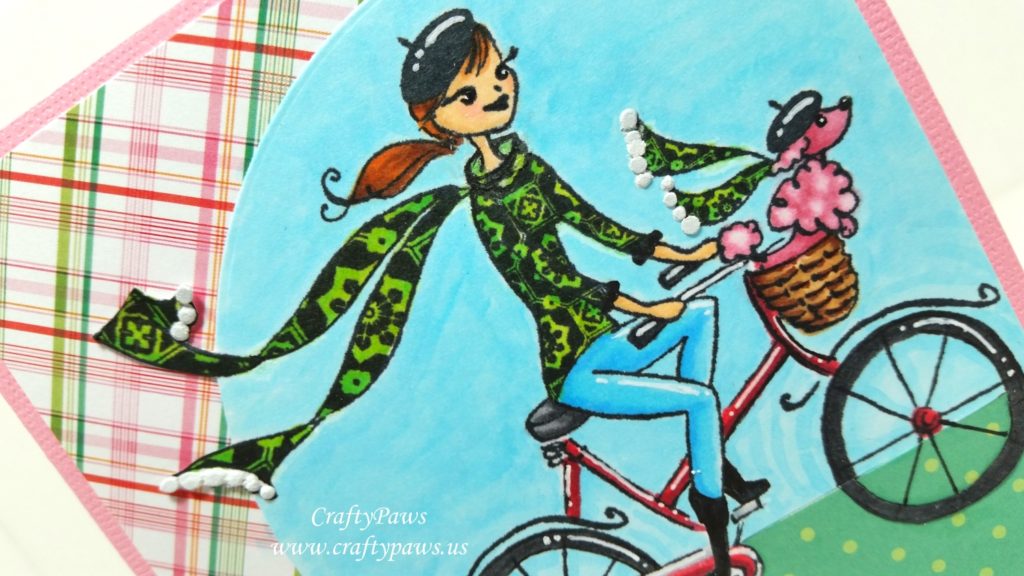 I am glad I didn't give it up because I do like how it turned out in the end, but I have to admit that I am relieved to have this card behind me. 😀 This card is being entered into the following challenges:
Addicted to Stamps and More Anything Goes Challenge
Creatalicious Anything Goes Challenge with Optional Sentiment
Word Art Wednesday Anything Goes Challenge
Not Just Cards Anything Goes Challenge
Just Keep On Creating Anything Goes Challenge – WINNER
Craft Your Passion Anything Goes Challenge
MarkerPOP Color Challenge #109 – red bicycle, tan basket and hair, and green shirt, scarves and ground