I was coloring along with Kathy Racoosin's latest 30 day coloring challenge (trying to take a little time every day to at least color for 10 minutes), and there were a few days when I had just that — 10 minutes. So I colored up some stamps that I have had in my stash but hadn't yet had a chance to color. I didn't know what I'd make with them when I started, but I knew these cuties would not go to waste, especially if I kept a consistent color palette so they could be used together.
I colored up the boy and girl (styled after Elvis and Priscilla Presley but could also be Donny and Marie Osmond, no?) from the Sweet Stamp Shop's "Burnin Love" stamp set, all the pups from the Mama Elephant "Rock and Paws" set, and the sweet birds from the Lawn Fawn "Winter Sparrows" set with the following Copic colors and then hand fussy cut them (in excruciating detail–I mean look at those bird legs and the drum set!):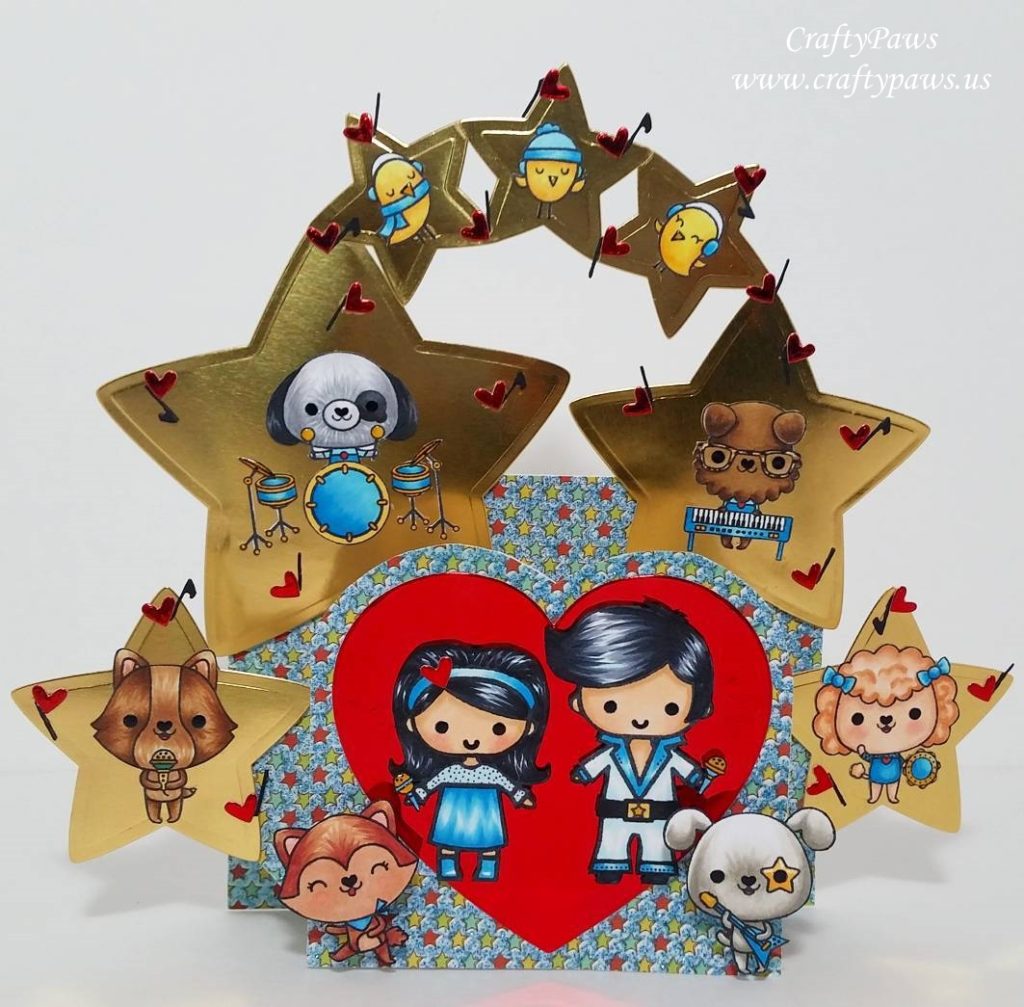 All the blues in the outfits and accessories: B000, 01, 02 and 04
All the golds in the birds, outfits and accessories: Y13, 35 and 38
Hair: B01, C6 and C9
Skin: E000, 00, 21 with R20 for blush on girl and R30 for blush on boy
Dogs listed from upper left clockwise:
Drummer spotted dog: N1, 3, 5, 7, 9 with Sakura white gelly roll pen for highlights in fur
Keyboard terrier: E55, 57 and 59 with tortoise shell glasses in E53 and 25
Tambourine poodle: E000, 01, 11 and 97
Guitarist star eyed dog: W0 and W3
Dancing foxy dog: E21, 11, 13 and 07
Singing spitz dog: E30, 31, 33, 35 and 37
I added Glossy accents to all the gold "hardware" of the instruments and the beaks of the birds, and I used a Black Sakura Glaze Pen to add a gloss and sheen to all the eyes and noses. You may also notice that I made a few changes to some of the characters — like doodling on headphones to the birds, eliminating the trumpet from the now dancing foxy dog, and adding microphones to the boy and girl. These changes were all done by simply wiping off of ink from strategic areas before stamping and/or using a 0.1 Copic multiliner pen to draw in the changes.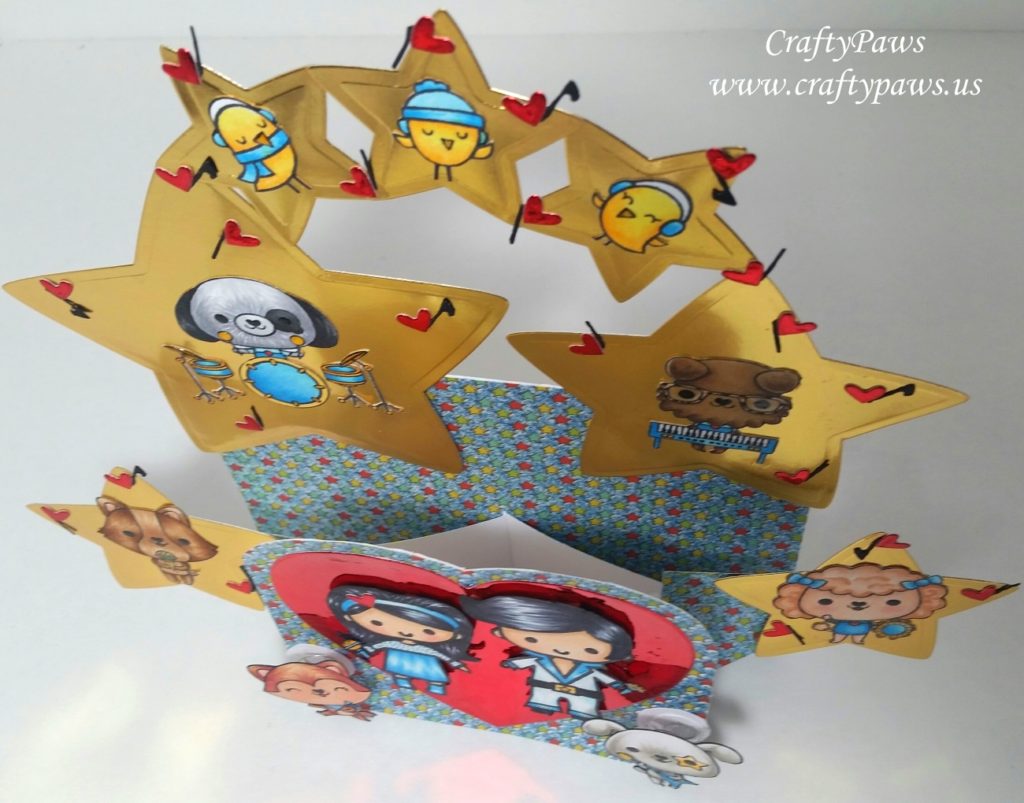 Once I had a bit of time to mull over what to do, I decided all of these characters could be used on a dimensional panorama card for my parents, celebrating their lives together and thanking them for the tight-knit loving family we have. The boy and girl represent my parents; the six pups in the band represent my siblings, me and our spouses; and the little back up singing birds represent the three grandchildren. What a happy coincidence that I had just the right number of characters–this card seemed meant to be!
The following are the dimensions for the card stock pieces that make up the panorama card (the video below has a step by step tutorial on the construction):
1 – Background piece: 6″ x 4.5″ with a 2 1/8″ slit cut at the 3″ point along the 6″ side
4 – Accordion pieces: "2" x 4″, scored at 1″ and 3″ points along the 4″ side
2 – Wing pieces (which I cut down later by hand to simply hold out the side stars): 2.5″ x 3″
1 – Front piece (which I cut around the heart die cut with a 0.25″ margin at the top): 4″ x 4.25″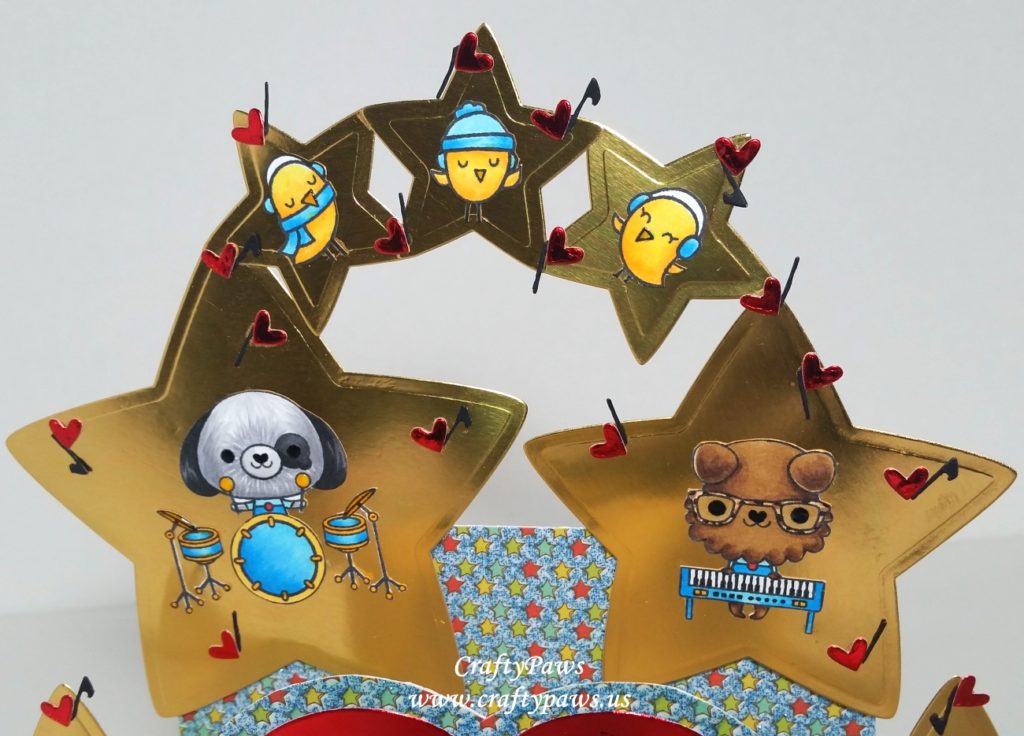 Then to create a family variety show kind of scene (a la the Brady Bunch talent show episodes or the Partridge Family–am I showing my age?! LOL), I used gold foil card stock with the Lawn Fawn Puffy Star Stackables die set to cut out some background stars. For the couple, I used a heart die from the Diemond Dies Nesting Heart Die Set (remember, my readers can get 10% off and free worldwide shipping at Diemond Dies on all orders of $35 or more by using the code thankskristina at checkout) with some red foil card stock. Then I used the hearts from the Lawn Fawn Stitched Journaling Card Lawn Cuts Die Set and glued them to music note bases that I fussy cut from a CC Designs Music Border die (sorry, this is retired). Sprinkling these heart music notes all over the panorama card created a feeling that the characters were surrounded by music and also gave the card a cohesive look by repeating the shimmery red heart motif.
Lastly, for a little added fun, I put the two front pups on DIY action wobbles (made with some wire, tape and some scrap card stock circles–very MacGyver if I do say so myself–LOL). When moving, these pups look like they are dancing!
The following is a card share video with a panorama card construction tutorial:
This card is being entered into the following challenges:
Simon Says Stamp Anything Goes Wednesday Challenge
Word Art Wednesday Anything Goes Challenge
Addicted to Stamps and More Make Your Mark Challenge
Simon Says Stamp Work It Wednesday Use Dies Challenge
Lil Patch of Crafty Friends Anything Goes Challenge
Card Mania Anything Goes Challenge
Through the Craft Room Door Anything Goes Challenge
613 Avenue Create Anything Goes with Option Holiday Happiness
Crafty Gals Corner Anything Goes Challenge
Art Impressions Challenge #198 Shake a Little