I am one of the lucky artists supported by the DecoArt Helping Artist Program. Unfortunately with work overwhelming and taking up most of my free time, I find lengthier craft projects are harder to get to so this art journal page was months in the making! I have had the Crosby, Stills and Nash song "Our House" in my head off and on for months. The lyrics to this simple song remind me of my life with Mr. CraftyPaws and our dogs, Biscuit and Bandito. I often find myself absent-mindedly singing it when I take Biscuit and Bandito out into our back yard.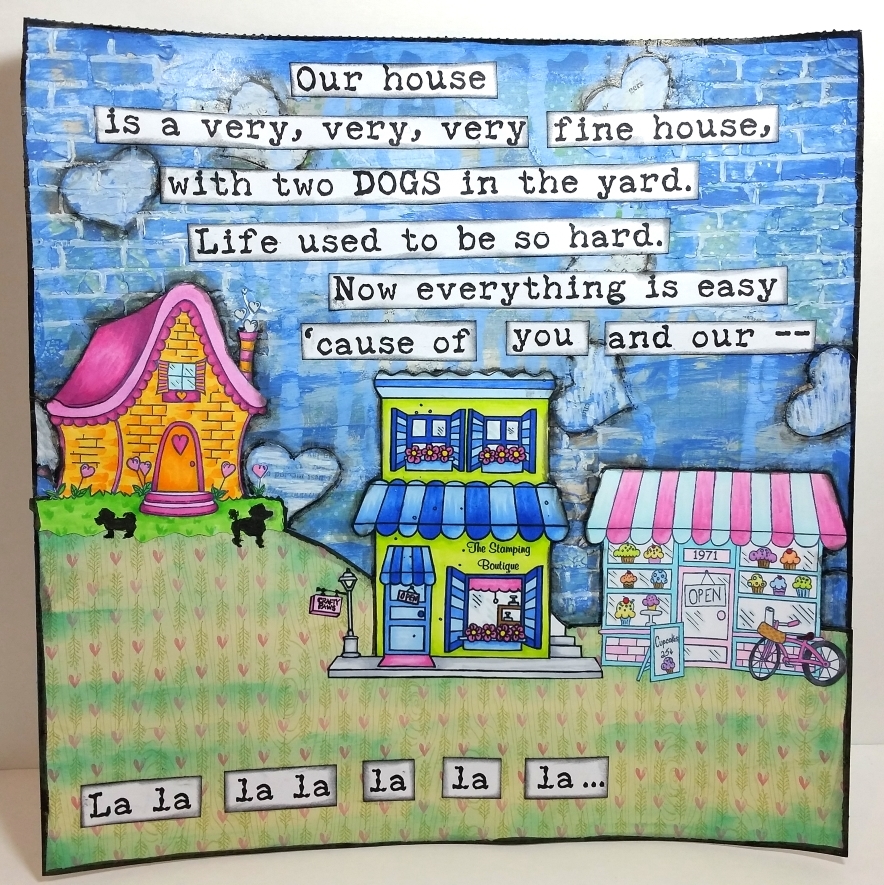 I picked out these awesome building digis from The Stamping Boutique back in August and colored them up with a slew of Copic colors in shades that reminded me of 50's small towns and malt shoppes (sorry I can't remember the colors; it's been so long since I colored them up).
I created the background base with some old papers from the Dear Lizzy Neopolitan collection, the Amy Tangerine Sketchbook collection, and the Heidi Grace Designs Daydream collection, using Mod Podge and DecoArt Americana Decoupage Matte glue sealer finisher as the adhesives (both worked well, but I found the DecoArt product was thinner and dried faster).
I used the DecoArt Dimensional Effects paintable texture paste with the Tim Holtz Bricked stencil to add texture to the sky background that reflected the brick of the buildings. The texture was really highlighted when I mixed up some DecoArt fluid acrylic paints in cobalt blue and titanium white, brushed it on and then wiped it off with a baby wipe.
To help pop out some book paper hearts that I had decoupaged on as well as the building digis that I had worked so hard to color, I used a black Faber-Castell PITT artist pen to outline the images and then softened the outline with a water-dampened Q-tip. I also used a white Faber-Castell PITT artist pen to further highlight the book paper hearts and the relief of the stenciled brick areas.
This art journal page was done in a dozen or more parts over several months, but I've edited it down to the following process video:
This art journal page is being entered into the following challenges:
Simon Says Stamp Monday Inspired By A Song Challenge – WINNER
Simon Says Stamp Work It Wednesday Something New Challenge
MarkerPOP Anything Goes Challenge
Lil Patch of Crafty Friends Anything Goes Challenge
Word Art Wednesday Anything Goes Challenge
Through The Craft Room Door Anything Goes Challenge
Craft Your Passion Anything Goes Challenge
Crafty Girls Creations Anything Goes Challenge
Not Just Cards Anything Goes Challenge
Paper Sweeties Inspiration #40 Color Challenge — pinks and purples of roof of house