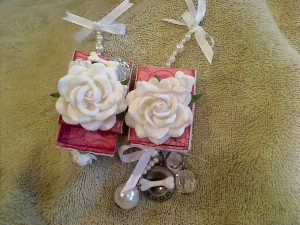 Not really thinking about how long I would do the series, I started this Christmas ornament series on a whim. I didn't make any commitments to do it for 'X" number of days. I just started, saying I would try to do at least 1 ornament a day since I had recently moved to a home where we actually had room for a Christmas tree. We were really excited to have an actual tree this year, with real pine needles and the real pine fresh scent!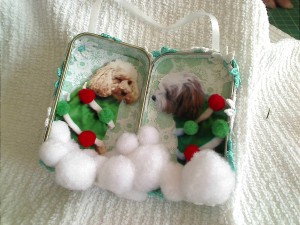 As I started making one ornament after another, YT friends were very encouraging, but occasionally I would get a comment like, "You can add filler bulbs if you need to." or "How big a tree are you going to have?"  I started to get nervous. If I didn't make enough ornaments to fill the tree with only handmade ornaments I could be disappointing other folks but more importantly I could be disappointing myself and what I had now set as a goal. What if I had to get a scrawny Charlie Brown kind of tree in order to "fill it" with only handmade ornaments?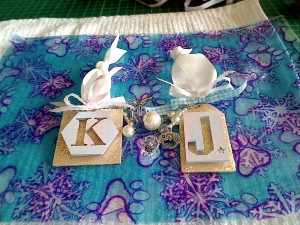 Luckily, I got through 30 days of ornaments, including a tree topper that was just perfect for our family with pictures of, none other than Biscuit and Bandito at the center of jumbo paper rosettes (the top picture). I made ornaments from brass stencils and crystal chandelier pieces, altered matchboxes, altered Altoid tins, tin lid ornaments, dollar store plastic snowflakes and stickers, altered mini picture frames, wooden monogram embellishments, altered corks, a vintage broach from my mother with so much sentimental value, and so much more!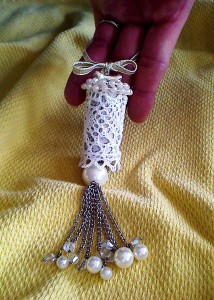 The pictures in this post are a sampling of the ornaments. If you want a view of all the ornaments, I shared a kind of "grand finale" video in which I share the whole tree, which also included ornaments that were gifted to me by several special YT friends (Scrapsandthings1, Brendahdp77, ScrapbenaCreations, Maggie2005cupcake, and Stmpgrl). I also shared a small mini album that I made when I was taking down the tree that included pictures of each and every ornament I made and a list of all the YT friends who had gifted me things that went into the creation of all the ornaments.
Please subscribe if you like and thank you so much for stopping by. I really appreciate it!
Hugs, Kristina
The Big Tree Reveal
30 Days of Ornaments Mini Album