I love the crafty community.  Whatever else is going on in your life, you can always find a great cause to support in crafty ways. Sometimes thinking about others when you are going through difficult times can help relieve your stress and anxiety too.
There have been a lot of things up in the air in the CraftyPaws household in the last couple of months. We are trying to decide where to live, how to support ourselves, and what we will do next. Big questions, with no immediate answers. What to do? Make cards for others!
The cards above I made one afternoon for soldiers in the US military through Operation Write Home (OWH). These are cards that the service folks can use to send notes to their family and friends. There are specific criteria for OWH cards (e.g., size, thickness, and no glitter of any kind) so please check out the details from the link.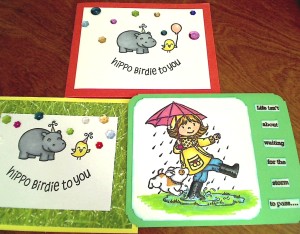 I made these for a challenge currently being hosted by Regina (YT: Gina Beth), who is celebrating her 1500 subbies with this awesome challenge. I have some more to make for another similar challenge hosted by YT: Rosemarie Bustillos so I'll be updating this post with more pictures when I get done with my next batch. 🙂  Oh, just thinking about all of these is making me feel better!
________________
UPDATE: The second batch of cards, which I made for Rosemarie's challenge is in the photo at right.
Here are the videos sharing the two batches of cards:
Thanks for stopping by! Hugs, Kristina WOOF