I have been envisioning this piece for a client's lobby for a few weeks.  They have a large space that I think could use a little brightness and energy. And what better than a pour painting of a refreshing ocean wave?!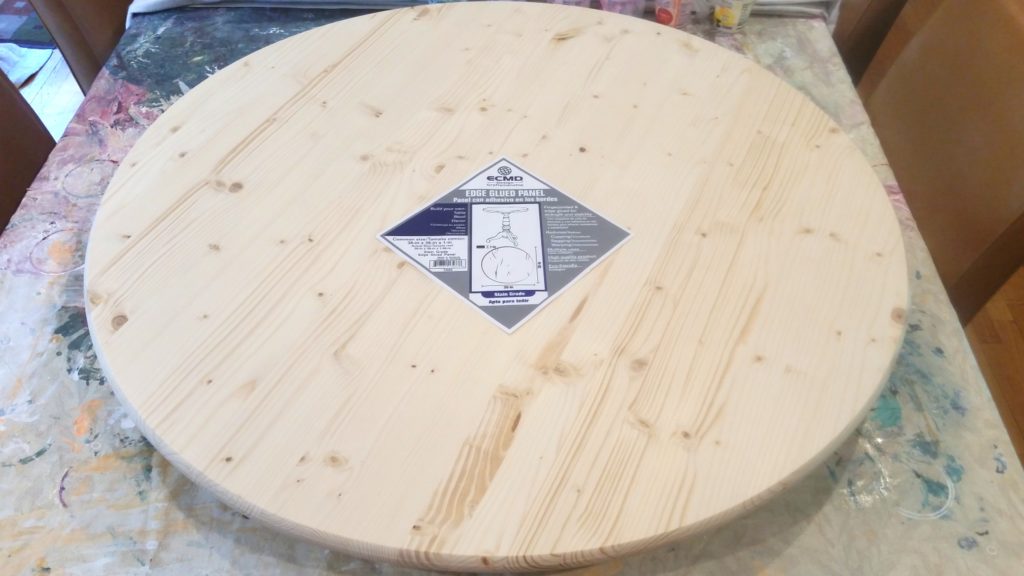 I knew I wanted to create a round piece so I also picked up a 36″ round wooden table top at my local Lowes Home Improvement Store (our local Home Depot only carried 24″ and smaller). I took my time and really picked through the stack in order to try to find one that was not too pock marked, warped or had too many large knots in the wood.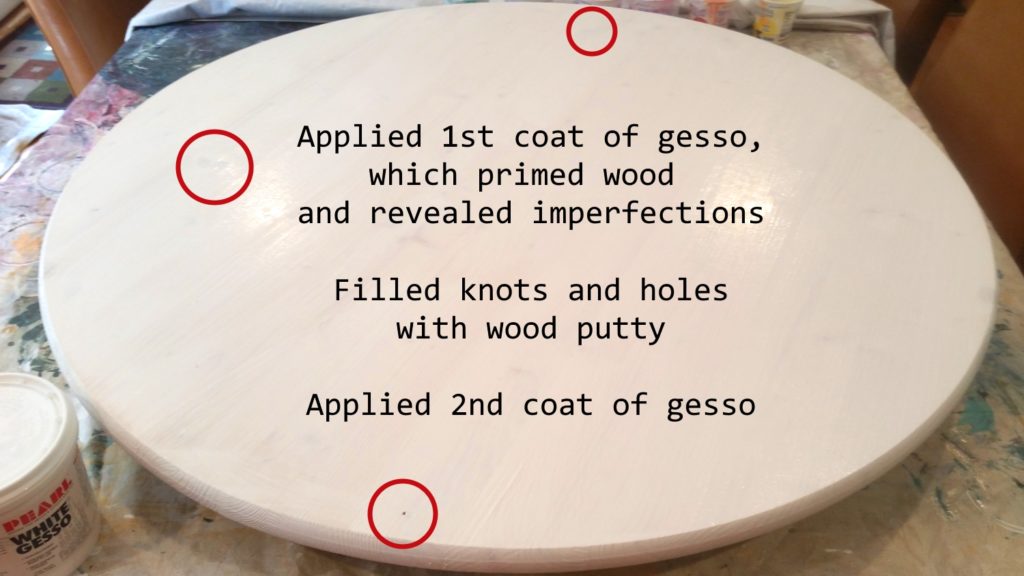 To prepare the wood, I coated it with White Gesso and let it dry for a few hours. This seemed to reveal and highlight the few holes and knots in the wood, so I filled all these imperfections with DAP wood filler putty and let that fully dry too. I put down one more coat of white gesso and after a few more hours dry time, my "canvas" had a clean and smooth finish, ready for the pour.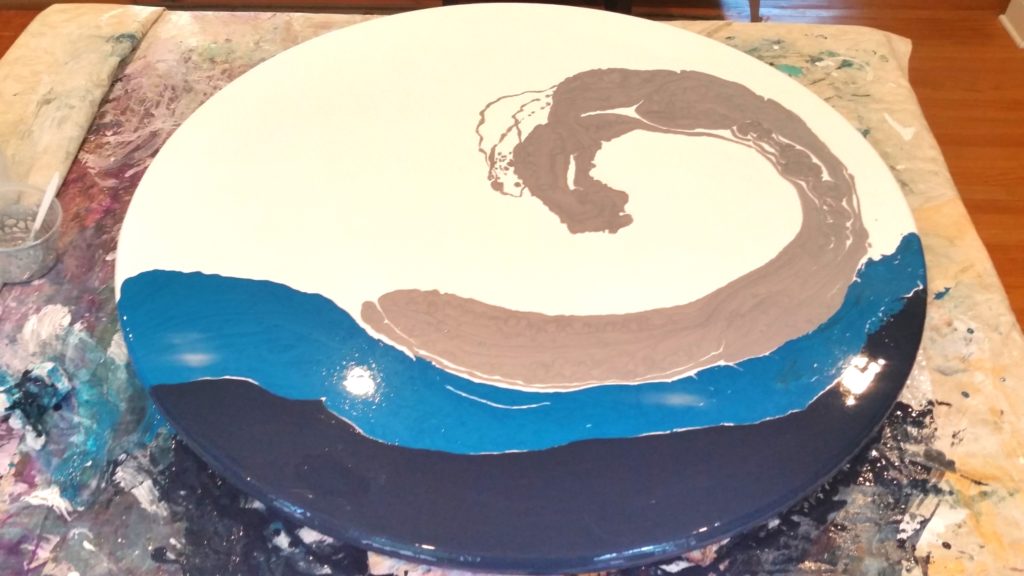 I finally got a chance to try an acrylic pour with a swiping technique (the cell formation created from a light swiping is amazing), and it was so cool! I used left over Craftsmart and Sargent White, mixed a very dark (almost black) blue, a DecoArt Elegant Finish Metallic Shimmering Silver, and an Artist's Loft Metallic Cobalt Blue. To each cup, I added 2 parts Flood Floetrol to 1 part paint. I added a bit of water if I thought the paint solution needed more thinning, but I was careful not to water them down too much because the binding agents in acrylic paint can be over diluted and I didn't want flaking or chipping of my finished piece in the long term. Then to each cup (except the white), I also added about 10 drops of treadmill silicone lubricant.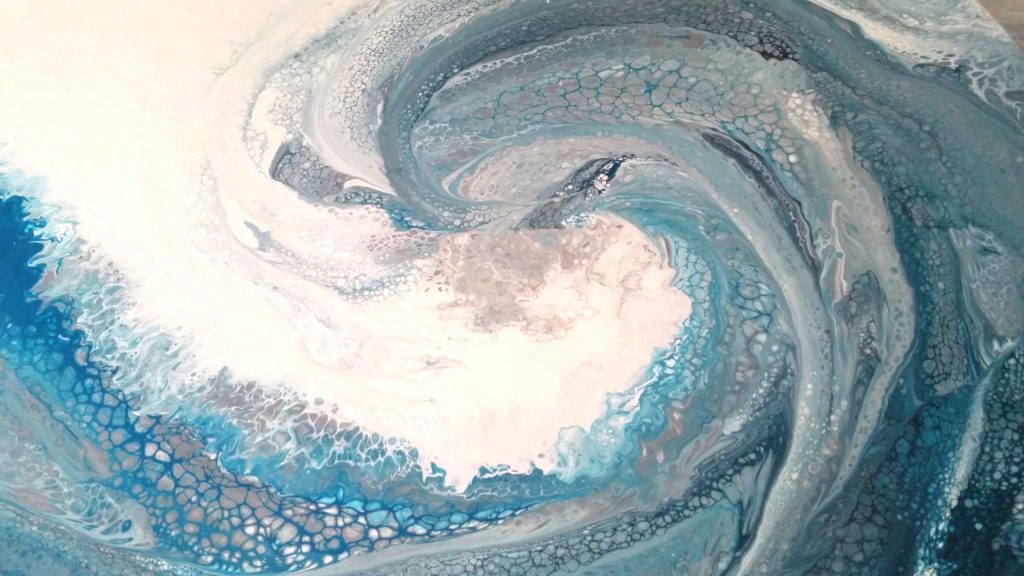 I first flooded the wood round with the white, making sure to get the sides coated too. Next I poured the darkest shade at the bottom, then the cobalt then a swirl toward the upper right with the silver. Then I used a large Wilton Icing Spatula to lightly swipe the paints from the lower left, across toward the upper right and then swirled a bit in the center. I wiped my spatula and did the reverse, starting from the white in the middle and back around and down toward the lower left. With each swipe, more and more incredible cells formed and a real watery look started to evolve.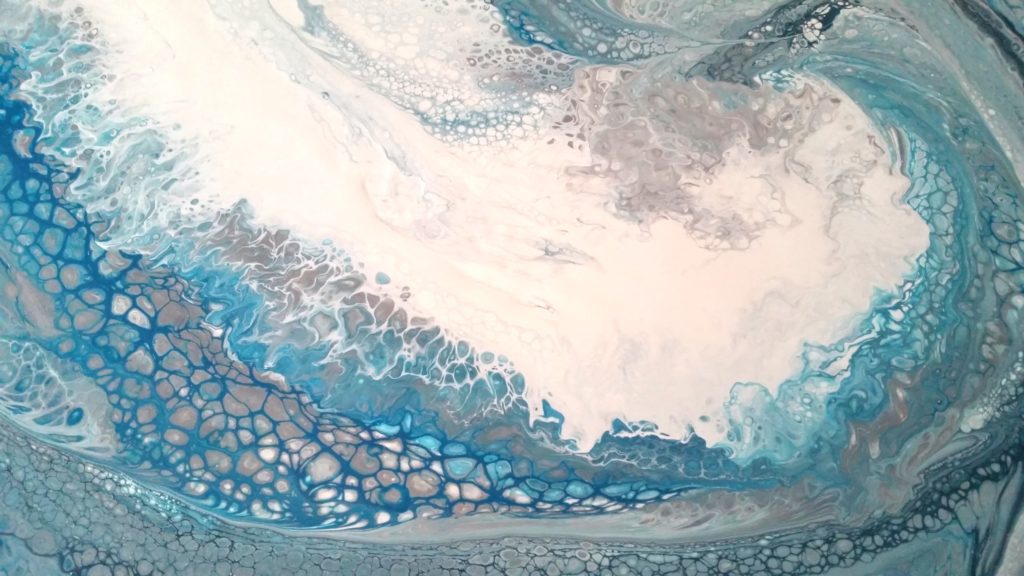 I don't have a heat torch (folks use these to draw out more cells), so I tried using my heat tool to elicit some more cells in the darkest areas, but that heat must have been too weak. So next I tried my hair dryer on high heat and power to push and thin the paint in certain areas. The feathering that occurred, especially in the middle white areas that I wanted to expand into the silver and cobalt blue areas, was beautiful and the delicate tendrils that emerged matched the thin cells already revealed from the swiping.
Click on the following picture to watch the video share (not a process video) of this acrylic flow art piece: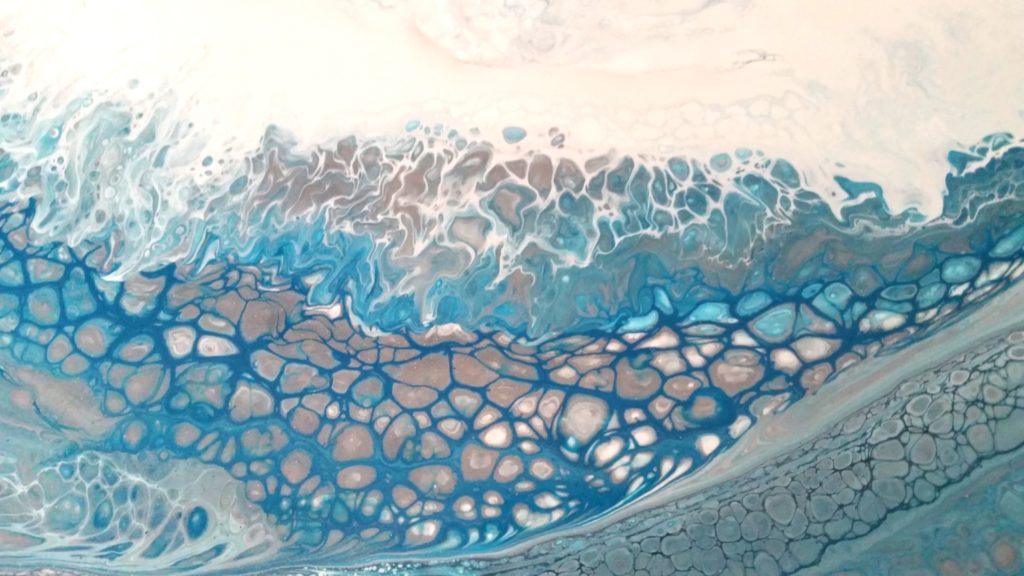 This acrylic flow art is being entered into the following challenges:
Simon Says Stamp Wednesday Anything Goes Challenge
Word Art Wednesday Anything Goes Challenge
Creatalicious Anything Goes with Optional Hero Challenge – WINNER
Simon Says Stamp Work it Wednesday the Great Outdoors Challenge
Card Mania Anything Goes Challenge
Lil Patch of Crafty Friends Anything Goes Challenge
Crafty Gals Corner Anything Goes Challenge
613 Avenue Create Anything Goes with Optional Create Your Own Paper Challenge
Through the Craft Room Door Anything Goes Challenge
The Corrosive Blog Anything Goes Challenge