I wanted to try my hand at no line coloring with the MFT Stamps Birdie Brown Medical Heroes digital stamps. I downloaded the images, took a screen shot to make it a jpeg file, changed the black drawings to sepia, and finally lightened it to get super light images.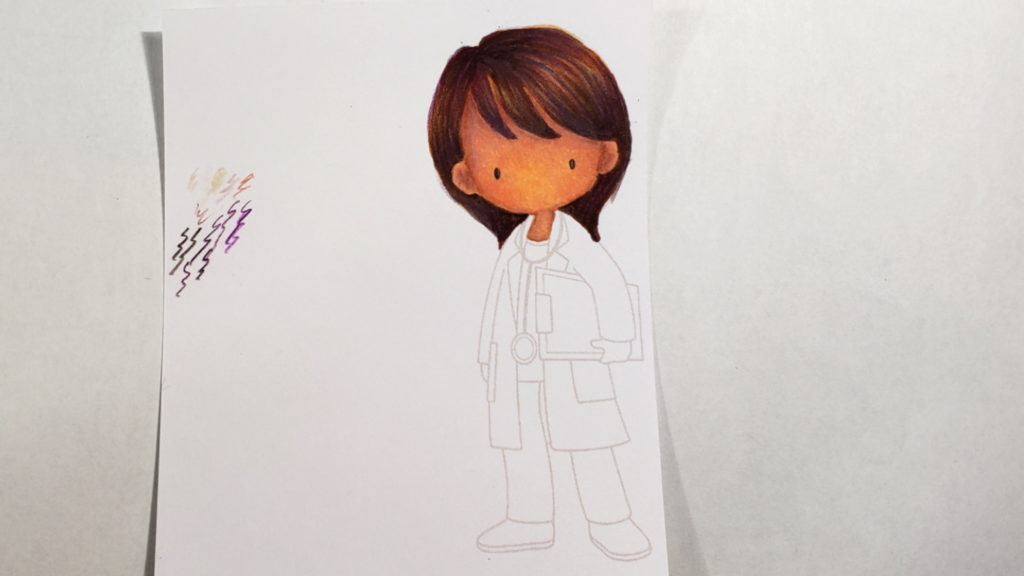 Then I had a ball coloring up the doctor called "Doctor's Orders" with Copic Markers and Prismacolor Colored Pencils:
Skin: E01, E11, E13, R20 and Prismacolor Nectar (1092), Rosy Beige (1019), Chestnut (1081)
Dark Brown Hair: E33, E74, E29 and Prismacolor Black Cherry (1078), BLACK Grape (996), Dark Brown (947)
Lab coat: C00, C1, C3 and Prismacolor White (938), Powder Blue (1087) and Sky Blue Light (1086)
Clip Board, Stethescope and Socks: C00, C1, C2 and C4
Clogs (doodled in with a Warm Grey 0.3 pt Copic Multiliner Pen) and Gloves: B0000, B00, B02 with Prismacolor True Blue (903)
Scrubs: R81, R85 and R59
Eyes and Stethoscope doodled back in with a Black 0.05 Copic Multiliner Pen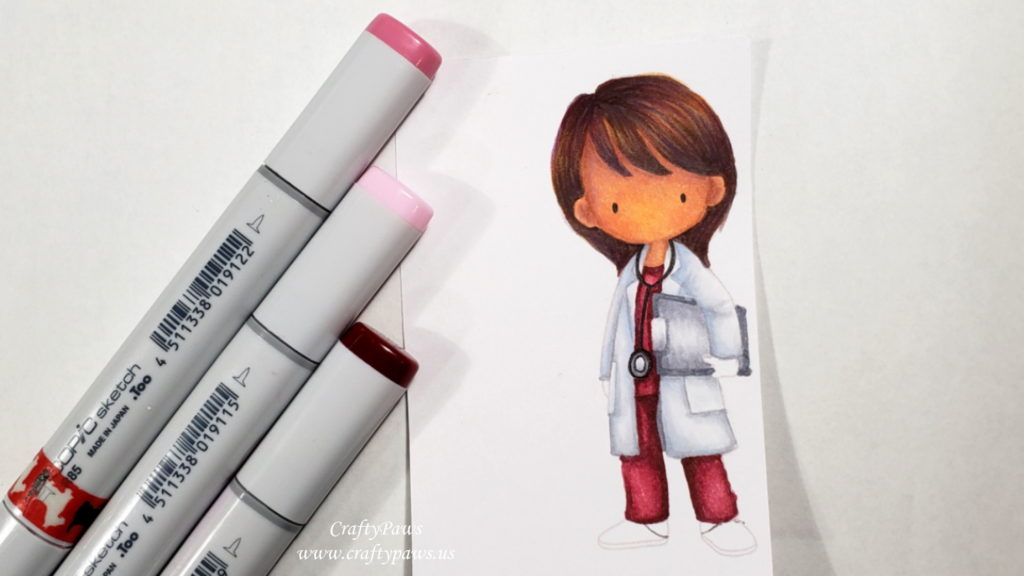 I have an awesome scene building stamp set from Three Room Studio called, "Cubiculture" so I decided to build a doctor's office scene card. I stamped out the office furniture onto scraps of real oak and maple Wood Veneer Sheets from EK Tools. I also colored in the trim and handles of those furniture pieces with E43, N5 and N7 Copic Markers. I also stamped out the pencil holder with scissors and pencil, computer monitor, file holder, cut and stapler and used bright rainbow colors (to bring a sense of cheer and hopefulness) but with a blue-grey base (for a sense of reality): R27 (pencil eraser), Y15 (file and pencil), YR16 (scissors and file) and N0, N1, N3, N5 and N7 for all the other desk accessories. After fussy cutting out each of the pieces with my EK Tool Cutterbee Scissors (these super sharp scissors are great for details and getting through rougher materials like these wood veneer sheets), I built the scene with Art Glitter Glue and foam dot adhesives.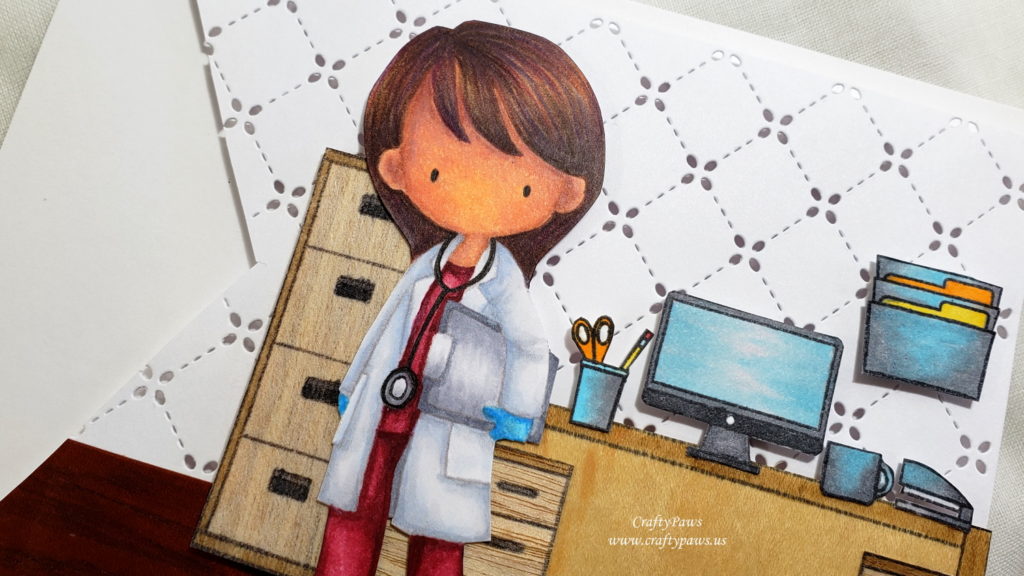 I assembled the whole scene on a white cardstock background that I die cut using the Lawn Fawn Quilted Backdrop Die for some fun dotty texture. I also laid down a mahogany wood veneer sheet to create a flooring. Because the doctor's hair was a rich dark brown color with red undertones and the scrubs the doctor was wearing was a deep cardinal color, this flooring seemed to coordinate beautifully! I hand cut this background into a large pennant shape and mounted it with more foam dots onto a heavy weight white card base to add a bit of interest without distracting from the scene.
CLICK on the following picture to watch the card crafting video: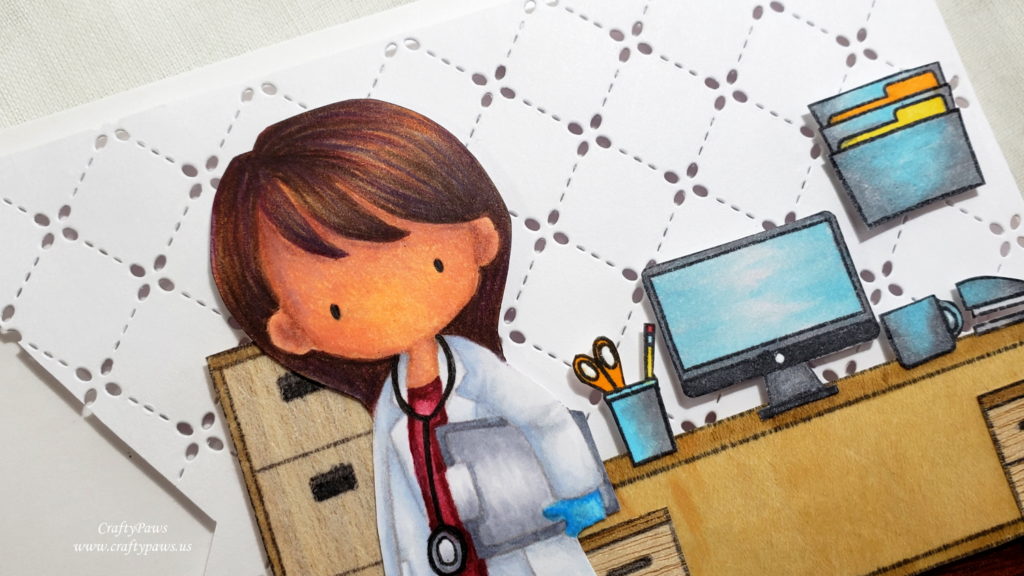 Disclosure: Many of the supplies I've used for today's project are linked. Some may be affiliate links, which means if you make a purchase I receive a small commission at no extra cost to you. I truly appreciate your support toward the costs of running this blog!
This card is being entered into the following challenges:
Digi Chooseday Anything Goes Challenge
Stamping Sensations Somewhere Over the Rainbow Challenge
Simon Says Stamp Monday Create a Scene Challenge
Simon Says Stamp Wednesday Knock on Wood Challenge
Lil Patch of Crafty Friends Anything Goes Challenge
Creatalicious Anything Goes Challenge with Optional Marbled Background
Through the Craft Room Door Anything Goes Challenge