As you've all been so understanding as I move and unpack, I thought I would share some pictures of my new craft room and office (I work from home as a consultant).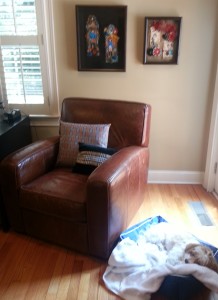 I have gone from one desk with 2 drawer sets (the Vika Alex collection from Ikea) to a large in the corner of a dark apartment in NYC to a sunny spacious room with so much floor space that I can play on the floor with my dogs during much needed breaks! 🙂
The walls are covered with craft projects I have done or that have been created for me and gifted by my sweet and thoughtful crafty friends. I also have an Ikea Billy bookcase loaded down with amazing crafty prezzies from YT friends.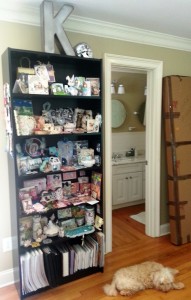 Each day when I enter this room, I am filled with a sense of being blessed. I get a warm fuzzy feeling looking around, and I can't help but smile as I recall each person who took time from their busy lives to create something especially for me with their own hands.
I can't believe my good fortune that I found this crafty YT community and all the wonderful people in it. So many things have changed in my life over the last year (not all of it easy or smooth), and the community has accepted me, encouraged me, and helped make me feel whole.  As I come close to reaching 1000 subscribers and my 1 year YT anniversary, I feel so humbled and grateful.  I thank you with all my heart.
The following is a video share tour of my craft room and office:
Thanks for stopping by and remember to PAWS and enjoy the journey. WOOF