I was so excited to receive the super cute "Caped Cuties" stamp set by Clearly Besotted as a gift from my friend, Dorothy (YT: Dorothy Jewell) . Those little critters are so stinkin' cute! Recently I also picked up the awesome Paper Smooches "Super 2" Die, and I thought the two could be paired perfectly on a card for a crafty friend celebrating reaching 300+ YouTube subbies.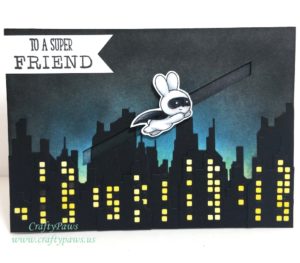 I Copic colored the little super hero bunny very simply with : 0, C0, C1, C3, C6, C7 and C9. I fussy cut him out leaving a small white border around the whole image just so I could make him large enough to be mounted on a slider mechanism (even with the white border he was too small to be put on a normal penny slider).
For the scene on the card front, I die cut out the cityscape several times from black card stock to get a row of skyscrapers. I also used the negative left over part of card stock as a silhouette of a skyline further back. To add a pop of color, I inked some white card stock with Tim Holtz Distress Ink in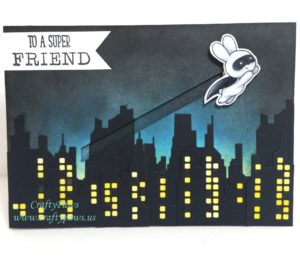 Mustard Seed and lined the back of the die cut buildings so that they would look like they were lit up from the inside. For the night sky, I didn't want the black silhouetted buildings to fade into the sky so I inked up the card front with the following Tim Holtz Distress Inks: a hint of Mustard Seed on the lower third (most of which would be covered by the buildings and the silhouette; Salty Ocean for the middle third; and Black Soot for the top third. But I also mixed the Black Soot into the blue area more to create a feeling of dusk. To get a more intense black for the top of the card and along the edges, I also used an ink dauber and some Onyx Black Versafine Ink.
I used an X-Acto knife to cut a slit into the card front where the bunny could zoom up into the sky. Rather than using two pennies for the slider mechanism, I punched out eight 3/4″ circles from scrap card stock and trimmed them down so that they could be completely hidden behind the bunny. I glued them together to end up with two thick circles, four card stock layers thick.  Then I cut a Tombow Power Adhesive Tab into quarters and stacked two quarters together to create a spacer between the circles. I used a powder tool to eliminate the sticky edges of the power tabs to help facilitate a smooth glide. Before putting the card front onto the card base with double sided foam adhesive, I also inked the area of the card base that would show through the slit to match the colors of the sky on the card front, and I used a black Faber Castell Pitt Pen to even draw in the silhouetted building that was cut out from the slit.  I think those kind of details really helps create a cohesive scene look. 🙂
The following is a process video of how I made this slider card:
This slider card is being entered into the following challenges:
Paper Smooches Black and White with a Pop of Color Challenge
Word Art Wednesday Anything Goes Challenge
Crafty Girls Creations Anything Goes Challenge
Not Just Cards Anything Goes Challenge
Craft Your Passion Anything Goes Challenge
613 Avenue Create Anything Goes Challenge
Art Impressions Show Off Your Stamp Challenge
Through The Craft Room Door Anything Goes Challenge
Crafts Galore Encore Anything Goes Challenge
MFT Color Challenge 43