I've seen lots of folks create cool galaxy backgrounds and have been wanting to try my hand at it and I finally got the chance with this (hopefully) uplifting card that I made for a teenager undergoing bone marrow transplant treatments. I don't know this young person directly, but one of my crafty YT friends attends the same church and asked fellow crafters if they would make this brave teen a card to let them know folks were rooting for them and thinking of them as they face the unknown. I thought the unknown far-reaching galaxy background would be appropriate for this occasion.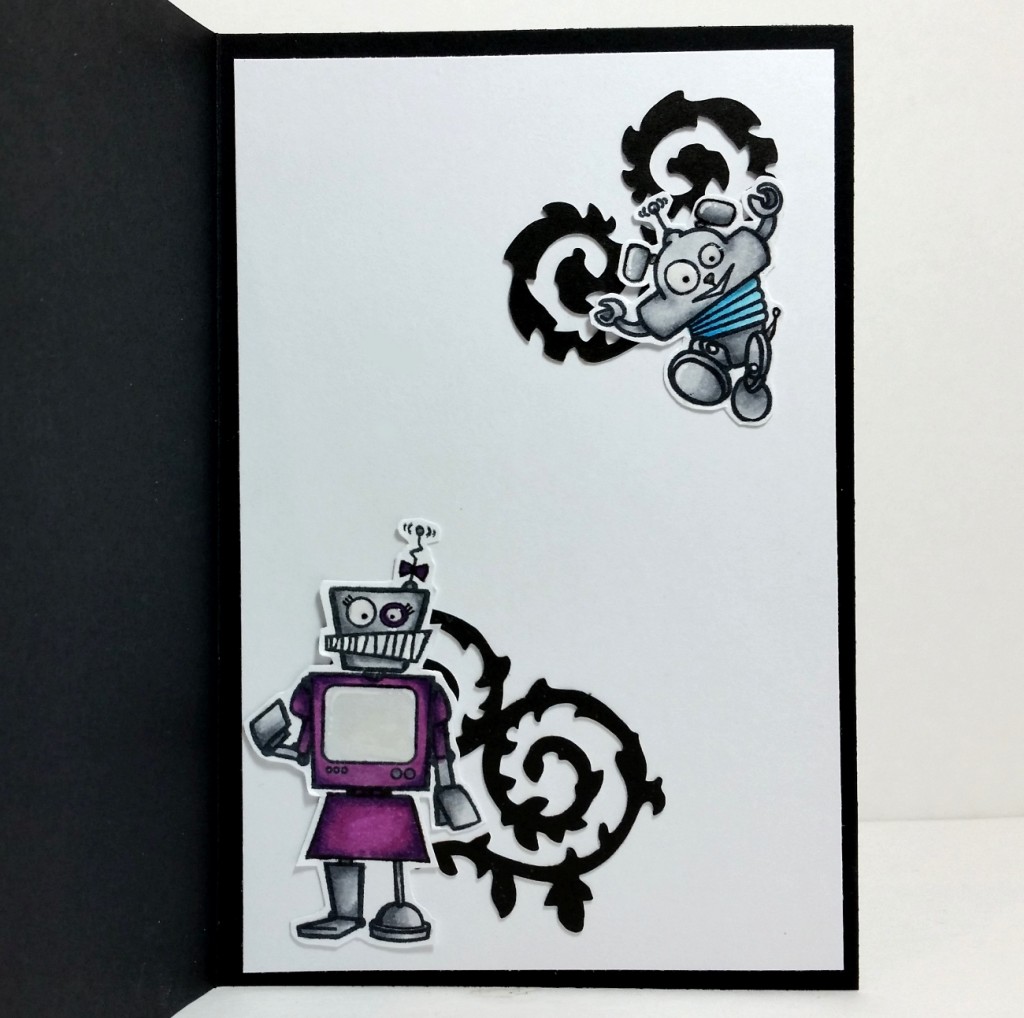 To create the background I started with 140 lb watercolor paper (the thickness and texture really absorbs a lot of deep rich ink color). I used blending tools to swirl on Tim Holtz Distress Ink in Picked Raspberry, Mustard Seed and Peacock Feathers before filling in all around these colors with Black Soot. I then used a tooth brush to flick on tiny specks of white acrylic paint to mimic distant stars. To get larger spots to represent closer stars or planets I used a splattering technique with watered down white acrylic paint and a loose paint brush. Voila! Easy peasy galaxy!
I used 4 cute robot images from the Robot Party stamp set by RaisinBoat.com that I colored up with the following Copic markers:
I used the following Copic colors in various greys for the metallic body parts: C1, C3, C5 for the girl robot; N0, N3 and N5 for the boy dog; and W1, W3 and W5 for the female dog. Then to add a little color to their outfits: B00 and 02 for the boy's top; V12 and 15 for the girl's purple dress; B01 and 04 for the blue boy dog; and R32 and 35 for the girl dog's red top. I added Glossy Accents over all their eyes and on the tv screens to add a little shine and a slick dimension.
I placed 2 of the robots on the front of the card with the punny sentiment "Love you bots and bots" that I printed from my computer using a free robot font I found online. I placed the other 2 robots inside the card along with a couple of die cut gear-like hearts to decorate the inside of the card. I matted the whole card front on red card stock and then onto a black card base.
The following is a process video of creating this card:
This card is being entered into the following challenges:
Simon Says Stamp Monday A Leap Into the Unknown Challenge
Simon Says Stamp Wednesday Touchy Feely Challenge
Fab 'n' Funky Love Challenge
Crafty Girls Creations Anything Goes Challenge
Word Art Wednesday Anything Goes Challenge
Crafty Gals Corner All About Boys Challenge
Whimsy Stamps Anything Goes Challenge
613 Avenue Create Anything Goes Challenge
Craft Your Passion Anything Goes Challenge
Paper Sweeties March Color Challenge – on robots on card front