The latest trend in crafting seems to be flip books. I am not a mini album maker so these were a bit intimidating to me, but I wanted to make something for a crafty friend (YT: Linda Lapotka) who has recently been going through some family tragedies. I wanted to make something for her that I hoped would lift her spirits a bit and let her know that I was thinking of her.
To make this 6″ x 8″ envelope flip book structure, I used a We R Memory Keepers envelope punch board tool and four sheets of 12″ x 12″ double sided paper (cut down to 11″ x 11″, with scraps used later) from the Heidi Grace Daydream collection. The bright Easter-like pastel colors made for a sweet backdrop for the decorations and pictures of her granddaughter and cat that I pulled from Linda's YT channel and blog.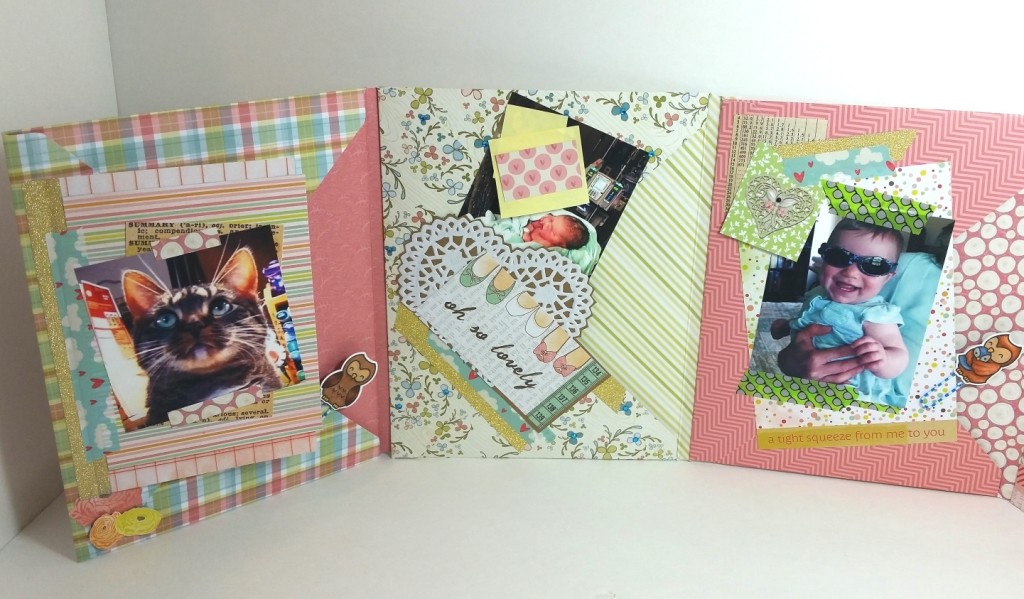 What really drew me to wanting to try making this flip book was the closure that I saw made by a wonderfully talented YTer (YT: Sabrina Ann). It entails making a kind of tab with an eyelet around which a long bakers twine can be wrapped around the book and then around the tab. I got to use a sweet flower eyelet and also tied some antique brass leaf charms along the bakers twine to add some extra interest. To decorate the outside envelope section I also hot glued on some vintage blue and yellow trim I had been hoarding in my stash for years! LOL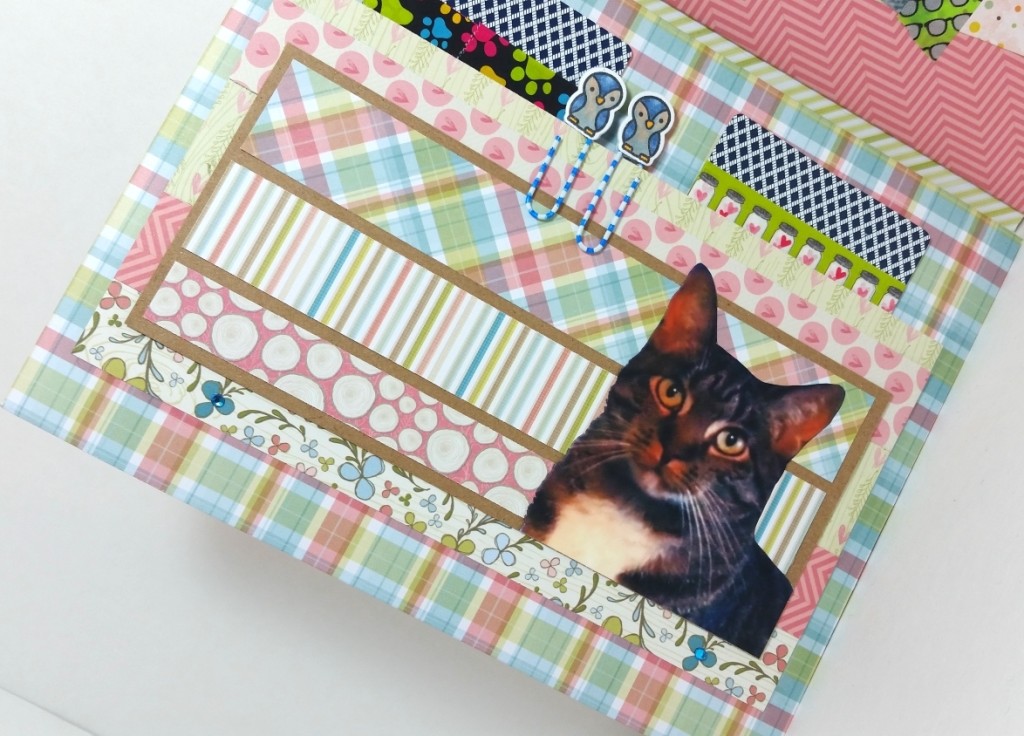 I used paper heart doilies, pearl butterfly stickers, a lacy heart sticker, pink Stickles, gold glitter washi, sunglasses washi (to go with Linda's granddaughter's sunglasses), and clouds and heart washi with various cut apart pages from the American Crafts Dear Lizzy Neopolitan paper stack. I also tucked four altered paper clips that I had decorated with owl images that I Copic colored from the Lawn Fawn "Mom + Me" stamp set (Copic colors used: Dad: E11, 21, 23, 25, 29 with hint of B91 in face; Mom: E21, 11, 97, 99 with hint of B91 in face; Kids: B91, 93, 95, 97 with hint of E21 in faces and bellies). I had so much fun decorating up these pages.
The page I feel most proud of was the page on which I pieced together a background/pocket made entirely of little scraps (I can't tell you how great it felt to use up so many bits and bobs!). I loved the Primitive style patchwork look of this background. Plus I kept the top of this background overlay open in order to create a slim pocket into which I could slide a couple of playing cards with washi samples on it as a little gift for Linda.
The following is a share of this flip book:
This flip book is being entered into the following challenges:
MarkerPOP Easter Challenge
Simon Says Stamp Make Your Own Background Challenge
Card Mania Polka Dots or Stripes Challenge
Word Art Wednesday Anything Goes Challenge
613 Avenue Create Anything Goes with an Optional Twist of All That Glitters Challenge
Lil Patch of Crafty Friends Anything Goes Challenge
Whimsy Stamps Anything Goes Challenge
Crafty Girls Creations Anything Goes Challenge
Craft Your Passion Anything Goes Challenge
Paper Sweeties March Inspiration Challenge – Owl Paper Clips tucked in throughout flip book