I took some wonderful classes at the Scrapbook Expo in Georgia a couple days ago, and one of the projects I started was a mixed media shadow box. I really don't like leaving unfinished projects so I decided to take some time to finish this up today, and I'm so happy I did. I love this sweet altered canvas that features my 16 year old pup, Biscuit.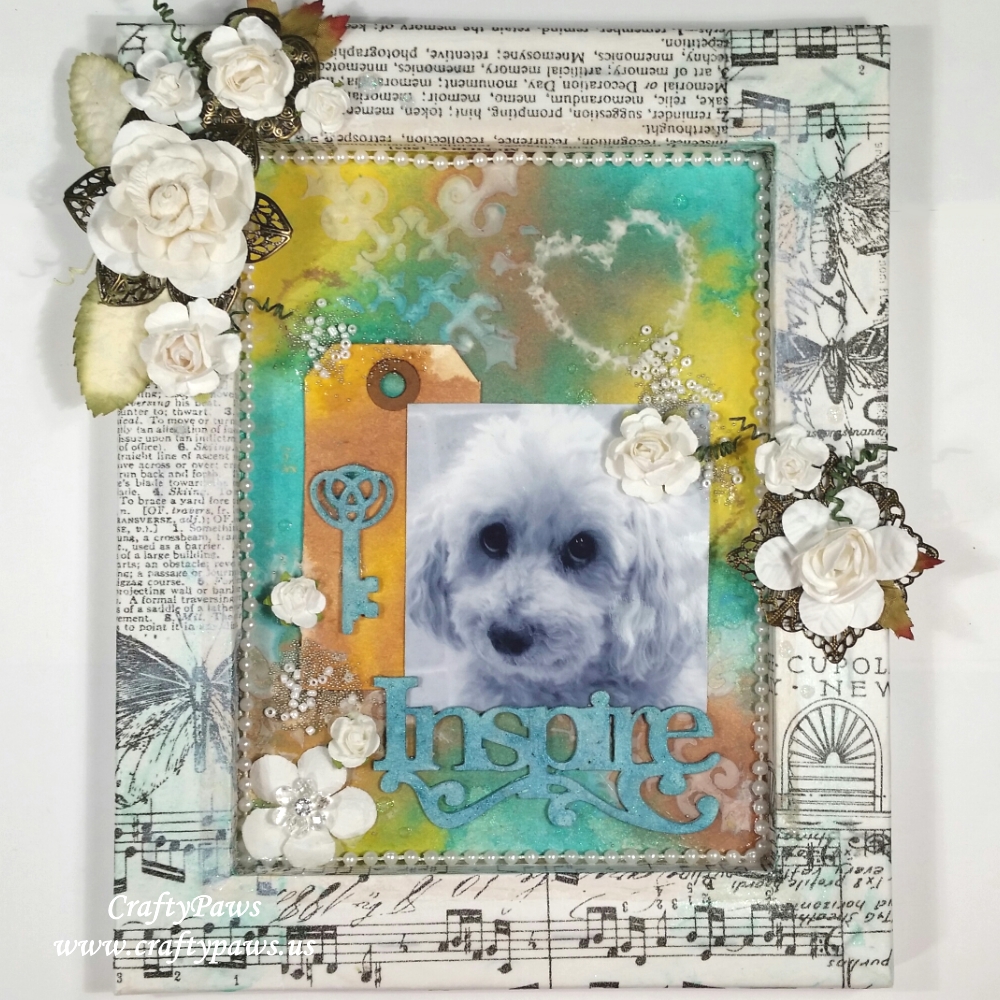 I started with a canvas that I reversed and applied Liquitex Gesso around the exposed wooden edges and over the staples. I next covered the edges with Tim Holtz Tissue Paper, using my new favorite glue, Beacon 3-in-1. I distressed the edges a bit and also smeared on some translucent Art Anthology dimensional medium in Mermaid Sorbet .
While that was drying, I started to work on my background insert, which is made from heavy-weight watercolor paper. I used some mud texture paste and an Art Anthology Gothic Stencil to create some texture and interest to the background. When that was dry to the touch, I used 3 different Art Anthology Colorations Sprays in Glorious (yellow), Sandcastle (tan), and Siesta Key (aqua) to spray the background as well as a little manila tag (I wanted to do a kind of vintage summer country fair color scheme — somehow that seemed fitting for my dear girl who is in her autumn (or winter), but about whom I am hoping and praying this is her summer. Plus I'm taking her in a stroller to a country fair next weekend!). To prep a couple of chipboard pieces (the key and word "Inspire"), I used more gesso to mute down the brown of the chipboard and then used some Art Anthology dimensional medium in Cayman Sorbet and Mermaid Sorbet (the sorbet dimensional mediums are translucent but add a great shimmer/sparkle and rich hint of color) to coordinate with the Siesta Key spray from the background.
Then to add some more interest and texture to the background, I used some Clear Coat Dimensional Medium and dropped in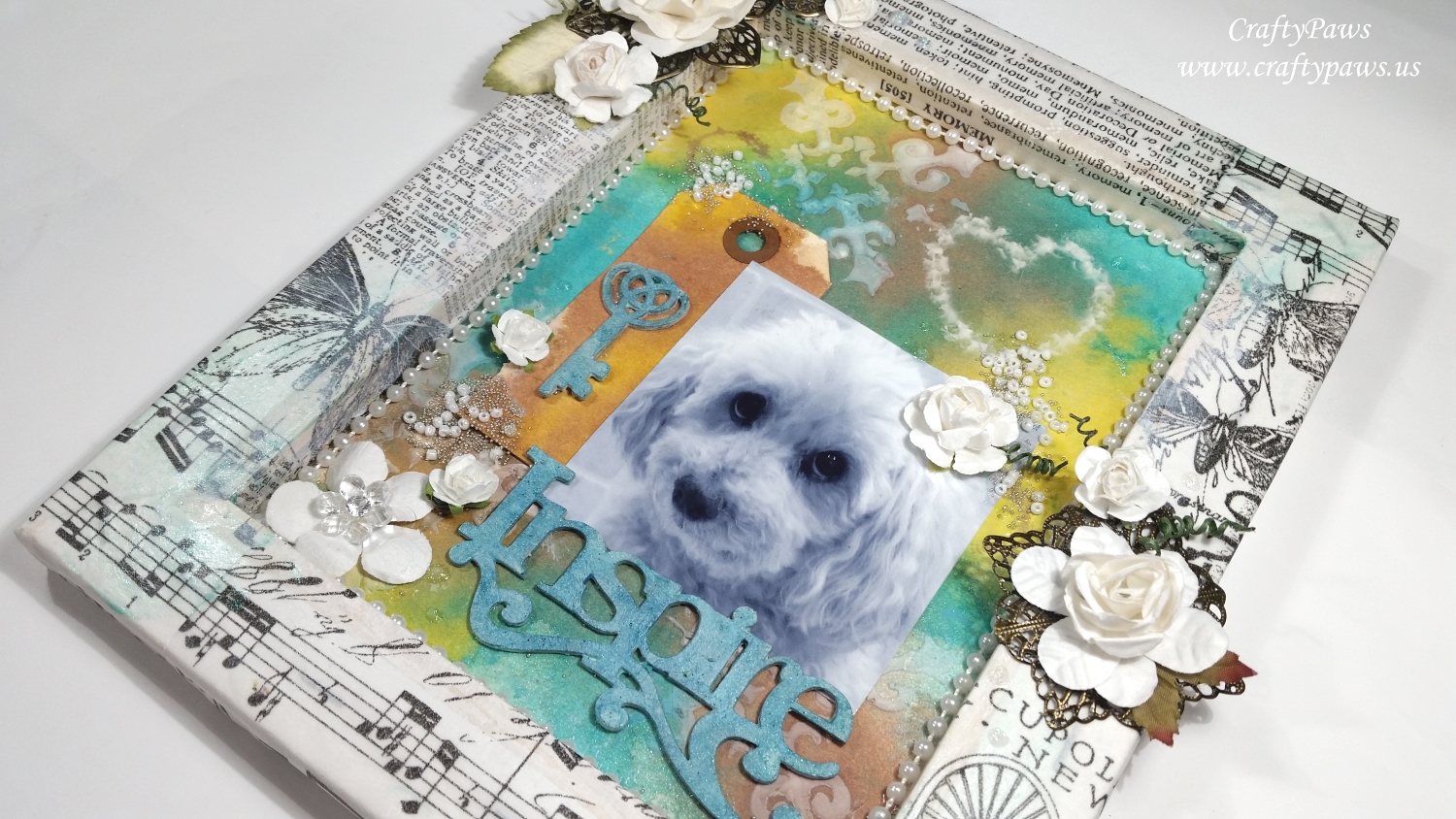 some small white seed beads and micro silver beads. I also used some plain Deco Art Modeling Paste and dabbed on with my finger a Primative little heart.
To cover up the seam where the background watercolor paper didn't quite reach the edges of the shadowbox frame, I used a strand of pearls (the paper was cut correctly a little larger than the opening, but I was not careful about centering it after inserting and gluing it down – argh!). Lastly, I layered various antique bronze metal flowers/rosettes and white paper flowers and leaves from my stash. I tried to group them into 3 loose clusters in a triangular formation, to follow the rule of 3 and thirds. I especially like the flower on my angelic Biscuit's hair — doesn't she look like she's got the flower tucked behind her ear? 🙂
The following is a process video sharing the 2nd half of creating this canvas shadow box (the first part was done in class so I didn't video that part):
This altered canvas is being entered into the following challenges
Card Mania Summer Fun Challenge
Simon Says Stamp Monday Distress It Challenge
Not Just Cards Anything Goes Challenge
Word Art Wednesday Anything Goes Challenge
Through the Craft Room Door Anything Goes Challenge
Creatalicious Anything Goes with Optional Summer
Lil Patch of Crafty Friends Anything Goes Challenge
613 Avenue Create Anything Goes with Optional Monochrome
MarkerPOP Summer Fun – We're Going to the Fair Challenge