I have been thinking a lot about what people with different backgrounds, resources, and opportunities can achieve in life.  Perhaps I was affected by the British documentary series I've been watching "7 Up," "14 Up," "21 Up," etc. that tracks a group of kids and their different paths every 7 years into adulthood.
Anyway, when I found out that a YT crafty friend, Mataya (YT: minnescrapper) was hosting a challenge about using dies that we have not (or rarely) used, the Tim Holtz Fanciful Flight die that I purchased through an eBay auction came to mind. Why not make myself feel better about purchasing this die by using it on an art journal page?  I wanted to try out all the permutations of wing combinations and really PLAY.  The varying results were perfect for the sentiment I wanted to reflect: "You can SOAR with whatever wings you have."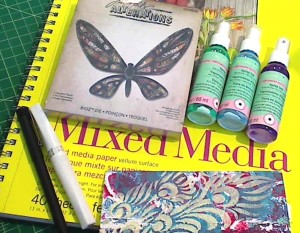 I sprayed the paper initially with three Recollections shimmer mists in blue, purple and green. Then I used the die to cut out lots of wing segments from black cardstock and some fabulous background papers that were made and gifted to me by my friend Rosa (YT: ColorXplosion by Rosa).  All the unique patterns on the papers really helped bring life to the butterflies, moths, and other flying insects.
I also used a Fiskars stamp set called "Butterfly Magic" to stamp small and medium sized dragonflies to add to the feeling of a flurry of wings that I wanted to create.
I printed out the sentiment on my computer, cut out the words and lined the edges using my Faber Castell Pitt Pens (sizes: SC and F).  Lastly I sketched in "flight patterns" for each flying insect and then added some colorful sequins (just to add a little "magic"). 🙂
This art journal page is also being entered into the Raisinboat Summertime Challenge.
The following is a video share of the project:
Thanks for stopping by and have a great day. WOOF