This card, which features the versatility of the Docrafts Brickwork Background Stamp, is a guest design team project for Maymay Made It. These three Katzelkraft Grumpy Penguins with their disgruntled faces totally crack me up so I thought it would be fun to play with them and the Docrafts Brickwork Background Stamp to create a single layer shaped card that would harken to an igloo home for them.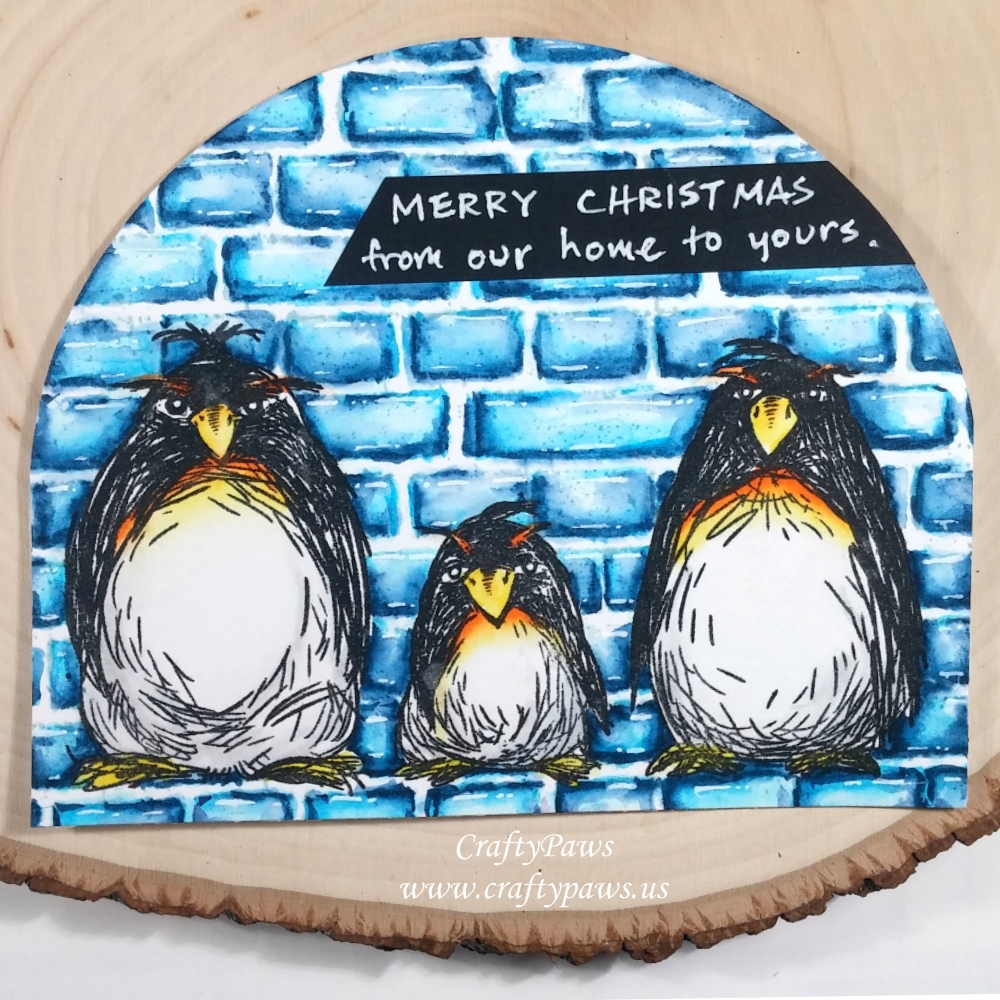 I started out with Strathmore Bristol Paper for the card front and stamped out the Grumpy Penguins using VersaFine Onyx Black Ink (which is water-safe). Then I used Winsor & Newton Art Masking Fluid and covered them up with an old synthetic paint brush that I had first coated with a little bar soap (this helps prevent the masking fluid from permanently sticking to the bristles and makes clean up easier). I waited until the masking fluid was dry to the touch (about 5 minutes) before moving on to the next step.
To stamp out the Brickwork Background, I decided to use Simon Says Stamp Winter Sky Premium Ink so that the bricks would look more like ice blocks and less like bricks. Then I used Zig Clean Color Real Brush Markers in Cobalt Blue (031) and Peacock Blue (038) to watercolor in the blocks. For an even more icy look, I used a Uni-ball Signo White Gel Pen to add highlights on all the blocks.
I then used the soft part of my finger to rub off the dried masking fluid. I was careful not to scrape with my fingernail or press too hard because I didn't want the masking fluid to take off any of the paper, and luckily it came off really easily.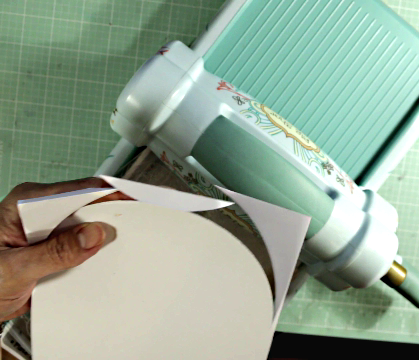 Then it was a matter of just adding some colorful details to the penguins. I used Yellow (050) and Orange (070) to add some brightness to their eyebrows, beaks, feet and bellies. Then for the shadowed lower and sides of their bellies, I used a Light Gray (091), which I think added a more rounded, dimensional look to the penguins.
To made the background look even more like an igloo, I decided to make this into a shaped card. I used the largest circle die from Diemond Dies' Die-Normous Stack-Ems Circle Nesting Die Set, and cut the top half of the circle from the card front top. Then I took a piece of white cardstock, folded one side about 1/4″ down and put that folded side just under the circle die and ran that through my die cutting machine half way down too; this forms the card base back. For both the card front and the card back, I trimmed the sides straight down from where the half circles left off. This created an arched, or igloo, shape. I glued the two sides together at the tab that was created by doing the 1/4″ fold. I know reading these instructions can be a little unclear, so if you want to see all of this, the video below walks you through the whole process in detail.
Lastly, for the sentiment, I simply used a Uni-ball Signo White Gel Pen to hand write a little sentiment that reads, "Merry Christmas from our home to yours." I love the odd juxtaposition of the grumpy faces of the penguins with this super cheery sentiment. LOL
The following is a start to finish process video of creating this card:
Disclosure: Many of the supplies I've used for today's project are linked. Some may be affiliate links, which means if you make a purchase I receive a small commission at no extra cost to you. I truly appreciate your support toward the costs of running this blog!
This card is being entered into the following challenges:
Topflight Stamps World Card Making Day Challenge
Simon Says Stamp Work It Wednesday Stamptember Challenge
Word Art Wednesday Anything Goes Challenge
Creatalicious Anything Goes Challenge with Optional Make Your Own Background
CASology ODD Challenge
Addicted to CAS Favorite Stamp Challenge
Simon Says Stamp Happy World Card Making Day Challenge
Fab 'n' Funky Word Art Challenge
Lil Patch of Crafty Friends Anything Goes Challenge
Just Keep On Creating Anything Goes Challenge