I am usually a purist (or some would call simple – LOL). I usually use 1 type of marker or coloring medium on each project (2 if I'm being bold). But for these two Mermaids Under the Sea ATCs I used 6 types of markers!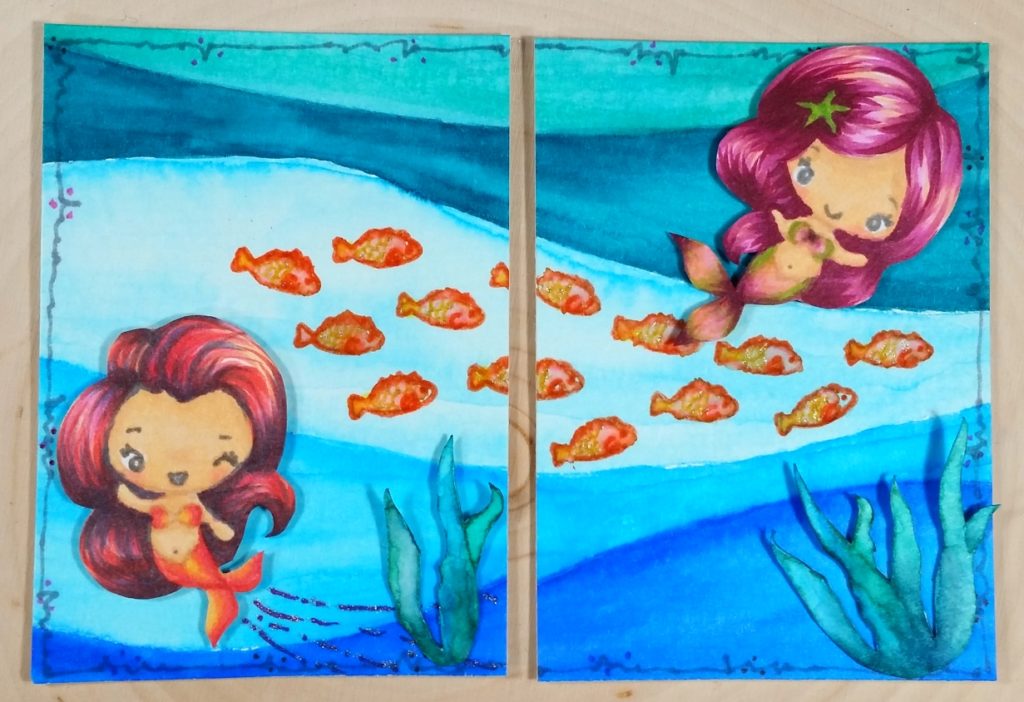 For the watery wavy background I used various blues and aquas from the 60 piece set of Zig Clean Color Real Brush Markers and free hand colored up the segments. I used a Pentel waterbrush to blend out each section, making sure to color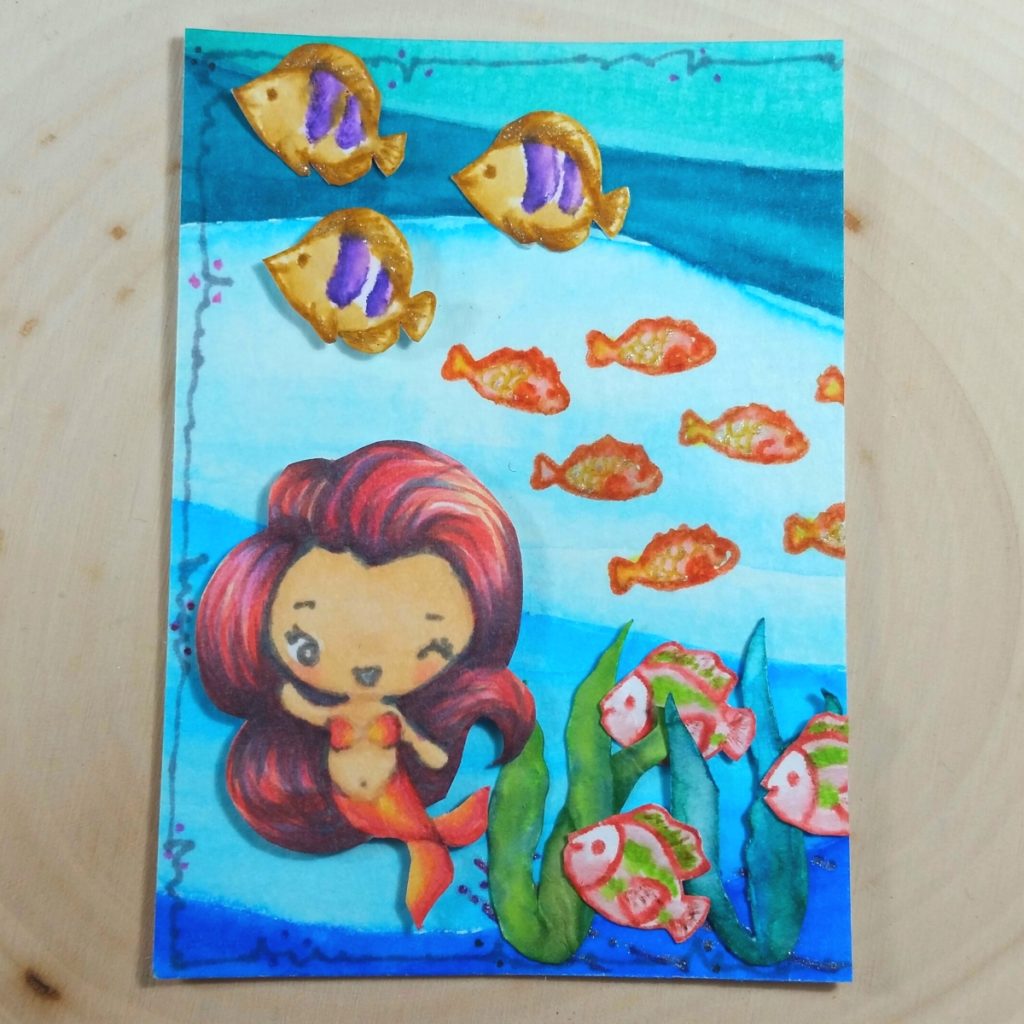 up the segments in alternating order so each segment could dry before the adjacent segment was watercolored so they would not bleed into each other. I also doodled out some zig-zaggy framing around both ATCs using Ultra Fine Point Sharpie Markers in Red, Hot Pink, Medium Pink, Purple and Gray.
For the school of orange fish, I inked up a simple fish stamp with a Ripe Persimmon Tim Holtz Distress Marker and colored the bodies with Wild Honey. For a little shimmer, I also added scales with a Clear Star Gelly Roll Pen. For the purple and yellow striped fish, I stamped out the fish with more Wild Honey and used Tim Holtz Distress Markers in Wilted Violet and more Wild Honey to watercolor them up. For the pink and green fish, I stamped the fish in Abandoned Coral and watercolored using Tim Holtz Distress Markers in Spun Sugar and Twisted Citron. The seaweed are colored up with Twisted Citron, Mowed Lawn, Peacock Feathers and Pine Needles, and the starfish are colored up with Squeezed Lemonade and Spiced Marmalade. I added more shimmer with the Gelly Roll Pen over the fins of the fish and the star fish as well. Except for the big school of orange fish, each of these little scene builders were painstakingly fussy cut out and glued on or popped up with double sided foam tape.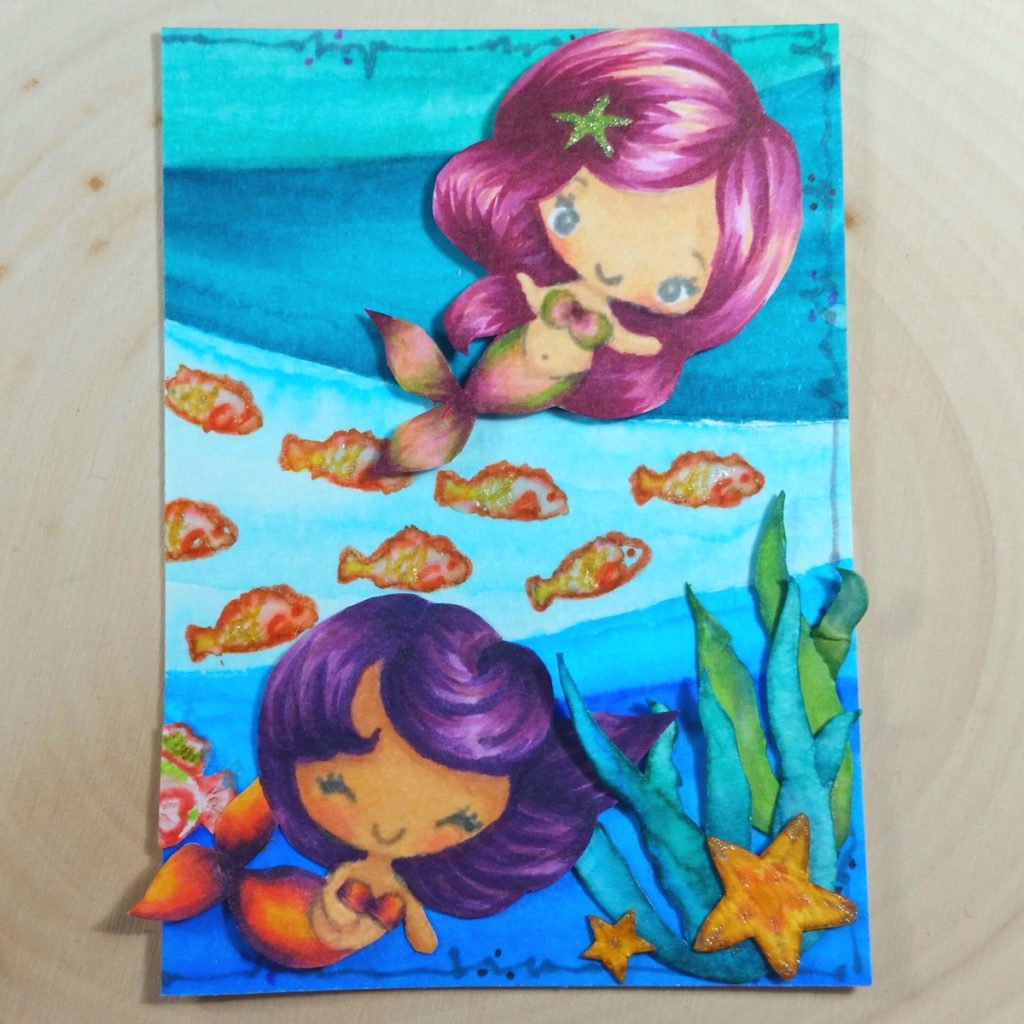 For the mermaids, I wanted a soft look, so I stamped out each with Momento Desert Sand Ink to do some no line coloring. I re-defined the facial features with a 0.3 pt Copic Multi-liner Pen in Cool Gray. Then I used the following Copic colors:
Mermaid with green starfish hair pin:
Skin: E51, E21, R20
Hair: YR21, RV52, RV66, RV69
Bikini top, mermaid tail, and starfish hair pin: YG25, YG17, RV52, RV55, RV66, RV69
Mermaid with purple hair:
Skin: E51, E21, E11, R20
Hair: V12, V15, V06, V09
Bikini top and mermaid tail: YR21, R22, V06 and V09
Mermaid winking:
Skin: E51, E21, R20
Hair: YR20, YR21, RV55 R24, C5
Bikini top and mermaid tail: YR20, YR21, R22, R24
The following is a video share of these ATCs that includes the no line coloring of the purple-haired mermaid:
These ATCs are being entered into the following challenges:
The Greeting Farm Farm Fresh Make a Scene Challenge
Lil Patch of Crafty Friends Anything Goes Challenge
Word Art Wednesday Anything Goes Challenge
Creatalicious Anything Goes with Optional Glitter/Bling Challenge
Not Just Cards Anything Goes Challenge
613 Avenue Create Anything Goes with Optional Shabby Chic Challenge
Penny Black and More All Creatures Great and Small Challenge