The series of photos in this layout is one of the most special moments in my life. On first glance, it may just look like three cute pictures of my fur babies, Biscuit and Bandito, but to me it represents when my little family became whole.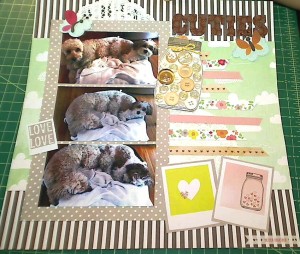 Biscuit is 13 years old and Bandito just recently turned 2. We got Bandito when I could see that Biscuit was feeling her age.  We worried that she would not accept a sprite-like, frisky puppy, and truth be told, while she tolerated him, they were not generally close.   These pictures captured the first time that they actually slept next to each other of their own accord. I was ecstatic. Just looking at these pictures warms my heart.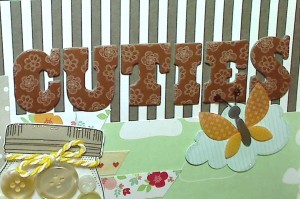 For the layout, I used 5 sheets from the Dear Lizzy Neopolitan paper stack. Now you might notice more patterns than that in the layout, and you'd be right, but let me explain. I used the 3 background papers, 1 mason jar from another sheet, and a few cut outs from the sheet that had the Polaroid cut-aparts.  I also used the excess top strips where the patterned paper is attached to the pad to make the little heart, floral and pink banners. How clever is that?! It wasn't my original idea, but I loved the idea of not wasting those pretty little strips.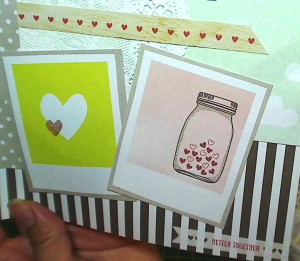 I filled the one mason jar with vintage buttons, gluing them down with E6000, tying a little baker's twine at the neck of the jar, and putting Glossy Accents on the lid to add a little shine. I also used a paper doily, which I cut in 2 in order to add a little more background interest. A couple of dimensional butterfly stickers, which I thought went nicely with the cloud patterned paper and some brown floral Thickers (notice how the bling on the antennae on one of the butterflies lands perfectly in the centers of two of the flowers on the E Thicker–a happy accident, which I love), and the layout looked sweet, light and adorable–like my pups. LOL
This layout is being entered into:
Simon Says Monday Blog Challenge with the 5 papers from the Dear Lizzy Neopolitan stack
Ribbon Carousel Blog Birthday Celebration Challenge
Simon Says Work It Wednesday
Catered Crop Recipe Swap
Paper Crafting Journey Spots and/or Stripes Challenge
The following is a video sharing this layout:
Thanks for stopping by and have a great day! WOOF