Amanda (YT: Scrimpingmommy), who was the second prize winner of my Birthday and Blog Launch Giveaway, chose the subject matter for this latest digi.  She decided to have a digi drawn to look like her daughter, Lexi. She sent me a few pictures of her and told me what her summer school uniform looked like.  She also told me that her daughter liked dogs and cats so I had to include a little dog, of course. 🙂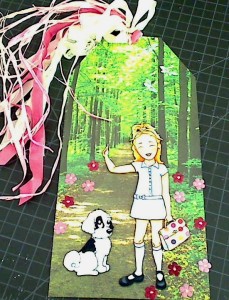 When I got to thinking about Lexi going to school, I thought about  how her puppy might feel each morning as she left. The puppy might try to be really really good. Sit up straight, and think to himself that he thought he could fit in Lexi's school bag and should be allowed to go to school with her. For her part, Lexi might be having fun training her little dog how to sit and stay. That's the scene that I imagined as I drew this custom digi ("Lexi Trains Puppy") and then crafted this scene tag.
I printed out the digi three times.  If you print out the image twice at 5×7″ size, you get two images on one 8.5×11″ plain white card stock.  Then if you use less tacky tape to adhere the patterned paper over the parts of the second image that you want patterned for paper piecing (e.g., gingham dress and polka dot bag), you can re-print the digi over the taped patterned paper.  Voila, all set for fussy cutting and paper piecing!
HINT: For paper piecing to look a part of the image rather than flat, use a light Copic coloring on the patterned paper where shadows should be. I used C3 for a pale grey on the dress and R30 on the book bag.
The following is a video share of the tag I made:
Thanks for stopping by and have a great day! WOOF