Melonizing a unicorn? Why not?! Unicorns are magical and anything is possible with them, right?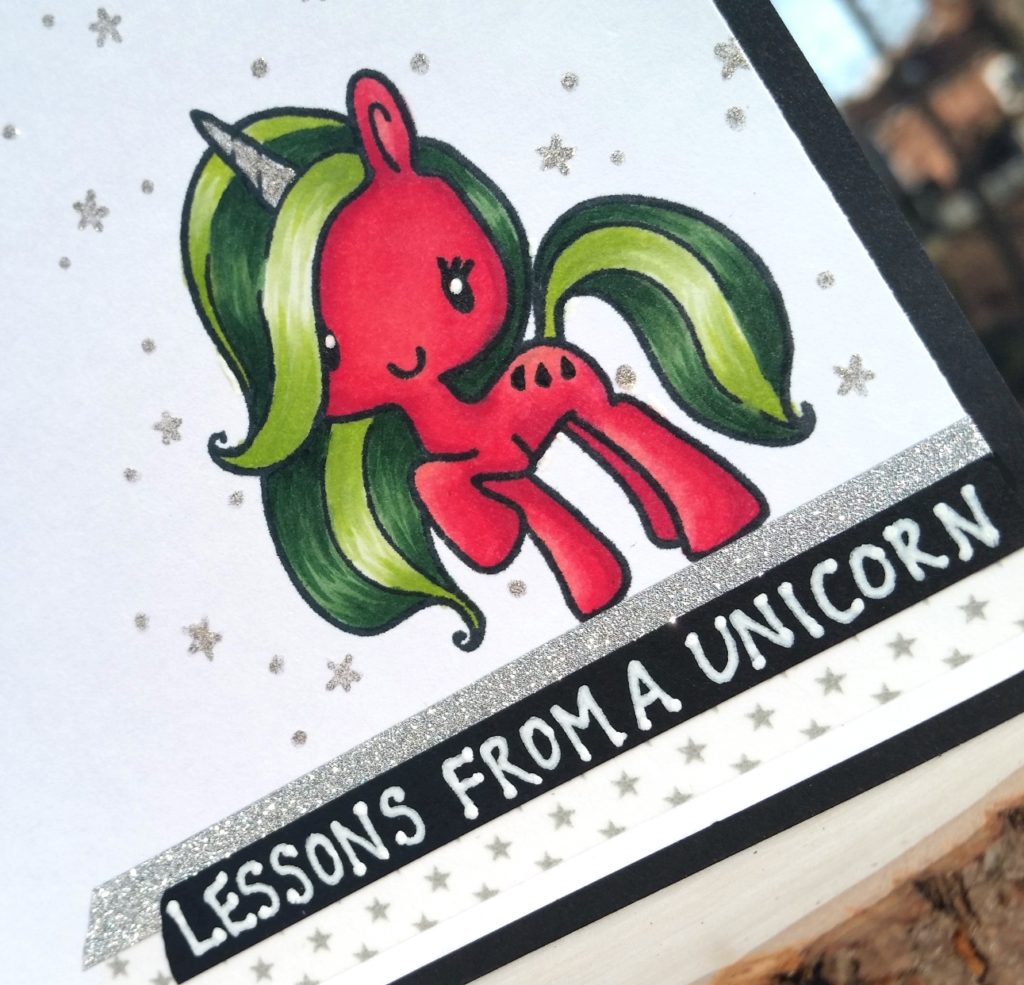 I finally got to color up one of The Greeting Farm's "Magical Friends" for this card (I had been so desperate to get this set the minute it was released, I'm a bit embarrassed that it took me this long to finally ink it up). I used the following Copic colors to melonize it:
Green rind: G40, G43, YG25, G46 and G29
Fruity red unicorn: R32, R35, and R37
I also used a Copic 0.3 pt black multi-liner pen to doodle in some seeds, a Uniball Signo white gel pen to re-establish the white highlights in her eyes, and a Sakula Stardust Gelly Roll Pen to color the unicorn's horn.
To keep this card CAS (clean and simple) I simply rolled out a couple pieces of star patterned and thin silver glitter washi from a Heidi Swapp Silver Washi Pack to create a kind of ground for the unicorn to stand on. The sentiment is more like a title (for what's to come inside), and I simply hand wrote it on black card stock with the Uniball Signo white gel pen. Lastly I doodled on some shimmery glistening stars and dots around the unicorn with a Sakula Stardust Gelly Roll Pen to create a sense of sparkly magic.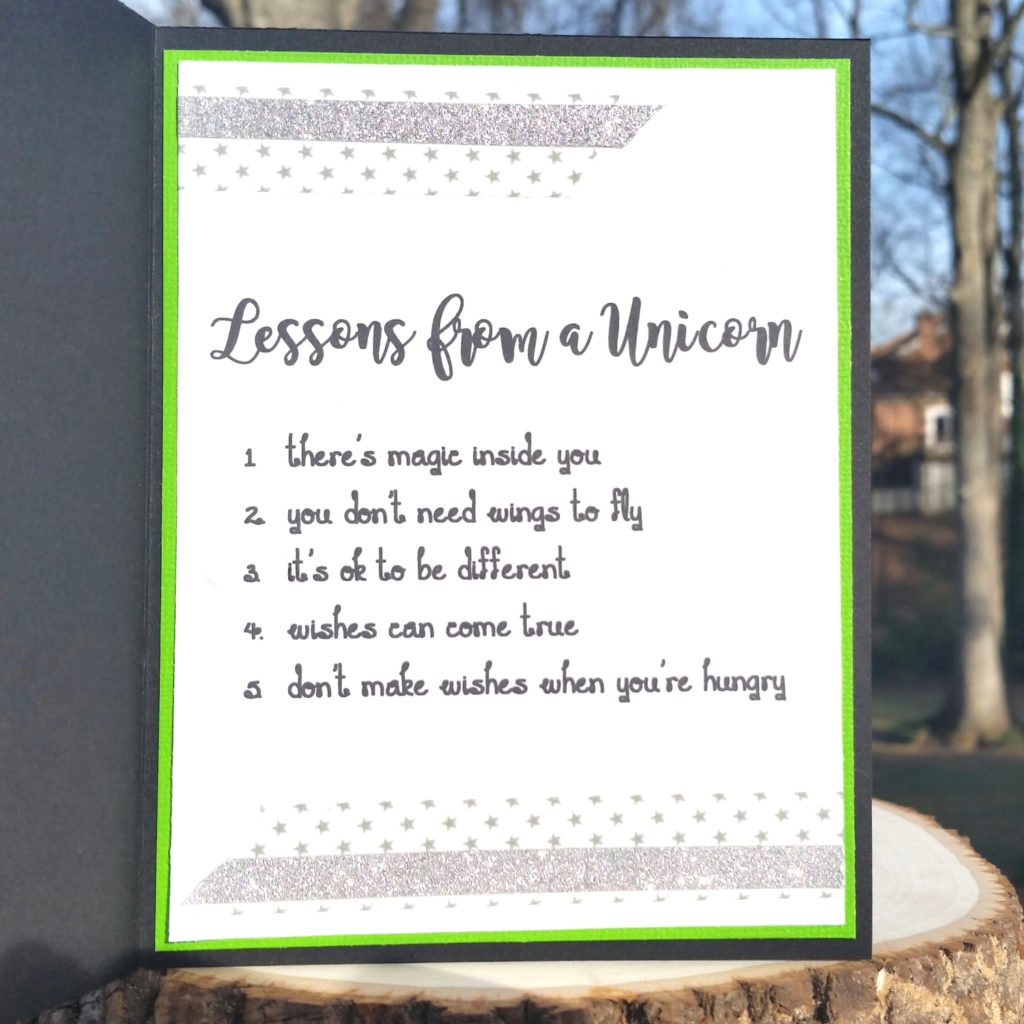 The inside of the card pulls it all together. I typed out the following on my computer and printed and matted it on the inside, adding more washi tape for a cohesive, coordinated look with the card front:
Lessons from a Unicorn
1. there's magic inside you
2. you don't need wings to fly
3. it's ok to be different
4. wishes can come true
5. don't make wishes when you're hungry
LOL — I thought the watermelon unicorn could be a silly representation of the well-known saying, "Be careful what you wish for, because it just might come true." This card is for a talented and ambitious young friend who is contemplating making lots of changes in his life right now. I want to encourage him to "go for it" and fly while also reminding him to be thoughtful and deliberate.
The following is a video share with a Copic coloring process:
This card is being entered into the following challenges:
The Greeting Farm Farm Fresh Anything Goes Challenge
Addicted to CAS Wish Challenge
Simon Says Stamp Wednesday Anything Goes Challenge
Simon Says Stamp Monday Spread Your Wings Challenge
CASology Glisten Challenge
Lil Patch of Crafty Friends Anything Goes Challenge
Addicted to Stamps and More Anything Goes Challenge
Word Art Wednesday Anything Goes Challenge
Creatalicious Anything Goes with Optional Winter Challenge
MarkerPOP Twinkle Twinkle Challenge