What an adorable and flirty little girl, right?! This girl from Little Blue Button Stamps' (LBBS) "Be Mine" digi stamp set is cute and sexy–perfect for Valentines Day!
I wanted to use non-traditional Valentines colors because, really, how often do we dress in the colors of a holiday? LOL Anyway, I also LOVED how Olga (the designer and owner of LBBS) drew her eyes so I knew I wanted to accentuate them with beautiful greens.
In addition to a Sakura White Gelly Roll Ink Pen
for the dots on her dress, the following are the Copic colors I used:
Hair: E55, 57, and 59
Skin: E50, 51, and 53
Shoes and Socks: C7 and 1
Green dress and eyes: G43, 94 and 99
Heart: R83 and 85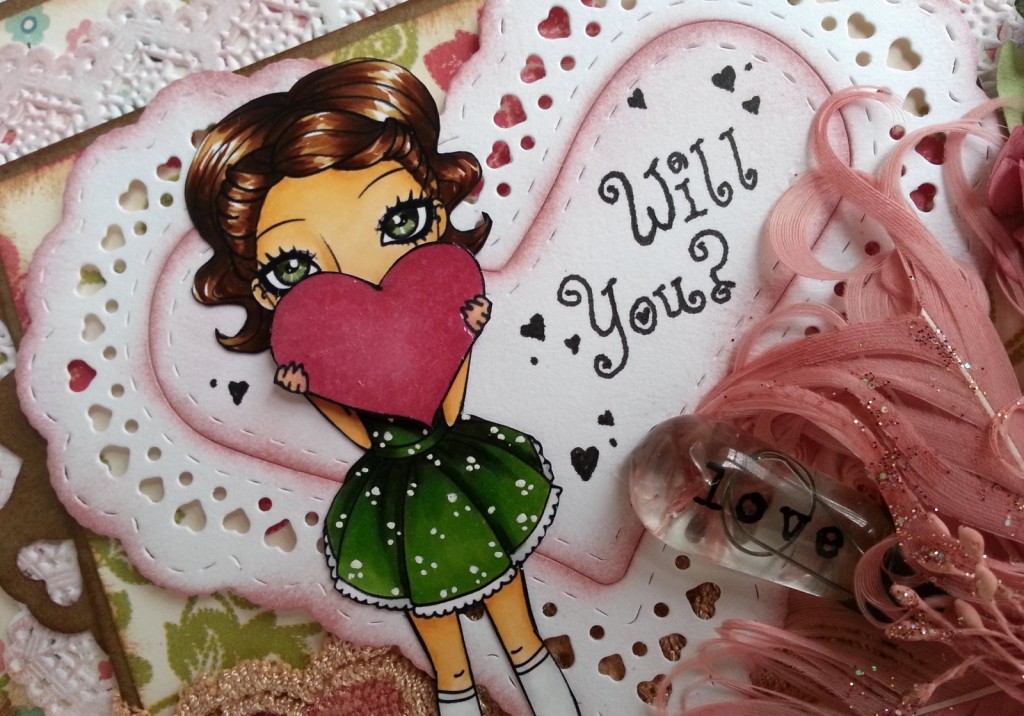 I don't often make heavily layered cards, but I was totally in the mood for something detailed so I went for it. I started with a kraft card stock base and then layered a small flower patterned paper, then a square doily (which I dabbed with Ranger Tim Holtz Distress Victorian Velvet Ink
), another layer of kraft card stock, then another bolder flower patterned paper. I also decided to add a little peak of an EK Success Open Heart Scallop Circle punch out, which I punched out of a scrap of kraft and dabbed with Ranger Tim Holtz Distress Vintage Photo Ink
.  I hot glued a snippet of peach colored stretchy heart lace from my stash to add a little softness and then to brighten and highlight the hearts, I colored the centers with Copic R85.  Lastly I die cut a heart doily using a La-La Land Crafts Heart Doily Die
, which I also dabbed with Victorian Velvet, to finish it off and bring it in line with the other colors on the card. I popped this heart up on foam adhesive and then glued the little girl on top. Whew! That's a lot of layers for me. 🙂
I put a lot into the flower cluster so it could hold up to all those layers. I started with a dramatic dusty rose colored feather flower from the Prima Le Coque Mystere collection. Then I mixed in mulberry paper leaves and flowers in darker rose and champagne yellow colors in varying sizes. I also added a Prima Junkyard Findings Vintage Light Bulb
with the word "love" on it and tucked in a text bead with the word "kiss" on it.  At this point I realized that the green of the girl's eyes and dress needed to be repeated somewhere. Luckily I had the perfect pale green flat back pearls that I could use on all four corners of the card.
I decided to hand write "Will You?" on the heart doily to play off the coquettish look of the girl image, and I doodled a few little hearts and dots. The last bit of fun I added (really to cover up the garish red color I had originally colored the heart) was to print out the digi again and fussy cut out the girl's hands and heart to pop them up on foam adhesive. This gives the impression that she is holding the heart forward and adds a bit of extra dimension. Finally, to add some shine and shimmer, I added Glossy Accents
over the heart she is holding and Clear Wink of Stella
on the lacy part of the heart doily.
The following is a video share of this card:
This card is being entered into the following challenges:
CARDZ TV Any Occassion Card Challenge
Time Out Challenges Valentines with a Twist of Hearts
Raisin Boat Love Is In the Air Challenge
Simon Says Stamp Wednesday Have a Heart Challenge
Thanks for stopping by and have a great day! WOOF