Friends of ours welcomed us to use their gorgeous vacation home in MT for our 10th wedding anniversary. These folks are affluent enough to buy whatever it is that they need or want so we were in a quandary as to what to get them to express our heartfelt thanks. Finally, we came up with the idea for me to do a portrait of their dog, Kuzy, a handsome new addition to their family whom they all adore. I so admire these amazing folks who also rescue dogs from kill shelters and move them to no-kill shelters; you can see why we're great friends, right? — I mean an homage to their beloved would be the best gift and compliment for them.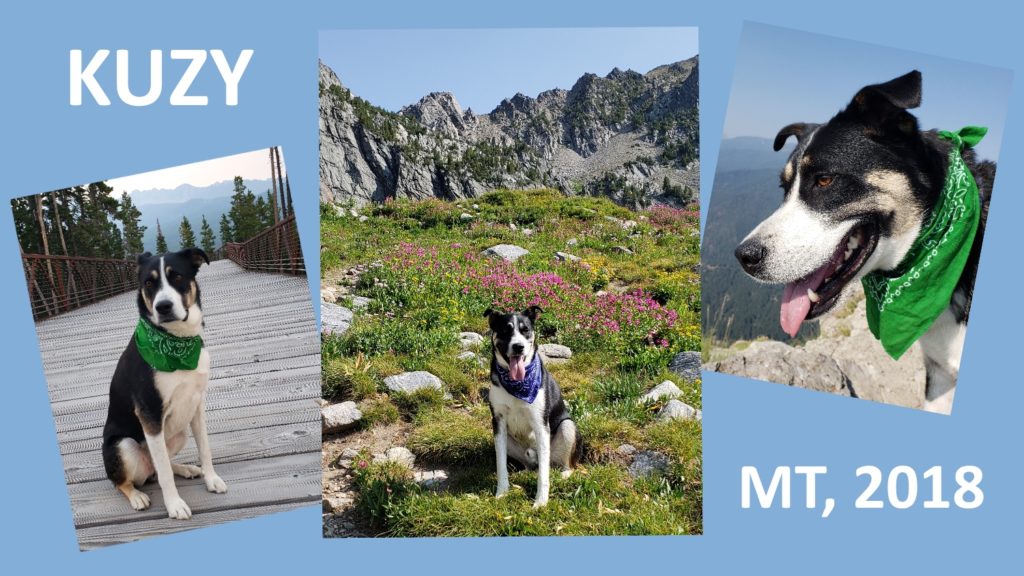 We asked for a a few pictures of Kuzy so that I could work off something tangible (other than sentiments like, "Kuzy ranks at the top of the family hierarchy; it goes: Kuzy, my wife, the kids, and then me." — that's a quote from the husband in the family — LOL). I enlarged and focused on Kuzy's face and head as I drew a grid on the two close-up pictures that I would kind of combine in the portrait painting.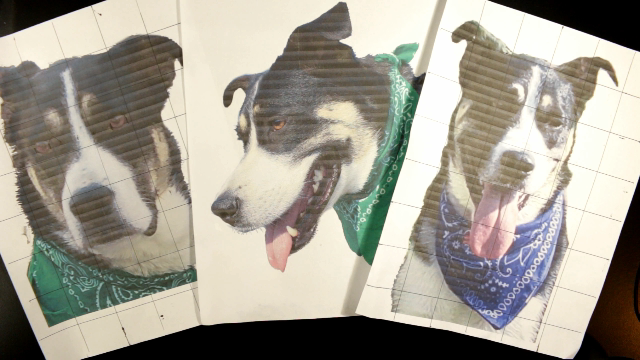 I prepped a 24″ x 30″ professional level canvas with Liquitex Gesso. Then I watered down some craft acrylic paints that I had in my stash from Craft Smart and DecoArt Americana. I dripped some small puddles and then tilted the canvas to create soft drips for the background in bright colors. I used ocean breeze, bright pink, bright blue and bluegrass green.
Then I started mapping out where Kuzy's eyes, nose and markings would be. I thought about putting in a grid on the canvas, but I wanted to keep the canvas as free from stray marks as possible and just relied on estimating using my thumb as a ballpark guide. It wasn't perfect, but perfection is not what this painting was about. I was trying to depict Kuzy's spirit, love and beauty, not create a photographic-like replica (they already had hundreds of pictures of their beloved Kuzy).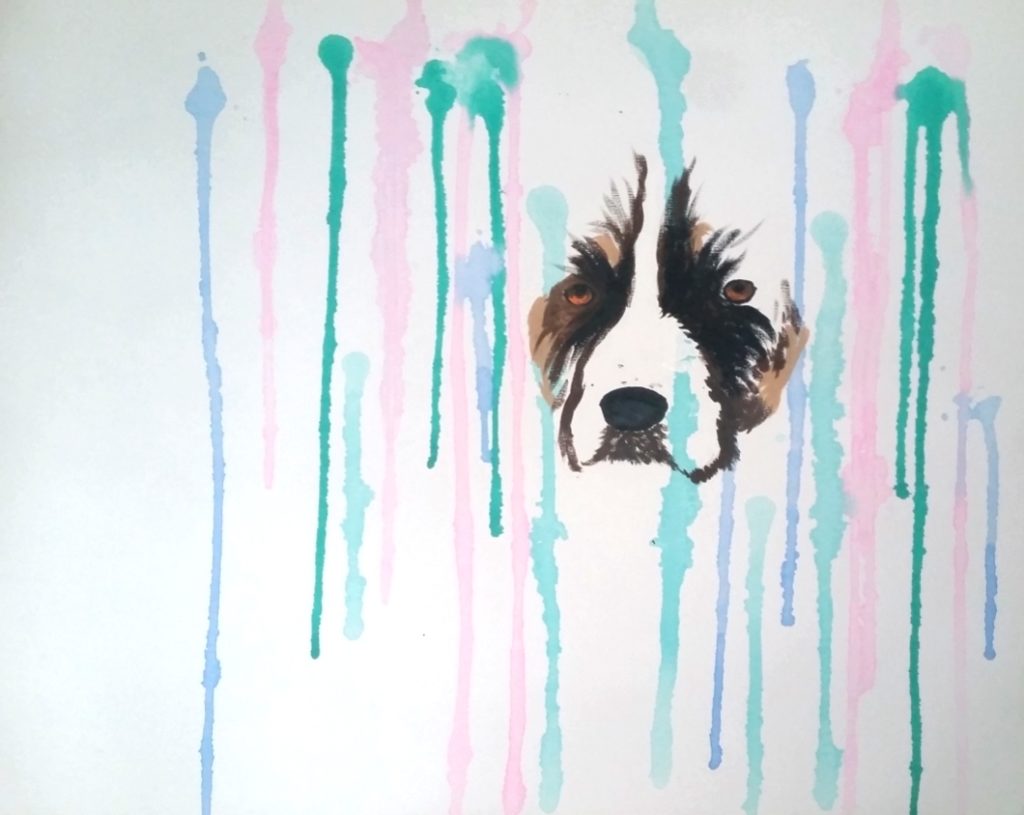 Then I mapped in more of Kuzy's face, ears and neck. I added more details, texture and shading. I used golden brown, cocoa bean, lamp black, white, mixed a warm gray, and more bright blue to "sketch" out Kuzy's main facial features.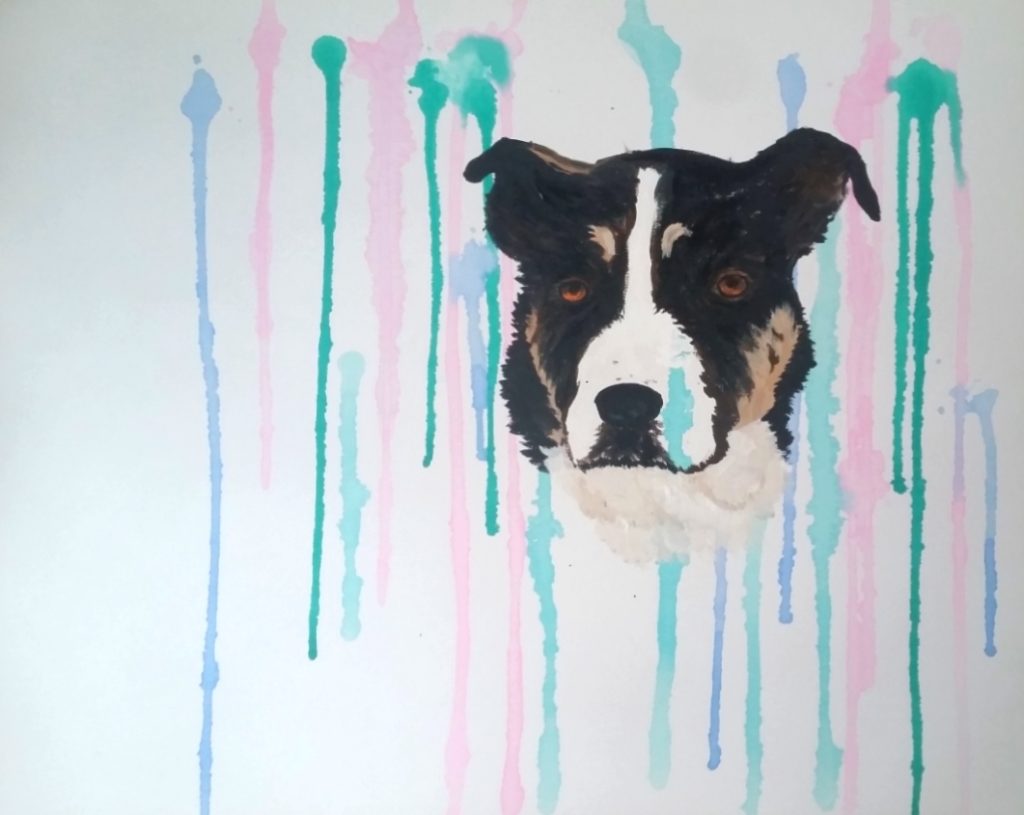 After I was able to lay out the whole face and upper torso, I decided to add more highlights and focus to Kuzy's face. I left his upper torso textured, but did not add definition to the tops of his legs. I wanted to concentrate those details just around his eyes and facial markings.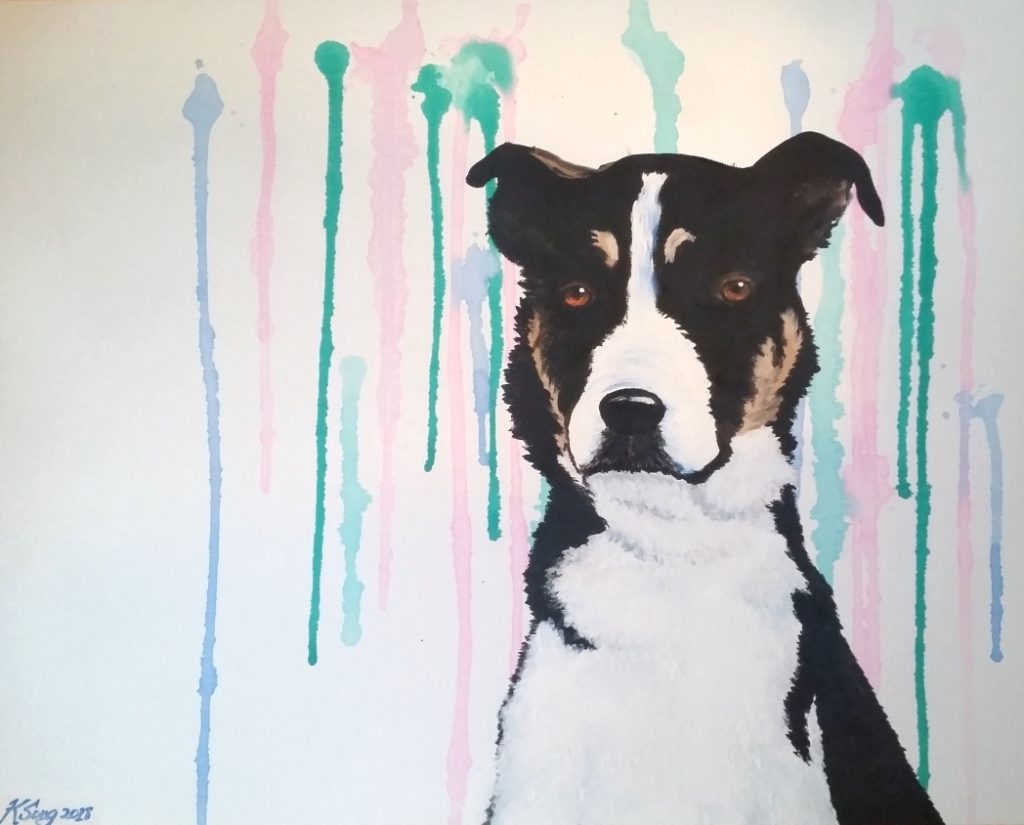 I added highlights to his eyes and nose which I think really brought Kuzy to life. You might be surprised to know that I also used bright blue to add shadows to the white areas of his fur, orange to really make his light eyes shine, and ultramarine blue to the black areas of his fur for depth and texture.
CLICK on the picture below to watch a full share of this doggy portrait painting: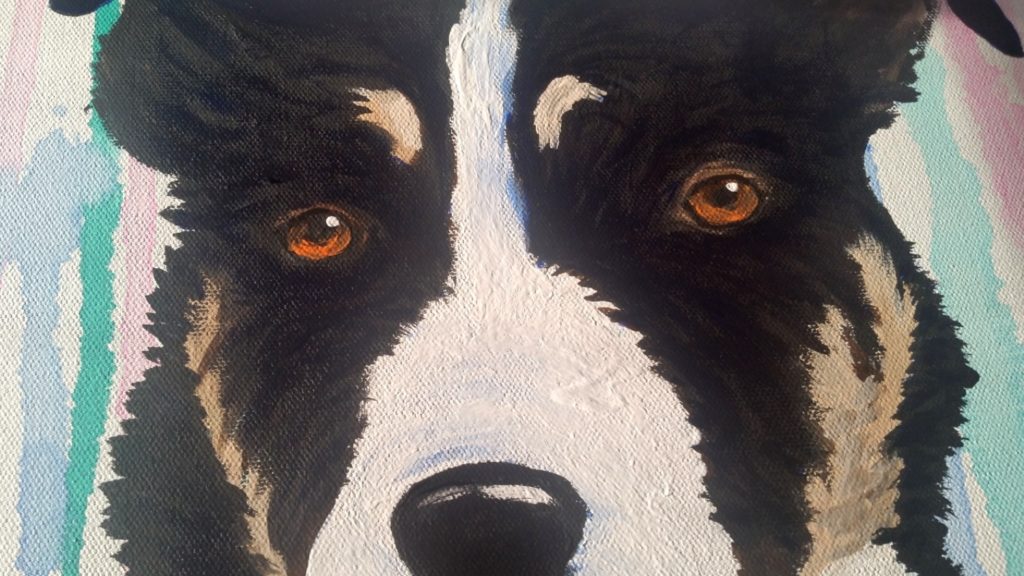 This doggy portrait is being added to the following challenges:
CASology Compliment Challenge
Just Keep on Creating Anything Goes Challenge
Simon Says Stamp Monday Make Your Own Background Challenge
Simon Says Stamp Wednesday Anything Goes Challenge
Word Art Wednesday Anything Goes Challenge
Simon Says Stamp Work It Wednesday Give Thanks Challenge
Crafter's Castle Anything Goes with Optional Holidays Challenge
Crafts Galore Encore Anything Goes Challenge
Catch the Bug Anything Goes Challenge