I am
going to keep this post short, as I have sprained my ankle this weekend, and I can't sit at my computer for very long without throbbing coming back.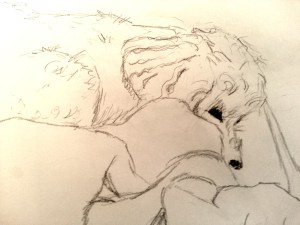 I just wanted to let you all know about my very talented friend, Jami Lola (YT: Poetspice) hosting a January Doodle Days challenge. Draw 30 doodles in 31 days, share, be inspired, and have fun!
I plan to draw using all different mediums and share with you the different results you can get from each of them. These first 5 were mostly drawn with Derwent Graphic pencils of varying hardness. 3B is the softest and great for shading and less detailed subjects.  B is in the middle, and is one of my favorites to work with for general drawing.  And at the other extreme, 3H is very hard and great for details and quite light (unless you exert a lot of repeated pressure).
The following is a video share that I posted, describing the different graphite pencils I used and some of my drawing tools. I hope it is helpful:
The drawing at the top of my Bandito just before falling asleep is being entered into the Simon Says Stamp Wednesday Anything Goes Challenge
Thanks for stopping by and I hope you are having a great day! WOOF