Doing spring colored layouts (LOs), cards, and ATCs can help improve your mood. I believe that.
I come from the old school of layout making, using 3-5 pictures per layout, but lately I've seen that the trend is leaning more toward single picture layouts.  In the past, I thought of scrapbooking as a means to keep photo memories in a thoughtful way. That meant I needed to scrapbook hundreds (now with digital photography, thousands?) of pictures per year. How could anyone keep up with that?! Anyway, I'm not one to ignore a design trend that results in beautiful layouts, so here is my second attempt at the one photo LO style.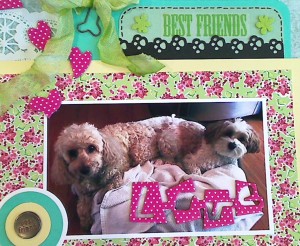 This style works with positive and negative space, clustering embellishments or focal points, and lots of layering. All of this can seem pretty daunting, but I found one way to get some direction or inspiration is to google images for: "12 x 12 layout sketches."  There are fantastic sketches that you can follow exactly or modify as your own style and tastes dictate.
I was practicing my layering, using paper doilies, solid pastel cardstock scraps and pretty patterned spring colored papers from my scrap box (I save small scraps, but make sure to use scraps all the time so that I never have to go beyond my 1.5″ x 13″ x 10″ scrap box). I used bright pink thickers, my EK Success paw prints edge punch, and lots of little embellishments clustered together in 2 areas (one main and 1 smaller in the upper left corner).  The hardest thing for me in LO decorating is figuring out when to stop. I realize that the negative space is just as important as the positive space, but when should one stop adding embellishments? LOL
My 4×6 card was done basically the same way, but in a smaller format. Rather than a lot of negative space, I concentrated on the layering and creating a mood with the different patterned paper scraps. Cheerful, un-ADULT-erated fun is what I was going for.   With the addition of lots of little punched flowers (which were all glued down by hand one flower at a time), I think I got there.
The following is a video in which I share the two layouts:
Thanks for stopping by! Subscribe if you wish and have a great day! WOOF