Ever since I made a couple of Fathers Day cards (for my dad and father-in-law) with the Winnie and Walter True Multifaceted Heart Cutaways die and the little kids from the Mama Elephant "In My Heart" stamp set, I've been wanting to make a special card for my hubby from me that said "I love you THIS much."
I sprayed an inexpensive piece of watercolor paper and overdosed it with Ken Oliver Color Bursts in Indigo. To soften the color I then went to town spraying it over top with Recollections Blue Shimmer spray and Heidi Swapp Navy spray. Oh yes! — the effect was a spotty almost bokeh look.  I die cut the piece with one of my go-to card base dies from the WPlus9 Sunshine Layers die set and then layered that on top of a gold foil paper.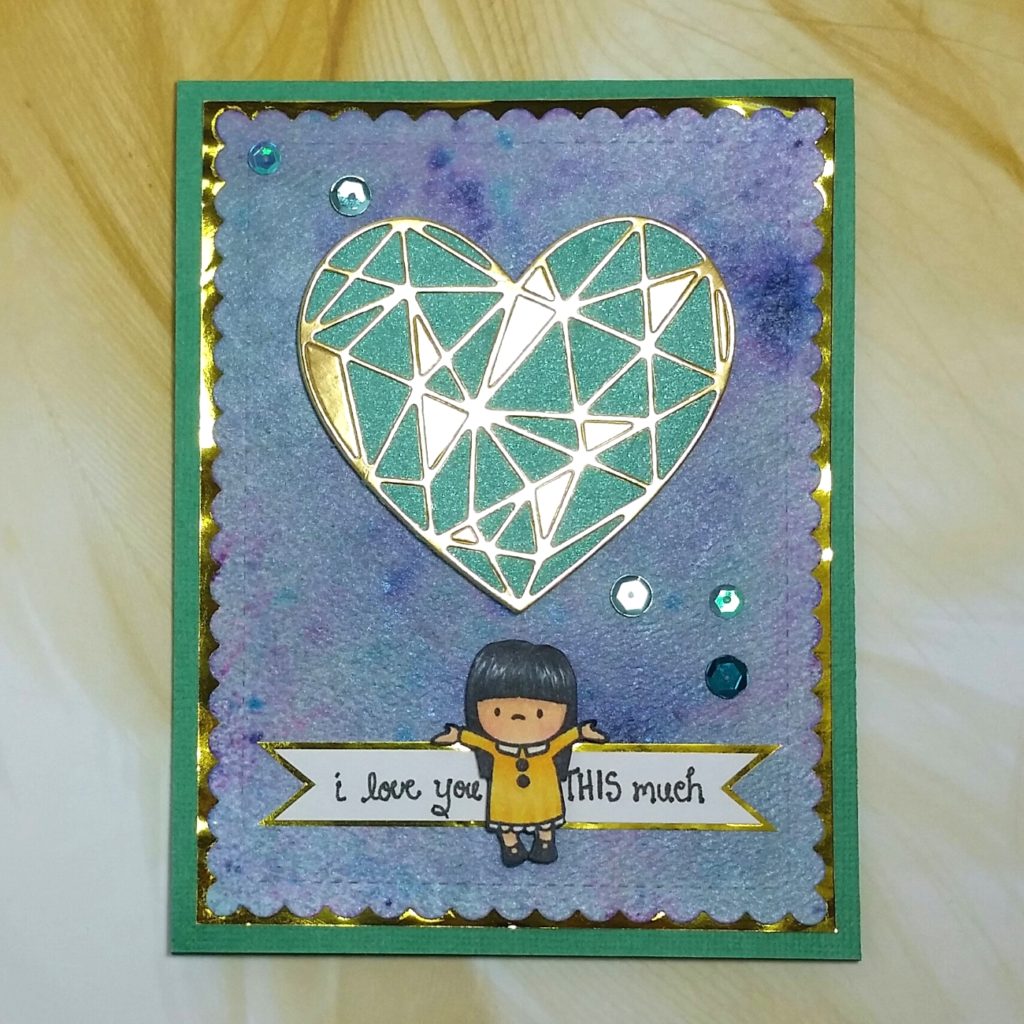 I layered a gold foil paper faceted heart from the Winnie and Walter True Multifaceted Heart Cutaways die (intentionally leaving some of the facets in to add visual weight to to the gold faceted part of the heart) over a shimmery blue-green fine glitter paper heart and popped the whole thing on double sided foam adhesive.
I really wanted to use the girl from the Mama Elephant In My Heart stamp set that had the outstretched arms for this card, but I wanted her to look more like me. So I stamped her out with MFT Black Licorice Hybrid Ink and then cut off the little pony tails and drew in longer straight hair with a Copic Multiliner Pen.  I Copic colored her up simply with E51, E53, R20, C7, C9, B01, Y11, Y15.  Then I fussy cut her out and put tiny strips of double-sided foam adhesive behind her to pop her up to the same level as the heart.
Then I practiced writing out the sentiment like a bazillion times until I finally got it to look straight and with all the letters basically the size I wanted them. I hand cut it into a banner and lined it with more gold foil paper. Uh oh, now I faced a dilemma. Where could I put this sentiment and not obstruct the beautiful faceted heart? After much angst, finally I figured out that I could cut the banner in half and tuck each half on either side of the little girl. YAY!  Ultimately I think the card ended up with a good center-balanced design, and I just tweaked the big banner part of the MFT Wednesday Sketch Challenge (see below for link) into a smaller one with a sentiment. 🙂
Lastly for a little extra sparkle, I couldn't resist adding some blue-green sequins. Voila! Now this is a first — I'm ready early for our anniversary! 🙂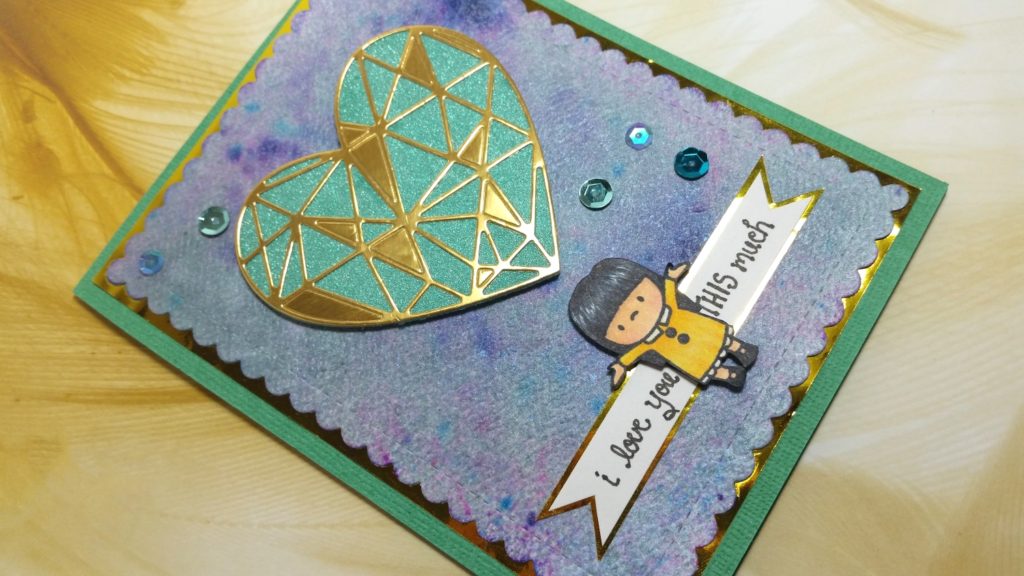 This card is being entered into the following challenges:
Simon Says Stamp Monday Tic Tac Toe Challenge – sequins, blue, spray
Winnie & Walter Rerun No. 11 Challenge
Simon Says Stamp Wednesday Anything Goes Challenge
Word Art Wednesday Anything Goes Challenge
Through the Craft Room Door Anything Goes Challenge
Crafty Gals Corner Anything Goes Challenge
Craft Your Passion Anything Goes Challenge
Not Just Cards Anything Goes Challenge
MFT Wednesday Sketch Challenge #287