I had a couple of purses that I wanted to change up and rock again as well as a friend who had a beautiful Chanel Coco Mini Handle who wanted a longer/more hands-free crossbody strap. Whether you have these exact bags or others that you want to update or mix up, I thought I would share with you what I did to breathe new life to some great bags.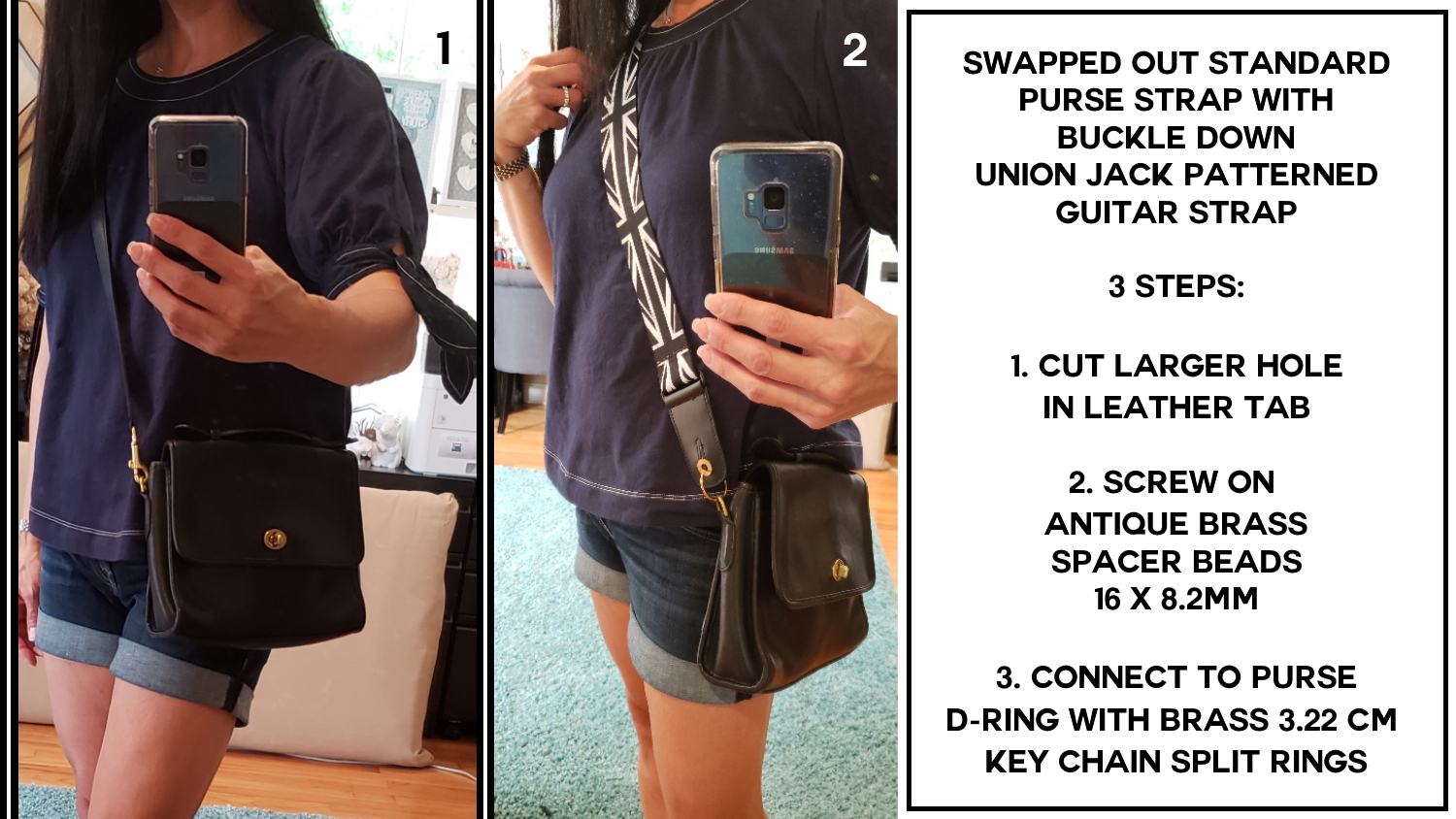 The first bag is about 30 years old, and it was my first "nice" purse that I bought in college. It's the Coach Court Purse and while the leather quality is fantastic, I wanted to liven it up with a trendy guitar strap. I looked into luxury wide straps, but prices ranged from several hundred to over $1500! I decided I would order a real guitar strap and convert it into a guitar purse strap. This Union Jack Guitar Strap is from Buckle Down, but there are lots of different styles on Amazon). I cut slightly larger connection holes with an X-Acto blade, and then screwed in Antique Brass Spacer Beads with center holes (16 x 8.2mm) to reinforce and clean up the holes in the leather tabs on either end of the guitar strap. Then to attach the strap to the purse, I used simple Antique Brass Key Chain Split Rings (3.22 cm). Voila! Totally updated cool bag!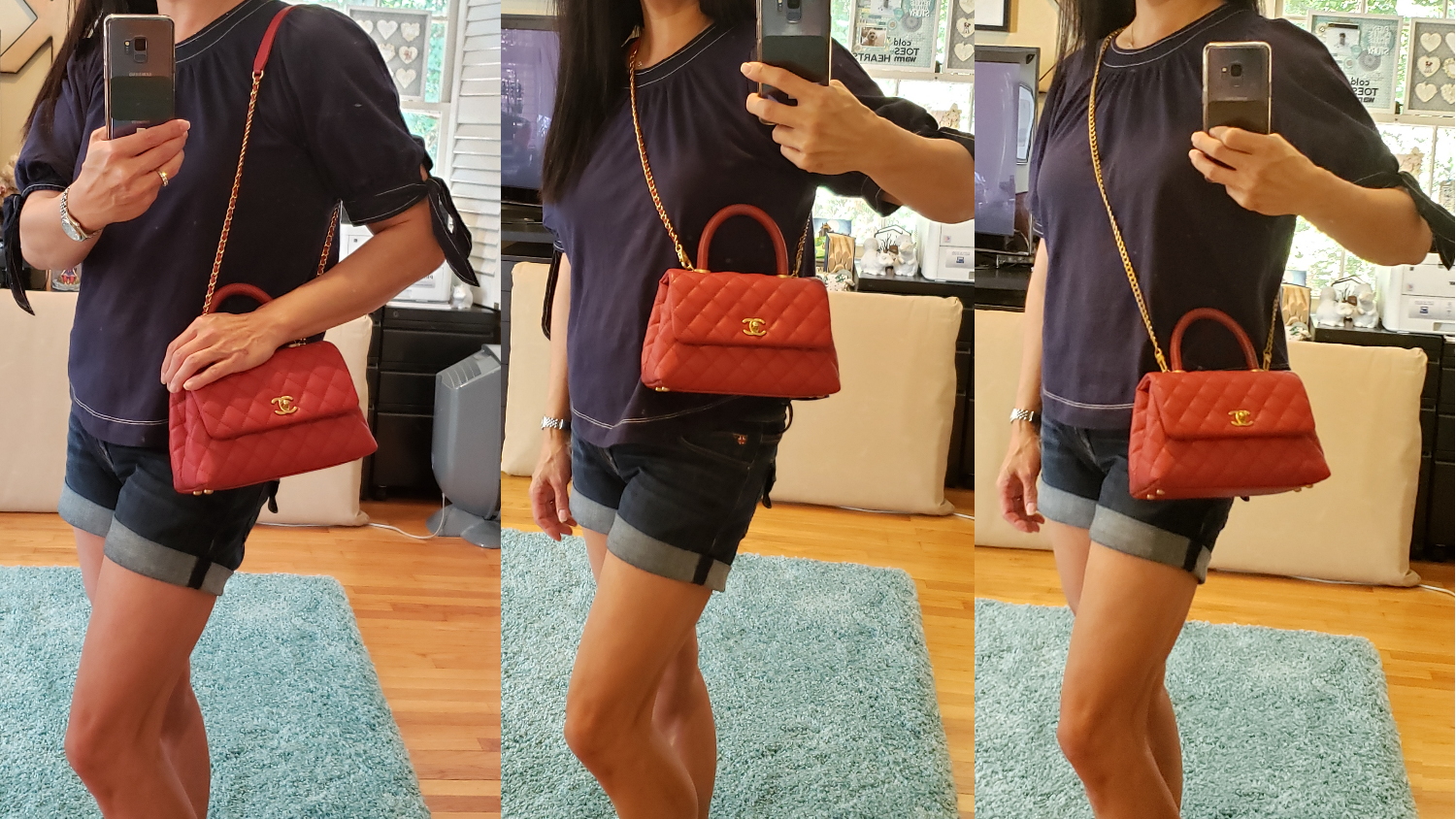 The second bag is that gorgeous red Chanel Coco Mini Handle. The strap that comes with it is too short to be worn crossbody for most folks. My friend is 5'4″ and the handle was hitting the bottom of her chest when she tried to wear it crossbody (I'm 5'6″ and you see how it looks on me – LOL). So I found a satin gold long chain strap that I hoped she could use. Unfortunately the gold color was too light to match with her Chanel Mini Coco Handle Antique Gold Hardware, so I decided to paint it! After a lot of research on paints that would look like real antique gold, not chip or wear, and match in color, I landed on Ranger Patina for All Metal in Victorian Gold (it might be a hair darker, but unless you are about 3″ away, you can't tell). For extra resilience, I also added a coat of Ranger Vintaj Matte Glaze. The hardest part about this was that it was painstakingly slow and detailed painting of each link (or you would see the lighter shine where each link nested/laid into the next link), but WOW, the results were well worth the effort.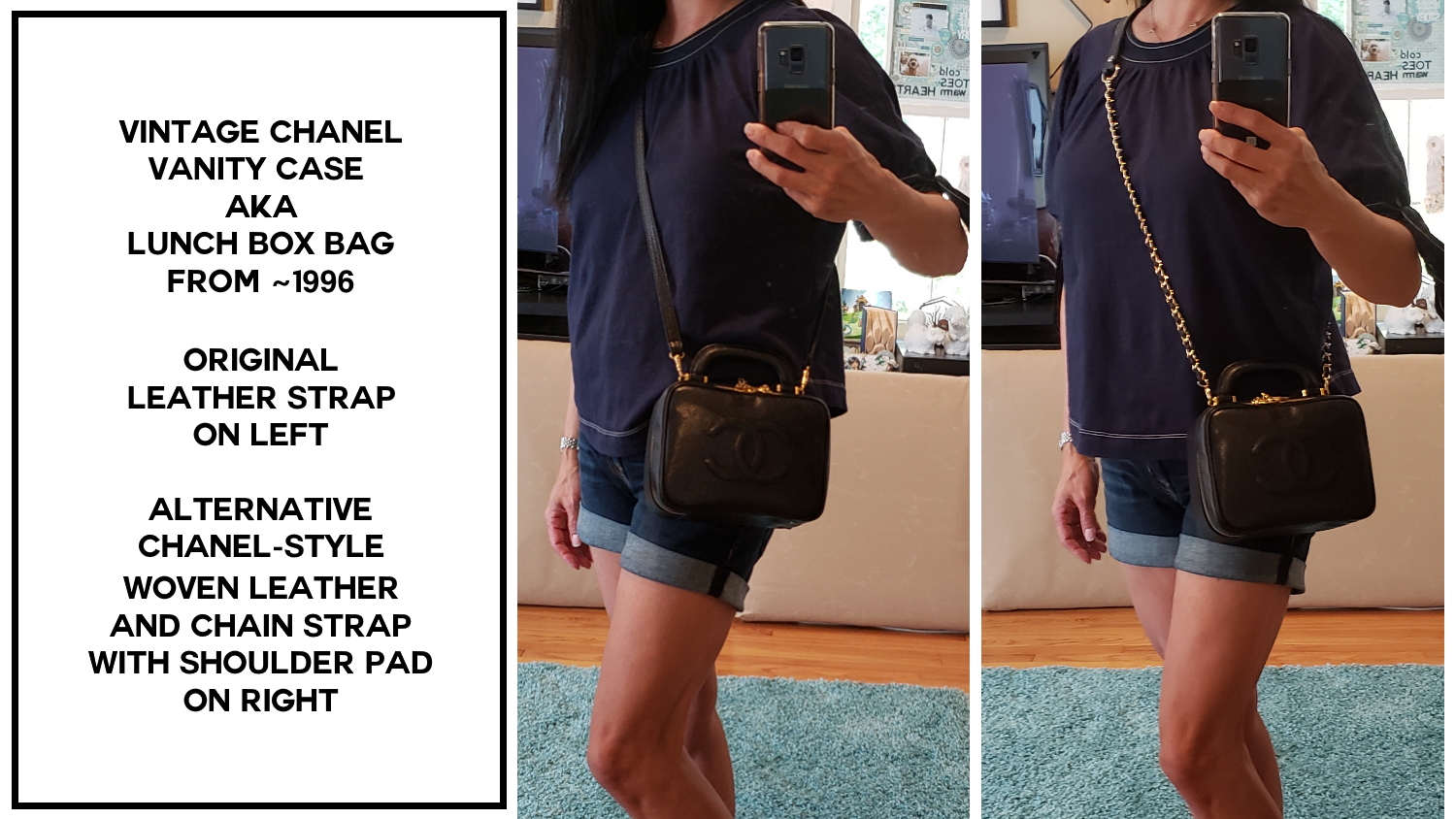 The last purse is a vintage, 24 year-old Chanel Lunchbox or Vanity Case Bag. I've loved this cute style for a long time so when I found this for a great price in the resale market, I jumped on it! I love it as it is with it's simple leather strap, which is super light weight, but I wanted to have the choice of dressing it up with a more Chanel-esque leather and chain woven strap (like the style on current Chanel Vanity Bags). I looked high and low for that Chanel-style woven leather and chain strap in the crossbody length and a shoulder pad, but it took months for me to finally find a Chinese manufacturer who sold what I was looking for. Unfortunately, they came with large clasps that wouldn't fit the tiny rings on my Chanel bag. However, I wrote to the manufacturer, and he graciously changed them out to small clasps that fit my bag perfectly at no extra charge (plus as a bonus gift he sent over 2 styles of small clasps and a hair tie with LV ribbons)!
The following is a video explaining all of this with a how to video, pictures, etc.