I am beside myself thrilled with this opportunity to be a guest designer for The Greeting Farm. I love their adorable images, and I had a blast creating these chunky charms using The Greeting Farm's Hatters stamp set, Shrinky Dink paper, beads, tassles, charms, metal gears, rhinestones trims, junk jewelry pieces, a memory locket (filled with flower sequins and x's and o's), old chandelier crystals, and acrylic flowers (basically I layered on anything I thought would add sparkle and springtime fun).
I first colored up five of the images (main color of outfit noted in parenthesis) with the following Copic colors:
Niki (pink): Skin: E000, 00, 21, 11, 04 with R 20 blush; Yellow/gold part of outfit: Y32, Y35 and YR24; Burgundy part of outfit: R83, 85 and 89; Hair: RV00, 52, 55, and 66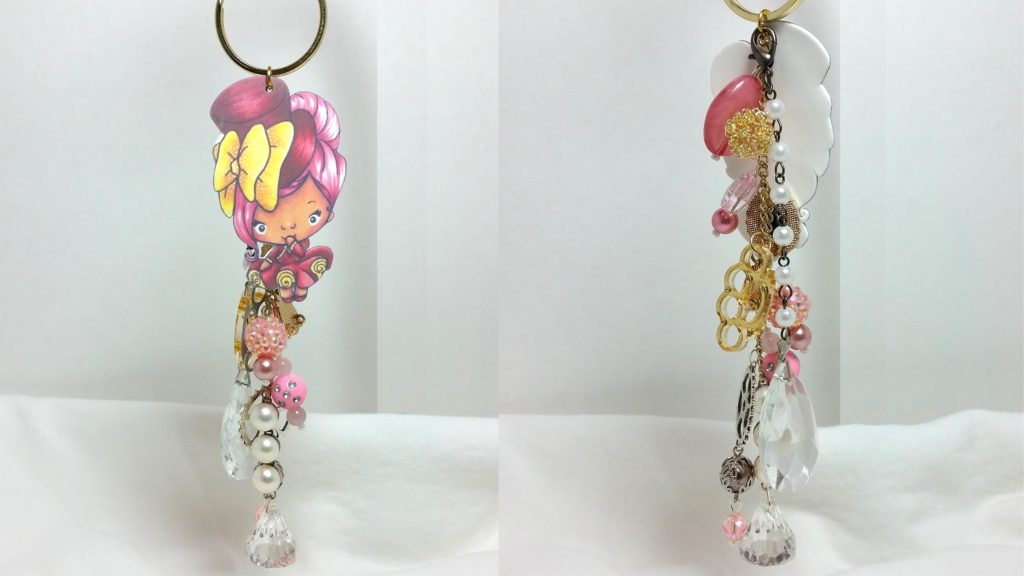 Peacock (violet): Skin: E000, 00, 21, 11 with R 20 blush; Violet part of outfit: V12, 06 and 09; Trims on outfit: BV01, 04 and 08; Hair: C6, C9, BV04 and BV08; Peacock feathers: G09, YG21, E13, B04 and B69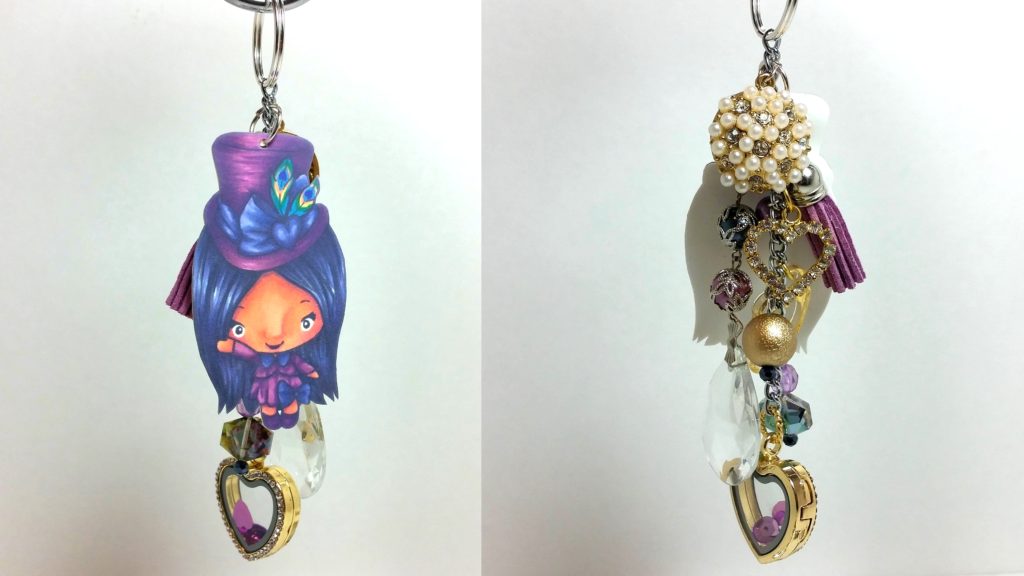 Elsa (blue): Skin: E000, 00, 21 with R30; Medium blue: B21, 24, 95 and BG45; Dark blue: B63, 66, 69; Hair: B60, BV31 and B21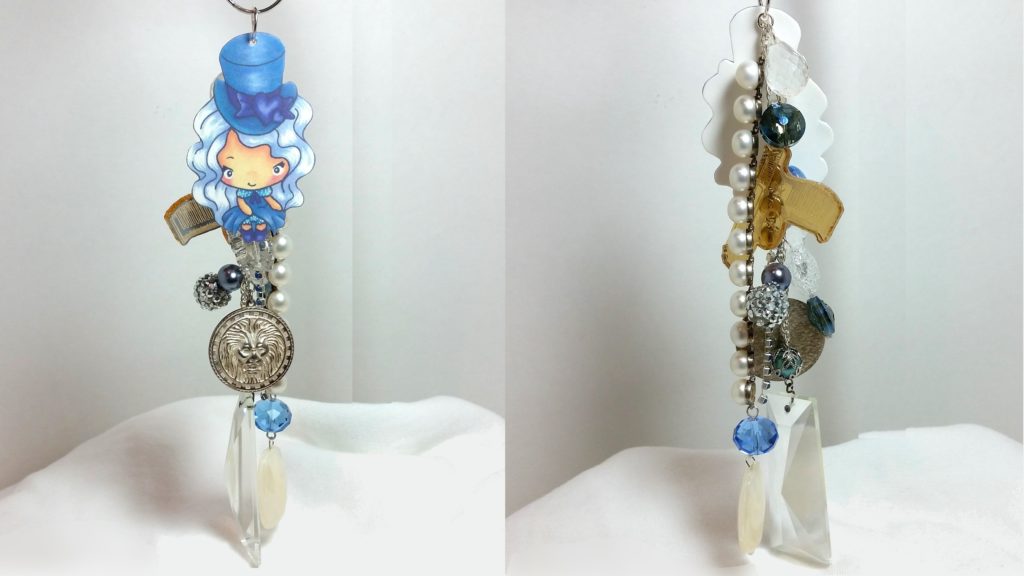 Blondie (blue-green): Skin: E000, 00, 21, 11, 04 with R20 blush; Grapes: V12, 09; Blue plum: B34 and 39; Strawberry: R83, 85 and 89; Blue-green part of outfit: BG45, 49 and 78; Hair: Y21, Y26, YR24 and E25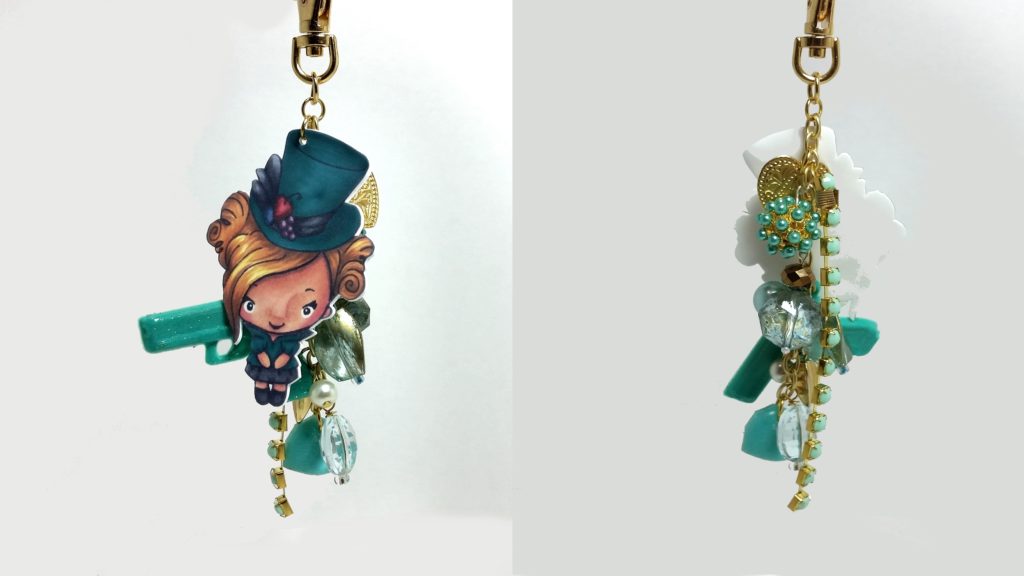 Patty (green): Skin: E000, 00, 21, 11, with R20 blush; Green part of outfit: G85, 94 and 99; Yellow/gold part of outfit: Y21, Y26 and YR24; Red flower trims: R83, 85 and 89; Hair E97, 99 and 29 (I didn't end up using this one so that I could reserve 1 key ring for my giveaway prize–see how to enter below)
Then I scanned each of these into my computer, blew them up to 5″ x 7″ size, lightened them by 60% and increased the contrast by 10% (this lightens the image without losing detail). I then printed these out on Shrinky Dink paper, punched a standard 1/4″ hole at the top, and used my heat tool to shrink down the images.  They turned into really great sturdy pieces that would be great for embellishments, making into magnets, or as centerpieces for charms (like here). I love that they can be handled, viewed from all sides, and can swing and move. I have these hanging on my craft room wall on a necklace holder and love the little wall decor. 🙂
The following is a process video on how to make these chunky charms:
GIVEAWAY: To enter to win a custom Hatters chunky charm as well as some extra crafty goodies from me, watch this video on YouTube and leave a comment on that video (not here) telling me your favorite Hatter (detailed rules in video description of YT video).
These chunky charms are being entered into the following challenges:
May Farm Fresh Challenge — Swing into Spring Challenge
Simon Says Stamp Monday Home Decor Challenge
Lil Patch of Crafty Friends Anything Goes Challenge
Fab 'n' Funky 3 or More Layers Challenge
Not Just Cards Anything Goes Challenge
Penny Black Anything Goes Challenge
613 Avenue Create Anything Goes Challenge
Crafts Galore Encore Anything Goes for Merry Month of May Challenge – WINNER
Through The Craft Room Door Anything Goes Challenge
A Beautiful Mess: Anything Goes Challenge